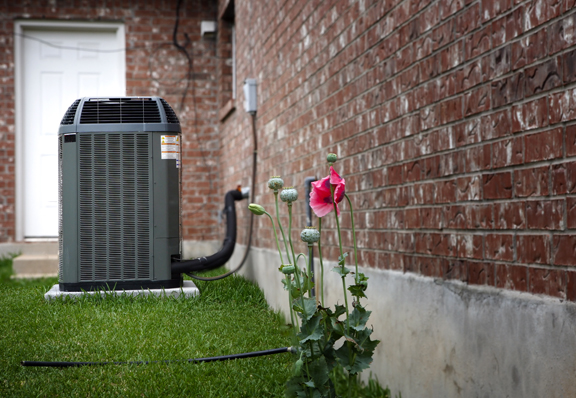 Everyone knew this spring we were going to have a hot summer, enhanced with high humidity and blazing sun. These key tips are some to keep in mind if you want to experience comfortable, cool air inside your home while not draining the bank account with high energy bills.
Adjust the Thermostat
In order to save five to ten percent on cooling expenses, merely set the thermostat just degrees higher. By living at or around 74 degrees, the temperature is comfortable and will reduce energy consumption and save money.
Fix Air Leaks
An afternoon spent fixing air leaks around the home is well worth it.  Simply check to see if air can be felt slipping outside beneath the door or under a window. If so, there is an air leak. Which wastes as much as one quarter of cooling expenses.  Check leaks around windows, door frames, fireplaces, attics, dryer vents, mail slots, electrical outlets, pipes and gaps around air conditioners.
Properly Insulate Your Attic
If your home is not properly insulated, you are throwing money away. The investment usually pays for itself in one to two years. Check the attic to make certain insulation is around six inches to one foot thick. Poor insulation will cause heat to radiate into the house and increase energy bills. Proper insulation can yield a five to ten percent savings. Having mini blinds on all windows that receive direct sunlight will also make a huge difference and result in lower A/C bills.  They need only be rolled down when direct sunlight is infiltrating the house.   Dark curtains will also help.
Change Air Filters
Air filters should be cleaned or changed at least once a month.  Clogged air filters require the A/C to work harder and are also a perfect place for bacteria to grow.
Install Ceiling Fans
Installation of a few ceiling fans will keep the air fresh and enables the thermostat to be dropped while keeping the room comfortable. Some homeowners reduce bills by forty percent when they place fans  throughout the home.
Consider an A/C Unit
CPS Energy offers rebates when a resident buys and installs a qualifying high-efficiency central air conditioning and/or heat pump system, or window units.  In order to read about qualifications visit www.cpsenergy.com.
Shade Your A/C Unit
New or old, for best cooling results install the A/C compressor unit on the shady side of the house, which is most often the north side. Also, check the compressor often to make certain nothing is blocking the ventilation. Keep any type of plant growth, whether weeds or shrubs, trimmed away from the airflow.
May 78209 Home Sales
The following are home sales for Alamo Heights ISD and North East ISD in ZIP code 78209 for May 1-31, 2016.
Total Sales in 78209
Total Sales – 60
Average Sales Price –  $471,999
Median Sales Price – $405,450
Average Price Per Square Foot – $199.89
Average Days on Market – 71
78209 in Alamo Heights ISD:
TTotal Sales – 40
Average Sales Price – $549,032
Median Sales Price – $495,750
Average Price Per Square Foot- $213.40
Average Days on Market- 89
78209 in Northeast ISD:
TTotal Sales – 16
Average Sales Price – $291,531
Median Sales Price – $257,500
Average Price Per Square Foot- $150.61
Average Days on Market- 40
Source: San Antonio Board of REALTORS®