500 Dresses
Next month is traditionally the month for weddings, so it's appropriate we introduce Bella Bridesmaids at 5800 Broadway before the month of June. Boasting a large collection of bridesmaid dresses from the world's leading designers in their showroom (almost 500 dresses), they pride themselves on providing a great variety of styles, fabrics and price points. Their stylists provide an intimate and personalized approach to finding the perfect dress to capture the modern bride's vision for her big day.
Instead of a run-of-the-mill warehouse environment, brides can enjoy a private appointment with their friends and family, who can relax and simply have fun trying on dresses! Bella Bridesmaids also makes it easy and seamless if a bride has bridesmaids scattered throughout the country as there are numerous other Bella locations. It will be an experience that South Texas brides will not soon forget.
Need A Ride, Call For A Lyft
As you're navigating construction, one-way streets and new businesses in 78209, you may have noticed a pink-mustached vehicle careening down
Broadway. What is this? It's a ride-sharing app, new to town, for cars covered in pink mustaches — Lyft, as in a lift to or from your destination. Cool idea from San Francisco with a twist, as in a twisty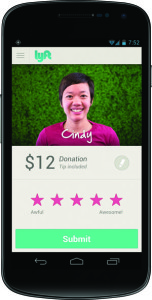 pink moustache. You may have spotted a few (or not) because I hear Police Chief William McManus has sent a "cease and desist" order to the new company stating their drivers are violating city ordinances because they aren't licensed or regulated by the city.
With weddings, graduations, First Fridays, end-of-school parties and summer happenings in the next few months, you may want to download the app and grab a Lyft (www.lyft.com). Before turning in this story today, I had received a gift sent via a text for a $25 coupon toward a Lyft two days ago. And I just discovered my co-worker is a driver and has provided 12 rides as of March 31She told me that the police chief is taking a second look, and he has agreed that with safety measures in place, he believes it could work. Apparently, it's being revisited from all angles by the city, police, etc. The mayor's on board. In the meantime, my co-worker is pulling out her pink mustache and driving her own car and providing customer service as requested.
By the time you read this, many patrons will have utilized the services for Fiesta and other events, or the brakes will have stopped the pink-mustached craze.
NEW SHOPS COMING TO QUARRY VILLAGE
Driving around the Quarry Village, you will notice a few new businesses and the loss of some old faves. Nancy's Boutique, an upscale women's apparel shop, has closed its doors, according to Ben Cabello at Embry Management. Cabello told me residents are looking for new places such as eateries, gourmet and Subway, to be exact. Keep your eyes peeled.
BATTLE OF FLOWERS HAS BEEN PUTTING ON PARADE FOR OVER 100 YEARS
For 123 years, the Battle of Flowers Association has promoted the patriotic traditions of San Antonio and Texas. And the organization's salute to our heritage culminates in the annual Battle of Flowers
Parade, the only parade in the United States produced entirely by women.
The association is an organization capped at 400 women, all of whom strive to make the parade, the band festival and the oratorical contest a success. Anne Ballantyne, this year's president, said the women volunteers start in the Fiesta Store selling tickets to Fiesta events and also usher at the parade or the band festival. There are about 150 volunteer jobs for the Battle of Flowers parade.
Parade chairman Terrie Musselman says the parade has two purposes: to provide entertainment for families and children in a festive environment and to allow groups like Boy Scouts, Girl Scouts and other nonprofits the opportunity to raise funds. Each year, over 45,000 seats along the parade route are sold by charities.