East Sandalwood Lane – "Green Heights" Residential Homes – Update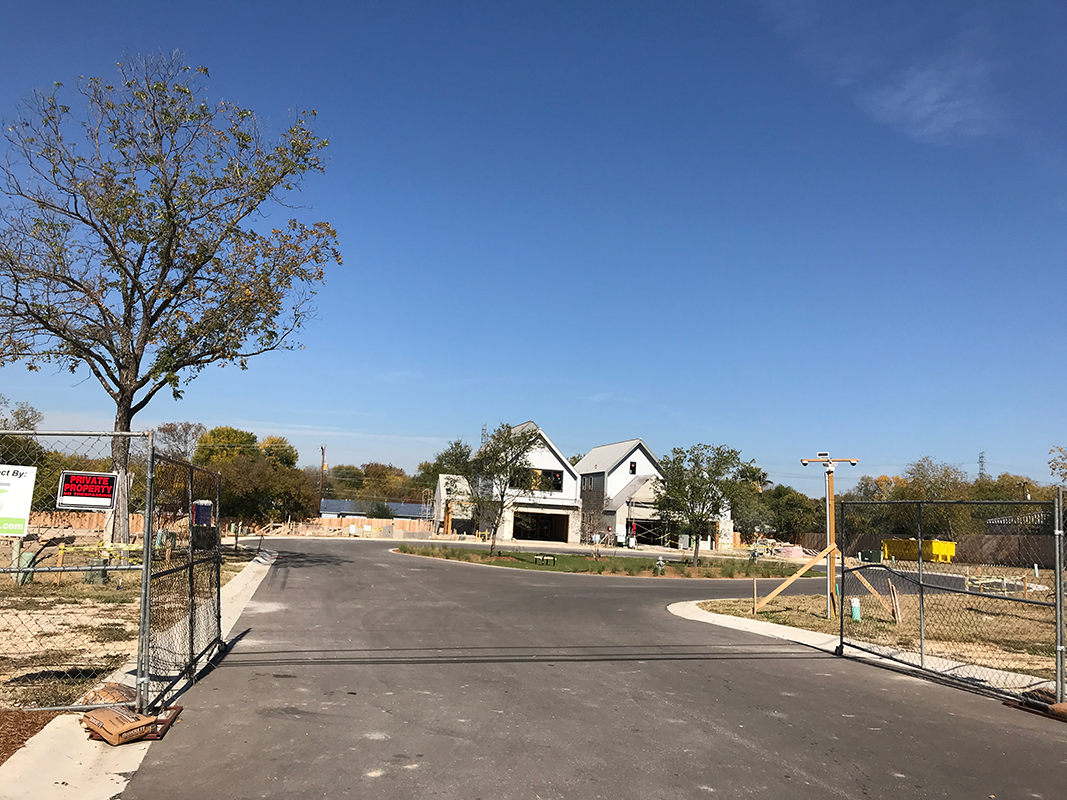 Plans to develop Sandalwood Lane are well underway. As reported in Scoop in September, CVF Homes intends to build 12 homes on their 2-acre property on Simple Way, a new street that connects to East Sandalwood Lane near Home Depot. Two of the homes are nearing completion, and two more are under construction.
All are being built as spec homes (homes built in anticipation of finding a buyer, and not due to a contract already reached with a buyer to build the home.) Two other lots on East Sandalwood have been cleared by CVF Homes, and construction on those sites is expected to begin in the not too distant future.
Sandalwood was considered part of the old Cementville community, which housed workers from the Alamo Cement Company, and is now the Alamo Quarry Market.
Small cottage-style homes dotted Sandalwood Lane. In recent years, many of those homes were still well maintained, but others fell into disrepair. Now, nearly three-quarters of the cottages are gone.
Plans for 1206 Nacogdoches Up in Air
As reported in Scoop in October, plans call for the existing structures at 1206 Nacogdoches Road, near the intersection of Broadway and Basse Road, to be demolished. But Luis Oseguera, the new owner of the site, is not certain what he will build there.
He told 78209 Magazine he wants to work with the Oak Park Northwood Neighborhood Association to be sure whatever he builds meets with their approval. "I want to be a good neighbor. My wife and I live in Alamo Heights. Our son goes to Heights, and we would not want to do anything that night upset neighbors adjacent to that property, " he said.
He continued, "Our intention is to build something nice there. Lots of doctors and dentists have already approached me." And while he did not rule out putting a restaurant on the site, he made very clear he would not build a bar or tavern.
Oseguera is seeking a zoning change from "O-2 AHOD" High-Rise Office Airport Hazard Overlay District to "C-2 AHOD" Commercial Airport Hazard Overlay District. C-2 would allow more commercial uses than O-2, which is more tailored to office high-rise construction. The Zoning Commission's staff recommended approving the change, but in November the Commission voted to disapprove the request.
Next step is San Antonio City Council, which is scheduled to take up the case Jan. 18. Council can overturn or affirm Zoning Commission decisions. If Council does not overturn the decision, Oseguera said he could construct a much bigger building, such as a 10-story high-rise office building there. He made clear, however, that's not what he wants to do. Stay tuned.
19 Townhouses Under Construction at 1618 W. Lawndale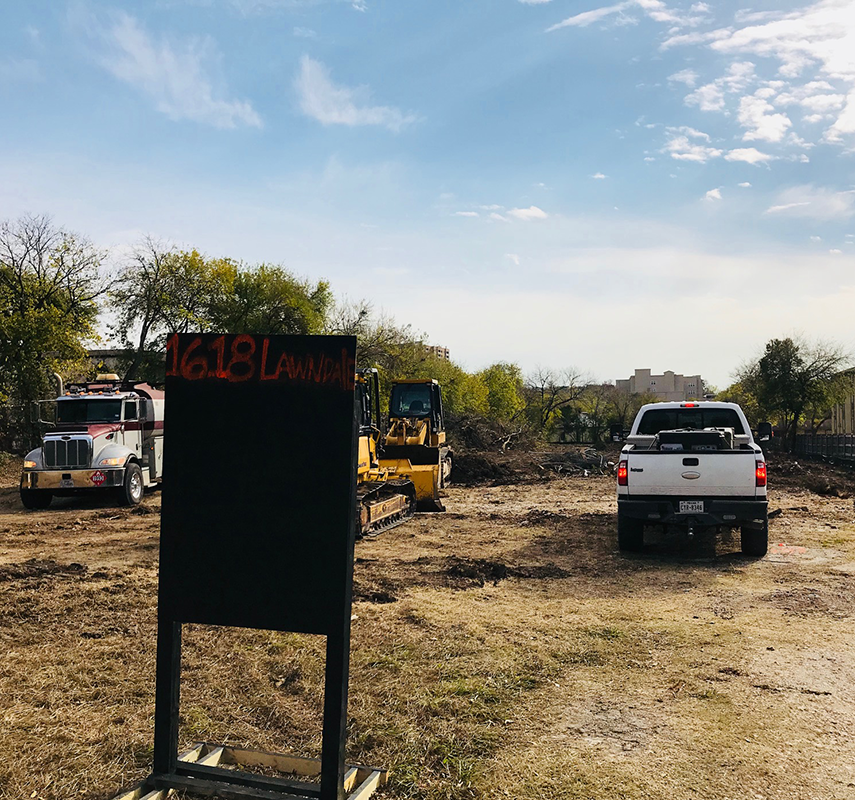 Just around the corner from Sandalwood, another developer — Lawndale Development LLC — is building 19 townhouses on a 2-acre parcel at 1618 West Lawndale, just off Broadway in 78209.
In 2013, the property was appraised at $154,000. By 2017, the Bexar County Appraisal District upped the appraisal to over $400,000. The existing structures were demolished in early December.
A local Realtor told 78209 Magazine that the rush to develop this neighborhood is no surprise, saying,. "Prospective buyers want to be in the Alamo Heights School District. And properties on W. Lawndale, Everest, Sandalwood, Belfastand Scottshill, to name just a few streets in the area, are all fertile hunting ground for developers."
Plans Scrapped for 6 Luxury Homes on Flamingo at Site of Former Nursing Home
When developer Michael Espensen demolished Stone Brook Manor Nursing Home at 1841 Flamingo Drive, he announced plans to construct six single-family luxury homes starting at $600,000 on the 1.2-acre parcel.
But he recently scrapped those plans and put the property up for sale. "I realized the neighborhood would not support homes in that price range," Espensen told 78209 Magazine. If he built them, no one would buy them.
But what about building smaller homes priced well below $600,000? "No. We just would not make enough money doing that," he said.
Espensen, who previously developed The Park and the Village at Lincoln Heights, noted the property is zoned MF33, which would permit multifamily housing. That could mean slightly more than 33 units on the 1.2-acre site. No word yet on what neighbors might think about such an increase in density on Flamingo.
The 54,886-square-foot property is appraised by the Bexar County Appraisal District at $500,000. Espensen told 78209 Magazine he is asking $925,000 for the property.
By Ron Aaron Eisenberg