The Alamo Heights Independent School District is floating a $135 million bond on May 6, with an eye toward renovations at all facilities and expanding classroom space. A committee composed of school district staff and residents spent 18 months studying facilities across the AHISD.
District leaders said this bond would meet immediate needs and help the AHISD plan for the long run in terms of better preparing students for a 21st-century education. "It's a clear plan that is also a responsible plan," said Superintendent Kevin Brown.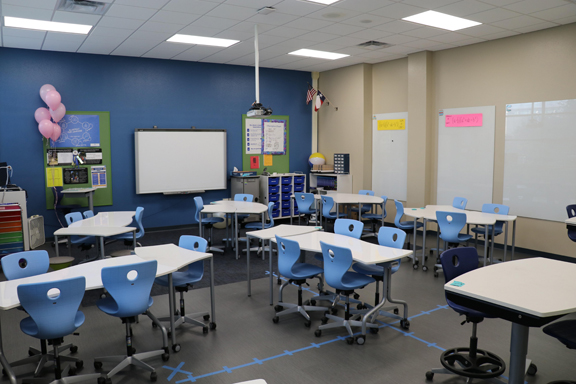 Almost all of the district's 400 classrooms will be updated to become engaged classrooms with flex-use furniture. Howard Early Childhood Center would see a new district multipurpose facility and a six-classroom addition. Cambridge Elementary, the AHISD's oldest school, dating back to the early 1900s, would have a fine arts addition, a new playground and more parking. Woodridge would get a new fine arts building, gym, playground and library.
Alamo Heights Junior School would see a 12-classroom addition with a concentration on Science Technology Engineering and Mathematics (STEM) education. "We'd like every teacher to have his or her own home classroom," Brown said. "We also need maker spaces there for our kids." The junior school would also have new gyms, auditorium and six-lane track.
The district would build a new dining/multipurpose hall at Alamo Heights High School to include more room for the aerospace/rocketry program, science labs, maker spaces, and an entrepreneurial program, where students can learn to take a product from concept to market. The cafeteria would be replaced by a food court concept. AHISD is working with the Culinary Institute of America-San Antonio on a culinary arts program.
The high school would also see new administrative buildings and many upgrades at the athletic complex, including new synthetic turf football and soccer fields and new stadium seating.
The high school could also see 50 additional parking spaces, which Brown said should answer the campus's long-standing parking issues.
The district looks to have a new natatorium and an outdoor recreation area at Robbins Academy. Additionally, there would be district-wide improvements in technology, security, ventilation systems, roofing, site drainage and landscaping, as well as new library books, musical equipment and buses.
A 5.5-cent increase in the debt service side of the AHISD's property tax rate, over seven years, would support the bond. An AHISD home valued at $515,000 would see a $24/year average hike on its tax bill. Brown said even with an increase, AHISD would still have one of the lowest overall property tax rates of San Antonio-area school districts, and that all of the new money would stay inside AHISD.
Community groups are encouraged to invite district personnel for public informational sessions on the bond. One community-wide event was held in March; another is to happen April 4 at 7 p.m. at the high school. "We have to make sure citizens have all the factual information," Brown said. Early voting will take place April 24-May 2.
Heights Area Cleans Up After Tornado
Area residents have spent the last few weeks recovering from a tornado — one of a several produced from storms that passed through San Antonio Feb. 19.
No major injuries were reported following any of the tornadoes that night, but hundreds of homes were damaged.
One twister began at the San Pedro Golf Course and spun eastward north of Alamo Heights, into Oak Park/Northwood, finally dissipating near Starcrest and Loop 410, authorities said. That tornado was categorized EF-2, with maximum sustained winds of 120 mph.
The American Red Cross and other organizations and churches provided varying means of support to people affected by the tornadoes.
Duracell donated cases of batteries to the Alamo Heights Fire Department. Firefighters took the batteries and six cases of water to Alamo Heights Christian Church for distribution.
Whataburger donated food to work crews that helped to clear debris and repair utility lines. Churches including St. Anthony de Padua Catholic Church and St. Andrew's United Methodist Church helped with disaster relief, too.
Contested Elections In AHISD, S.A.
On May 6, area voters will see contested races in the Alamo Heights Independent School District and in San Antonio City Council District 10.
In AHISD, Place 4 trustee Margaret Judson, a sales associate, is challenged by Aimee Voorhies.
San Antonio Country Club golf director James Nittoli and attorney Ryan Anderson are vying for Place 3. Trustee Lynn Thompson is not seeking re-election. AHISD terms are three years.
San Antonio District 10 voters have 10 candidates to consider. Incumbent Mike Gallagher is not running for re-election.
The candidates include: retired U.S. Air Force civil engineer Clayton Perry; Jonathan Delmer, Oak Park/Northwood Neighborhood Association president; attorney Ezra Johnson; therapist John Alvarez; and real estate investor Reinette King.
Also, Army retiree Lon Jett IV; private care attendant Celeste Montez-Tidwell; school psychologist/business owner Diana Kenny; Eric Morse, an instructional developer at USAA; and U.S. Army retiree Andrew Padilla.
San Antonio voters also will consider 14 mayoral candidates, and the city's $850 million bond proposal. In Alamo Heights, businessman Louis Cooper is not seeking re-election, ending 16 straight years on the council, the last 12 as mayor.
Attorney Bobby Rosenthal, in his sixth term as the Place 2 council member, is unopposed for mayor.
Attorney Weston Sharples is the lone candidate for Place 2. Incumbent Lawson Jessee is unchallenged for Place 1.
Heights voters will consider raising the city's sales tax rate from 8 percent to 8.25 percent to further fund its street maintenance and repair program.
Though incumbent Terrell Hills Council members William Ochse and Marilyn Eldridge are unopposed, voters will get to modernize and clear up language in their city's charter.
Lawmakers Mull Anti-CyberBullying Law
The Texas Legislature is considering Senate Bill 179, aimed at curbing student cyberbullying. The bill is nicknamed "David's Law" after Alamo Heights teenager David Molak, who took his own life in January 2016 following months of cyberbullying.
Sen. Joseé Menendez (D-San Antonio) filed SB 179, which was referred to the Senate State Affairs Committee as of early March.
David's Law proposes allowing schools to subpoena computer information that could help identify online bullies, including investigating allegations of bullying off-campus.
The bill would create a first-time misdemeanor penalty for minors caught harassing or threatening other students online. Students would be enabled to report bullying anonymously.
"The law is necessary. It's going to create the framework and help provide the tools for schools to be involved and do something about this," David's father, Matt Molak, said on Texas Public Radio's The Source in February. He co-founded David's Legacy Foundation. "But to really make an impact, it's going to take a change of heart, and that's from the kids…the bystanders," he said.
Molak added that schools and parents must get more involved in cyberbullying awareness and training on how best to use social media.
Witte Museum Names New Main Building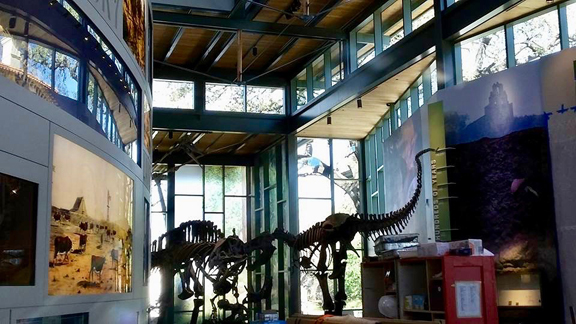 The Witte Museum hosted a grand reopening March 4 for the community, unveiling the museum's newly renovated and expanded area following months of construction.
The museum's new main building was named, the Susan Naylor Center following a press conference Feb. 22.
Naylor, a Witte trustee, is the most prolific private benefactor of the museum. Her gifts have led to the construction of many Witte campus installation spaces, including the Will Smith Amphitheater and the B. Naylor Morton Research and Collections Center.
Susan Naylor's contributions also made possible the Naylor Family Dinosaur Gallery, one of the new areas of the "new Witte."
"Susan Naylor is a visionary, a savvy businesswoman and a person who understands Texas deep time profoundly, which is the theme of the new Witte," Museum President/CEO Marise McDermott said in a news release.
Naylor said she and her family were grateful to help make possible the renovations and expansion at the Witte: "The Witte has so many things that needed to be seen. I'm incredibly proud to be part of this tremendous transformation."
Student Center Nearing Completion
Construction is almost done at the Student Engagement Center at the University of the Incarnate Word. Work on the $25 million facility began in June 2015 in the center of campus, in place of a demolished Marian Hall.
The new center is meant to replace the old student center and centralized student services. It will also house an 800-seat ballroom. and eight multipurpose rooms.
By Edmond Ortiz