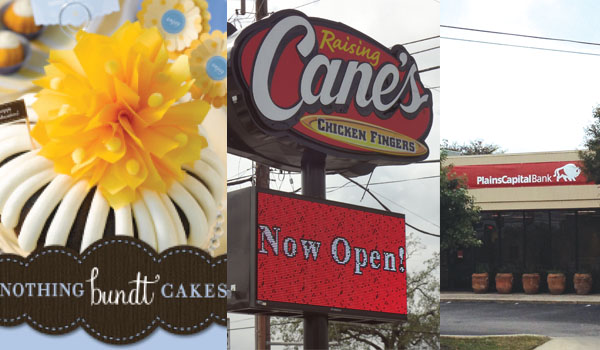 ---
By: Leslie Foley
---
Nothing Bundt Cakes
Opening just in the nick of time for the holidays is Nothing Bundt Cakes. Owners Kim and Tim Tucker are expanding and have opened a second location at 5164 Broadway. Now you can order your very own bundtlet of joy a bite-sized bundtini, an 8- or 10-inch cake or the bodacious double- tiered cake for larger celebrations. Can you smell the aroma?
These freshly baked bundts stir your senses and tempt your taste buds. Decision making is a difficult task when choosing from 10 luscious flavors and 40 unique cake designs. Can you just picture your perfectly decorated bundt placed before hungry eyes? Your guests will beg for more! Why bring a gift when you can bring a bundt cake customized for the perfect occasion? Holidays, showers, anniversaries, birthdays, football games or maybe just one all to yourself. You're sure to be the hit of the celebration when you show up with a bundt in hand.
Happenings at Cambridge Elementary
There's to be a ribbon cutting Dec. 6 at Cambridge Elementary School to unveil the school's new outdoor classroom. The Alamo Heights Fire Department will be on hand, along with food trucks. H-E-B at Lincoln Heights is donating refreshments. This project is the fruition of fundraising events held last year by Cambridge families.
Snack Paks 4 Kids is a new program that serves 45 children and their younger siblings with snack packs for the weekend and long holiday breaks. Counselors' offices are also stocked with food for students who need a snack during the day. PTO volunteers order the food and pack the bags each week. Funding has come from Grace Fellowship Church, AlamoHeights United Methodist Church, First Presbyterian Church and KLFSA.
The program ensures that children's hunger pangs do not prevent them from concentrating on academic learning and social development. The school held a fall fitness fundraiser Nov. 15 at Cambridge Field to raise funds for a shade structure for the playground. The goal is to raise $65,000.
Raising Cane's
Get ready to lick those fingers! Raising Cane's Chicken Fingers opened its sixth San Antonio location at 8402 Broadway (inside Loop 410). The Louisiana-based chain is known for its ONE LOVE-quality chicken finger meals. And what makes Raising Cane's so special? The fresh premium chicken tenderloins are marinated 24 hours, so you'll never find frozen stuff here. Try the crinkle-cut fries, Texas toast and creamy coleslaw, and don't forget Cane's tangy sauce made fresh daily. Who is Raising Cane? A dog. The owner named his first restaurant after his beloved yellow lab, Raising Cane. Raising Cane II now picks up where Raising Cane left off. He can be spotted at restaurants and community activities or checking in at the restaurant support office.
And what's a CANIAC? You will just have to hurry over and see for yourself. Raising Cane's is a friendly neighbor very involved in giving back to the community, and judging by the parking lot and overflow, it's ONE LOVE at first bite!
Plains Capital Bank Branch Now in 78209
Plains Capital Bank has expanded its footprint in San Antonio with the acquisition of 51 existing banking centers in San Antonio and South Texas, including its new location located at the intersection of Nacogdoches and N. New Braunfels in Alamo Heights. "This branch was part of the former Edinburg- based First National Bank and is a full-service branch with drive-through teller and ATM lanes for convenient banking inside of Loop 410," according to Mike Molak, area president of Plains Capital Bank – San Antonio.