ALAMO HEIGHTS CITY COUNCIL POSTPONES BOND ELECTION
BY EDMOND ORTIZ
The city of Alamo Heights was considering in late August scheduling a $12 million bond election for November to fund street improvements citywide, but elected officials instead opted to put that on hold in order to get more details.
The City Council voted unanimously on Aug. 22 to table a motion that would have called the bond election for Nov. 8. Upon reading the council meeting agenda item Aug. 22, Mayor Louis Cooper said that based upon discussions with council members, the bond proposal probably was not "going to launch at this point in time."
Aug. 22 was the last day any Texas local government could order a general or special election for Nov. 8.
"I think we should probably postpone this to a further time of year where we could look back on this and review it later on," Cooper said. No discussion among the council members took place that day, as City Attorney Mike Brenan suggested tabling the matter was the best option.
The council has discussed the formation of a bond proposal in a few council meetings this year, and the city hosted public meetings June 29 and July 20 to inform residents what might be on the horizon.
Council members commended city staff for their work on the proposal. But officials said they felt it would be better to wait until they and the community are even more informed about potential road improvements that could be funded through the issuance of debt. "I think we have more and more questions to look at in the future," Cooper added.
City staff has estimated $12 million in needed infrastructural work, ranging from basic mill and overlay of various roads to reconstruction of seven streets with new curbs and sidewalks. Streets not identified have been repaved in the last eight years, and roads that need utility improvements, as mandated by the state, will get some work.
Mill and overlay involves the milling of existing asphalt and the overlay of the new asphalt surface. Roads identified for mill and overlay include Grove, Arcadia, Grandview, Chichester, Ellwood, Kampmann, Cleveland, Tuxedo, Alamo Heights Boulevard and Columbus, among others.
Reconstruction involves the complete removal and replacement of the asphalt and base materials as well as new sidewalks and curbs. Roads identified for reconstruction include a part of Harrison, Barilla, Marcia, Elizabeth, Harrigan, Katherine and Burr.
If the current proposal were to go through, city officials would raise the debt portion of the city's property tax rate to support the infrastructure improvements. The increase of 3.57 cents per $100 valuation would not begin until 2018. Then that debt portion would go back down 3.18 cents in 2033. Such a tax increase would raise the bill on the average taxable home value in Alamo Heights, assessed at $559,986 in 2015, from $2,185 to $2,385.
In the last 10 years, the city has issued debt for infrastructure projects such as the new municipal complex, acquiring new firefighting and rescue apparatus, and for fixes and extensions to the water and sewer system.
Although there is no bond election, Alamo Heights voters will still be asked to reauthorize a sales use tax of one-fourth percent on November 8. The revenue from this tax goes to help fund street maintenance citywide.
Voters get to renew the local sales use tax for street maintenance every four years. Early voting will be held Oct. 25-Nov. 4 at the Lions Field Adult and Senior Center, Tobin Library at Oakwell and at Olmos Park City Hall. Election Day polling will be held at Alamo Heights City Hall and Alamo Heights Baptist Church.
Mayor Louis Cooper said that based upon discussions with council members, the bond proposal probably was not "going to launch at this point in time."I think we have more and more questions to look at in the future…."
BRIEFS
EXHIBIT TO EXPLORE PAST, ENVISION FUTURE ON BROADWAY
The Institute of Texan Cultures, 801 E. Cesar Chavez Blvd., will host "1000 Parks and a Line in the Sky: Broadway – Avenue of the Future." The exhibit offers a "what if" scenario in addition to a nostalgic exploration of Broadway.
"1000 Parks…" opens Oct. 21 and runs through April 16. Events associated with the installation are planned. Admission fees will apply.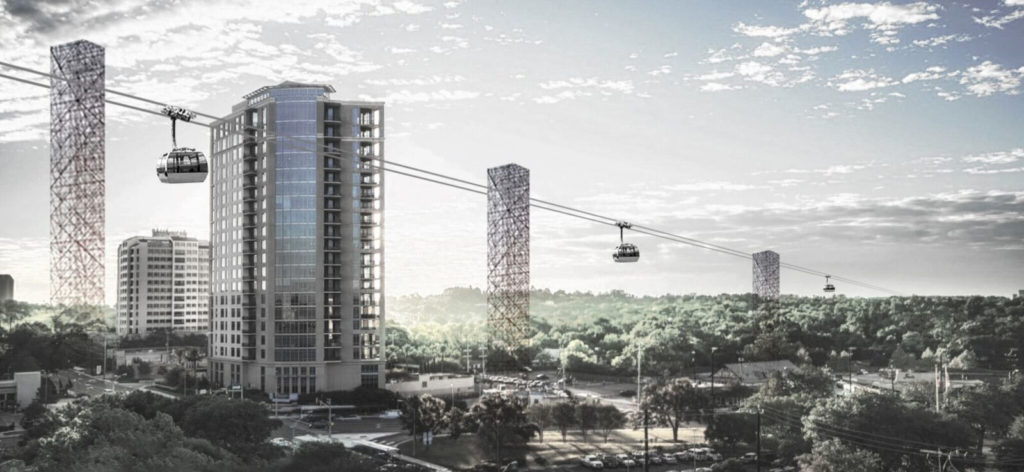 The interactive installation includes a design vision by Dr. Antonio Petrov, assistant professor of architecture at the University of Texas at San Antonio, and the "think/do-tank" he has set up in the College of Architecture, Construction and Planning.
The exhibit features a 50-foot-long model of Broadway, a street that Petrov, local leaders and others say has the potential to become a model urban Main Street of sorts for San Antonio.
Current discussions about the future of Brackenridge Park, and ongoing redevelopment all along the corridor, have generated talks about the look, feel and use of Broadway. Presently, nearly 50 percent of Broadway's urban landscape is flanked by parking space, while nearly all spaces along the corridor are tied to businesses, leaving almost no public space for recreational gatherings.
Petrov has researched Broadway and proposes a linear park system comprising unused spaces found along the street and a skyride linking San Antonio International Airport to Travis Park. The envisioned skyride recalls the Brackenridge Park skyride that existed from the 1960s to the 1990s. Visitors to the installation will be able to sit in a gondola from the original Brackenridge skyride.
TERRELL HILLS TO LOOK AT ACCIDENT DATA
The Terrell Hills City Council on Sept. 12 discussed how the city could cut down on the risks of more accidents occuring on Wiltshire Avenue.
The city recently performed a traffic survey on the 200 through 500 blocks of Wiltshire. Information collected indicated that while speeds were within norms, 11 accidents were recorded in the study area over the last three years.
Based on the traffic counts, an estimated 900 vehicles per day, the rate of accidents exceeds what would be considered normal, City Manager Columbus Stutes said.
The council authorized Pape-Dawson Engineers to review the data and do field observations. The consulting engineers are to bring suggestions back to the council this month.
Local officials hope a solution can soon be implemented to help reduce the potential for further accidents.
MCNAY RECEIVES $1 MILLION DONATION
The McNay Art Museum has received a $1 million donation from the G.A.C. Halff Foundation to set up an endowment for the acquisition of American art. Museum supporters gathered June 6 to celebrate the announcement, which came in conjunction with a tribute to outgoing museum director William Chiego.
"The G.A.C. Halff Foundation has been a generous supporter of the McNay's exhibition program for many years, and Marie and her late husband, Hugh, have been generous supporters of the museum personally," Chiego said in a news release.
"This wonderful gift will be a substantial factor in the future growth of our American collection. Given Marie and Hugh Halff's passionate collecting of American art, it is especially fitting that this endowment will support American acquisitions."
In addition to this donation and to celebrate Chiego's legacy as director, the McNay has established the William J. Chiego Vision Fund. This fund supports the vision of growth and change for the museum.
ALAMO HEIGHTS ADOPTS BUDGET
The Alamo Heights City Council in September adopted a $9.46 million general fund budget for fiscal year 2017.
That new general fund expenditures budget, which took effect Oct. 1, is a 1.61 percent increase from the fiscal year 2016 general fund expenses. Total general fund revenues for FY 2017 are projected to be $9.75 million, a 3.71 percent rise from FY 2016 general fund income.
Public safety continues to be a top priority in the Alamo Heights budget, with 60 percent of the general fund spending allocated for police, fire and EMS. The public safety budget features $278,451 for replacing capital equipment, including the purchase of automatic license plate readers, useful in identifying motorists with warrants.
Public works take up another 18 percent. The city's utility fund includes $400,000 to replace a sewer line on Harrigan Court. The new budget offers a 2 percent cost-of-living adjustment for employees.
The council approved dropping the city's property tax rate from 39 cents to 38.9 cents per $100 valuation. City officials said regular renovation of existing homes and construction of new homes have helped to raise local property values by as much as 5.8 percent in 2016.
Officials added the city is benefiting from improvement and renewal along parts of its commercial district.
BY EDMOND ORTIZ