Alamo Heights Voters Consider $13M Bond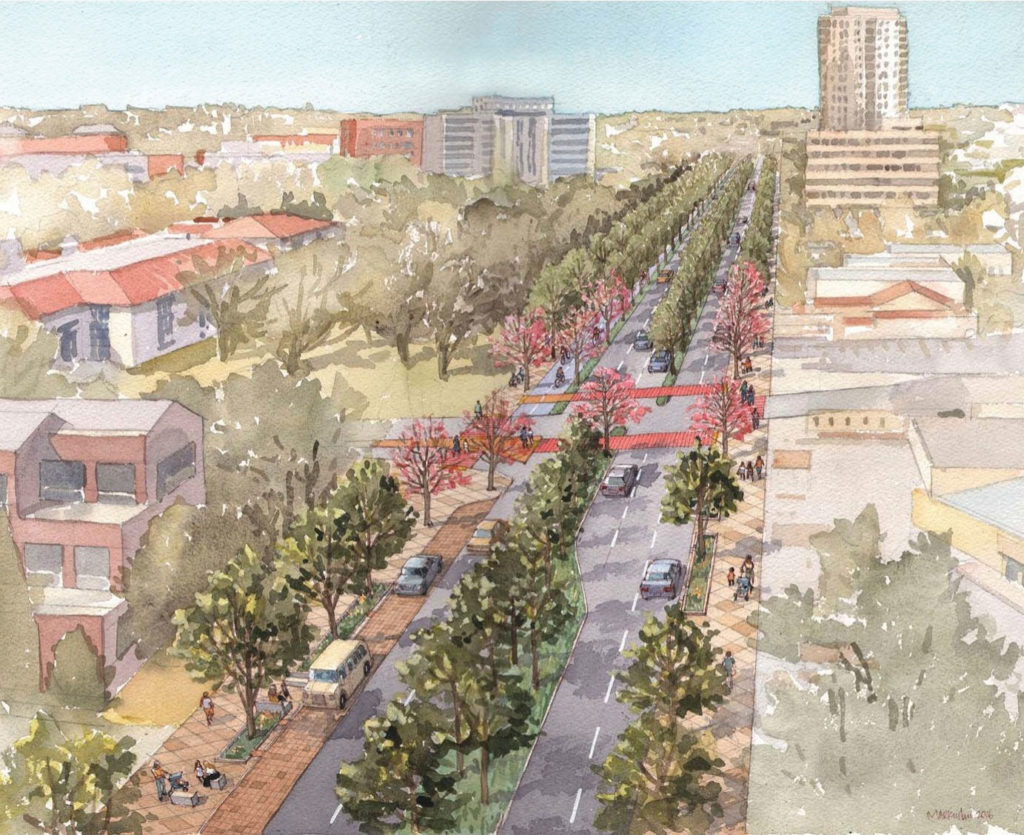 There will be no contested city council races in Alamo Heights on May 2, but local voters will be considering a bond issue that proposes $13.2 million in improvements on Broadway. Local officials have been discussing how best to turn Alamo Heights' segment of Broadway into a complete street, with an emphasis on drainage upgrades.
City leaders propose multiple improvements, including decreasing the street width from six to four lanes, installing dedicated bicycle lanes and wider sidewalks, roadside landscaping, and new crosswalk and traffic light signals.
The bond, if approved, would also help to fund repairs to old utility pipes and lines underneath the street surface, and take nearly 30 acres of land out of the floodplain. Major rains in recent years have spurred flash-flooding in places such as Austin Highway and Broadway.
City leaders are proposing multiple improvements to the Alamo Heights segment of Broadway which include decreasing the street width from six to four lanes and adding dedicated bicycle lanes, wider sidewalks and landscaping.
Alamo Area Metropolitan Planning Organization, Texas Department of Transportation, and the San Antonio River Authority all have pledged more than $15 million toward various Broadway improvements. Alamo Heights also has been seeking a financial pledge from Bexar County. If voters were to pass the bond, the city's debt service property tax rate would go up from .05 cents per $100 valuation to .07 cents three separate times over the next 10 years prior to a rate decrease.
The city plans construction work to take place in phases. There also will be a public education process prior to the launch of early voting in late April.
As far as council elections go, Place 4 Councilmember Lynda Billa Burke and Place 5 John Savage filed to return for another two-year terms. Place 3 Councilman Fred Prassel is stepping down after a 10-year tenure at City Hall. Real estate executive Blake Bonner filed to succeed Prassel.
---
Terrell Hills Council Members Vie for the Mayoral Post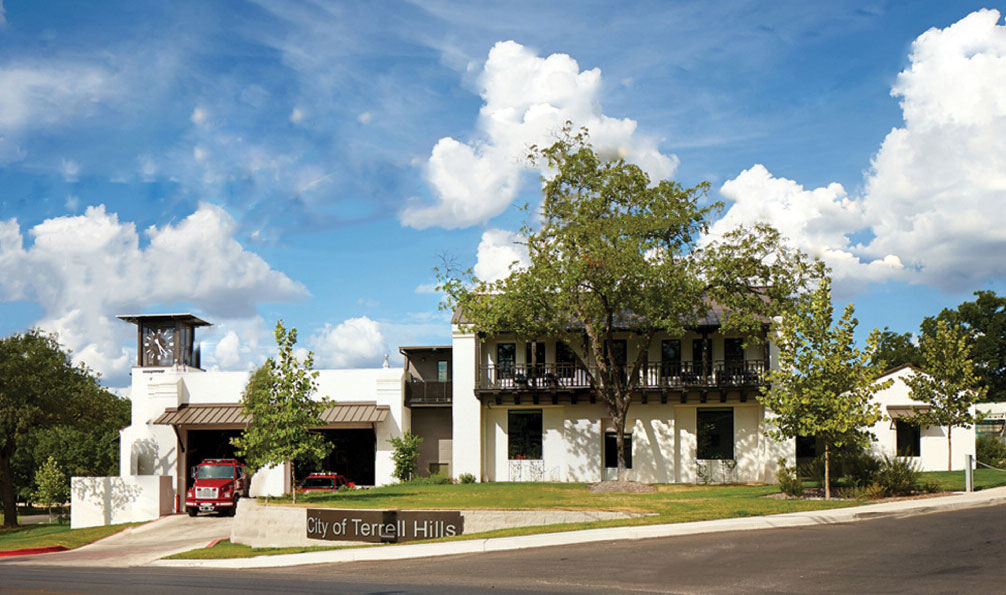 For the first time in six years, Terrell Hills voters will have to choose a new mayor. Anne Ballantyne is retiring after 18 years in local public office, the last six as mayor. Before her council election, Ballantyne served 10 years with the city's board of adjustment and planning and zoning commission.
"I am stepping down to dedicate more time to my family and friends," she said. "It has been an honor and a pleasure to serve the community that helped raise me, our children, and now our grandchildren."
Councilmembers William Ochse III, experienced in real estate, and attorney John Low are in a race to succeed Ballantyne in the May 2 election. Kate Lanfear, who works in real estate, filed for Low's Place 2 council position. Place 1 Councilman Bill Mitchell, a business owner, drew no opposition.
---
Two Vying for NEISD District 4 Spot
Two Oak Park/Northwood residents will meet in the May 2 election, vying for District 4 post on the North East Independent School District (NEISD) board. Incumbent trustee David Beyer drew a challenge from child welfare attorney Joseph Hoelscher for a four-year term. A landscape architect, Beyer was appointed to the school board in January 2019 to fill the remainder of former Trustee Jim Wheat's term. Beyer's wife is an NEISD alumna, and their children attend school in the district. Beyer is a Texas A&M University graduate who has volunteered with district PTAs and the North East Educational Foundation board. Beyer is campaigning on classroom innovation and promoting ways and programs that better engage students and prepare them for careers of the future. Beyer is also advocating positive mental health and social-emotional learning. Additionally, he wants to see how best the district can improve teacher and employee retention.
"Approving pay raises, giving access to funds in the form of innovative grants, and being transparent with information are all initiatives I have helped usher during my time on the board," he added.
Before entering law school, Hoelscher taught at Texas Military Institute and I continue to teach as an adjunct professor at Our Lady of the Lake University. He possesses two master's degrees and a doctorate of jurisprudence. He is currently managing attorney of the firm Hoelscher Gebbia Cepeda. Hoelscher said, if elected, he would provide the school board with multiple perspectives given his experiences in education and law, particularly how law affects children.
His priority issues include improving gifted/talented programs and academic standards, especially in elementary schools; increasing special education resources, especially for younger students; and providing class rank information for more than just the top 10% of NEISD students.
"I think it's important for a school board with a budget of over $700 million to have at least one educator and someone with legal experience, as well as actual business management experience," Hoelscher said.
---
Sharp to Join AHISD Board as Judson Departs
Filing for the May 2 election ended Feb. 14, and attorney Stacy Sharp was the only person to apply for the Place 4 board seat in the Alamo Heights Independent School District (AHISD). Trustee Margaret Judson did not file for reelection. Judson last year became the local director for the Plano, Texas-based high school service organization School-Connect.
Sharp graduated from the University of Texas School of Law, served on the Texas Law Review, and received a Texas Law Fellowship. She also served as a judicial intern for Texas Supreme Court Justice Nathan Hecht.
Sharp is also a former teacher, having taught math and science in Honduras, the South Bronx in New York City, and Austin before practicing law. She has been serving on the AHISD's Education Advisory Council. Attorney Ryan Anderson is running unopposed for another term as the Place 3 trustee. He is currently the school board secretary.
---
Montoya, Doggett, Castro, Davis Among Primary Winners
Four Democrats easily won their March 3 area primaries, while two Republican primaries will end in May 26 runoff elections.
U.S. Rep. Lloyd Doggett of Congressional District 35 fended off a challenge from Rafael Alcoser III with 73% of the vote. He will face the winner of the GOP runoff between "Guillermo" William Hayward and Jenny Garcia Sharon.
U.S. Rep. Joaquin Castro of Congressional District 20 received 92% to outlast Rob Hostetler and Justin Lecea. The GOP primary runoff candidates for District 20 are Dominick Dina and Gary Allen.
Wendy Davis, a 2014 gubernatorial candidate, won the Democratic primary over Jennie Lou Leeder for Congressional District 21. She will challenge Republican U.S. Rep. Chip Roy in the November general election.
Celina Montoya beat out Becca Moyer Defelice and Jack Guerra in the Democratic primary for state House District 121. An Alamo Heights High School alumna, Montoya has spent years in leadership positions with local non-profits, civic groups, and businesses.
In November, she will face State Rep. Steve Allison, to whom she lost in 2018.
District 120 State House Rep. Barbara Gervin-Hawkins was unopposed in the Democratic primary. She will be challenged in the general election by Ronald Payne, who topped Andrew Vicencio in the GOP primary.
District 123 State Rep. Diego Bernal ran unopposed in the Democratic primary and will have no challenger in November.
Bexar County Precinct 2 Commissioner Justin Rodriguez defeated Democratic primary opponent Queta Rodriguez. He will run unopposed in the general election.
By Edmond Ortiz