Alamo Heights Animal Shelter Solutions
The city of Alamo Heights is partnering with pet foster parents and animal welfare groups to temporarily shelter found animals after its longtime contractual shelter, an area pet business, closed in December. But the city is exploring long-range animal shelter options.
The city and the Alamo Heights Kennel Club and Salon worked together for 10 years. The venture, which operated on West Sunset Road, had extended discounted services to the city's animal care department. Owner Janet Walsdorf decided to retire.
During fiscal year 2019, which ended September 30, the kennel club and salon received 132 dogs; 78 of those dogs were returned to their owners, according to city-data. Another 39 dogs were adopted out with 15 left in the care of the city and club/salon. In the same fiscal year, 81 feral cats and kittens were trapped with 64 socialized and adopted. The kennel club/salon held an event before Christmas to adopt out some of the animals.
The city's Animal Care Services (ACS) department managed to keep some leftover animals at the police station until January 11, police Lt. Cindy Pruitt told the City Council on January 13.
All known local dogs were moved to three local kennels and other rescue organizations. As of January 13, Animal Defense League had committed to taking two dogs, and an out-of-state rescue pledged to take another two dogs.
According to Pruitt, ACS in Alamo Heights is still committed to providing rescue and adoption services for animals that come into the department's care. Pruitt said while logistics are more challenging now, they provide the city with an opportunity to expose found stray animals to a larger network of potential adopters. Pruitt said that, moving forward, ACS will keep developing relationships with different rescue groups and will continue to research and evaluate a long-term solution for kennel services with one organization.
Dogs belonging to Alamo Heights residents, for the time being, will be housed at one facility to accommodate an easy return to his/her owner. ACS is also seeking outside funds to help with costs. To date in the current fiscal year, more than $6,000 has been raised with an additional $2,500-plus paid directly to veterinarians from outside donors.
---
Austin Highway/Harry Wurzbach Project Starts
The city of San Antonio is beginning a two-year overhaul of the existing Austin Highway/Harry Wurzbach intersection. The $22 million project will result in a single point urban interchange where one signal light will control the flow on eight traffic lanes.
Both Austin Highway and Harry Wurzbach will see widening at the new intersection, and there will be free-flowing turn lanes added to Harry Wurzbach.
For years, motorists in the area have had no clear, direct turns between either major road. They must instead navigate a series of lights and stop signs between retail centers, including an H-E-B and Lowe's, to proceed on Harry Wurzbach or Austin Highway. The project is being funded with money from the city's voter-approved 2017 bond, and state and federal sources.
---
Filing Underway for Elections on May 2
Filing for a ballot spot in the May 2 local elections continues until 5 p.m. February 14. Applications are being accepted for: Alamo Heights City Council Places 3, 4 and 5; Terrell Hills mayor, and council places 1 and 2; Alamo Heights Independent School District board Places 3 and 4; and five seats on the North East Independent School District board, including District 1.
Early voting for the March 3 Democratic and Republican primaries will take place February 18-28. Regular voting will be available from 7 a.m.-7 p.m. March 3.
---
Terrell Hills Adopts 2020 Budget
Terrell Hills City Council in December approved the city's fiscal year 2020 budget.
The $6.1 million general fund budget includes a 2% cost-of-living adjustment for city employees, the addition of one full-time employee in development services/public works, and a monthly $200 vehicle allowance for the director of development services/public works. Additionally, the city is transferring $350,000 to the capital improvement fund for future street projects.
Terrell Hills is projecting a 3.7% increase in revenue from the 2019 budget. City officials said the revenue increase could be attributed to new construction and remodeling of local properties, as well as a continued new rise in property values. The property tax rate is set at 36.5 cents per $100 valuation.
---
Quarry Hofbrau Names Tellus as New Executive Chef
Joseph Tellus now holds the recently created position of executive chef and kitchen manager at Quarry Hofbrau. He has more than 30 years of experience in kitchens nationwide, including major hotels and bistros in Austin, Las Vegas, and New York City.
Tellus said in a news release he'd bring a new focus on the blending of Texas and German cuisine at the San Antonio restaurant; "The first thing I noticed was we have this awesome mesquite smoker out in the back. It's capable of smoking 20 briskets a day, and we're doing maybe two. I want to set a new pathway that truly reflects the heritage of smoking meats in the German, Texas, and Latino cultures, which is what the Hofbrau is all about."
In his first public act as executive chef, Tellus introduced the Fireplace Feast, featuring a five-pound, three-bone smoked beef rib with a cornbread and apple baked stuffing and homemade charro beans.
In 2007-08, Tellus was the executive chef at Imperia, a sleek, modern Asian restaurant in Austin's warehouse entertainment district that was selected as a "place to eat" by editors of Conde Nast Traveler magazine. Since 2016, he has been culinary director of the Mad Dogs Group of themed restaurants in San Antonio, notably at the Hyatt Hotel, and he recently oversaw the menu transition at Earl Abel's, after the diner's move to the Pearl.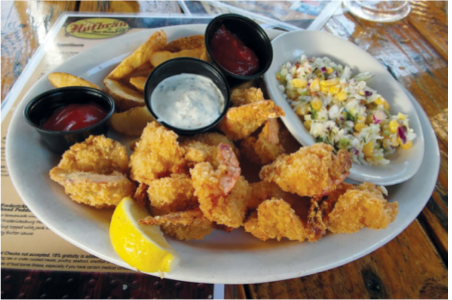 By Edmond Ortiz