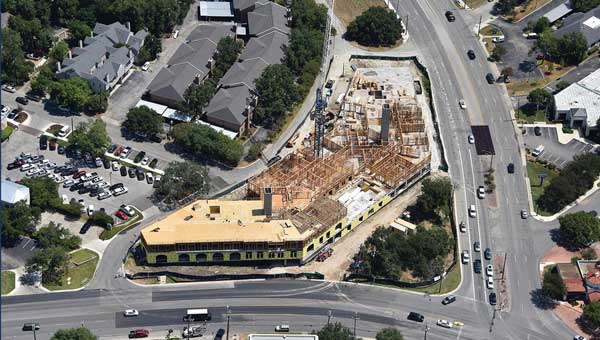 Magnolia Heights Reps Provide Update
Alamo Heights residents got an update on the Magnolia Heights mixed-use project at Austin Highway and Broadway during the October 28 Alamo Heights City Council meeting. The multi-story project includes street-level retail and 150 apartment units. Drainage issues, a small fire earlier this year, troubles with a telecommunications line, and problems with the concrete subcontractor collectively have put the project six months behind schedule. Crews from the construction contractor, Rampage, were only getting around to the building framing by late October. Work crews expected to spend November repaving Ellwood Street and performing dry-in of Building A, or ensuring it's impervious to rain. The developer, Cypress Real Estate Advisors (CREA), is slated to begin facade on Building A, perform dry-in at Building B, and open the clubhouse/leasing office area in December. CREA was considering having a ribbon-cutting with city officials sometime this month. The project now is estimated for completion in March.
---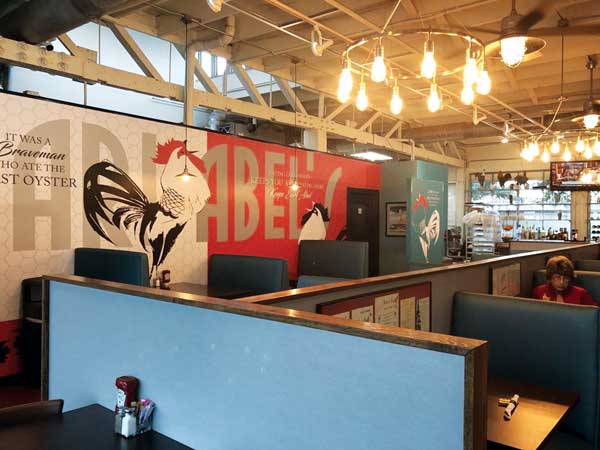 Earl Abel's Re-opens After Sale, Temporary Renovations
Blue Label 88 LLC, the new ownership group for Earl Abel's restaurant, reopened the venerable eatery in early November. The new owners closed the restaurant, which originally launched in the early 1930s, earlier this fall for some remodeling after acquiring the Pearl-area property from Arias Retail LLC. The renovations included expanding the outdoor seating area, a refreshed dining room and some menu updates.
---
Holiday Church Services
Alamo Heights Baptist Church
Services: Sunday 11am
Wednesday 6:15pm Praise and Prayer
Alamo Heights Christian Church
Services: Sunday 11am
Alamo Heights Presbyterian Church
Services: Sunday 8:30am, 11am
Christmas Eve 5:30 pm
Alamo Heights United Methodist Church
Services: Sun 8:30am, 9:30am, 11am
Christmas Eve 2pm, 6pm, 7pm, 9pm
Christmas Eve Children's Service 4pm
Christ Lutheran Church
Services: Sunday 8:30am, 10:30am
Christmas Eve 4pm, 6pm
First Church of Christ Scientist
Services: Sunday 10:30am
Wednesday 12pm
Mount Calvary Lutheran Church
Services: Sunday 8:30 am, 11am
Christmas Eve 5pm, 7pm
Christmas Day 10:30am
Northwood Presbyterian Church
Services: Sunday 11am
Christmas Eve 6:30pm
Northrock Church Alamo Heights
Services: Sunday 10am, 11:30am
Christmas Eve 3pm, 4pm, 5pm
St. Anthony De Padua Catholic Church
Services: Saturday 5pm
Sunday 7:30am, 9am, 10:30am, 12pm
Daily Mass 9am Mon, Tues, Thurs, Fri
Christmas Eve 4pm, Midnight
Christmas Eve Children's Service 6pm
Christmas Day 10:30am
St. David's Episcopal Church and School
Services: Sunday 8am, 10:30am
Tuesday 7:30am
Christmas Eve 4pm, 7pm
Christmas Day 10am
St. Luke's Episcopal Church
Services: Sunday 8am, 9am, 11am, 6pm
Tuesday 7:30am
Christmas Eve 4pm, 7pm, 10pm
Christmas Day 10am
St. Peter Prince of the Apostles
Services: Saturday and Wednesday 5:30pm
Sunday 9am, 11am, 5:30om
Tuesday and Thursday 7am
Friday 8am
Christmas Eve 4pm, 6pm
Christmas Day 10am
St. Pius X Catholic Church
---
Broadway Apartments Have New Owner
The Brackenridge at Midtown apartments off Broadway was recently acquired by Cortland Partners, which rebranded the property Cortland Brackenridge.
Cortland Partners owns and manages more than 60,000 apartment homes nationwide.
Embrey Realty Opens Broadway Office
Local residential real estate company Embrey Realty opened a new office at 7801 Broadway, Suite 210, concentrating its business in the Alamo Heights-area.
"We are thrilled to launch our new real estate venture after many years of experience in the market," Jennie Embrey said in a company press release. "We use cutting edge technology and interactive media platforms that help clients seamlessly navigate buying and selling of real estate. In a world with virtual reality at its fingertips, we provide interactive marketing with aerial photography and video capabilities."
Alamo Heights OKs Zoning Code Changes
On October 14, Alamo Heights City Council adopted revisions to the local zoning code to clear up and modernize some protocols and requirements. As a result, the zoning code now has a new definition for multi-family housing as a development made up of one or more structures with ten or more units on a single property.  A second major change is that the city cannot prevent the use of construction material that has been a city-approved material over the previous three code permit cycles.
Haskin Park Gets a New Trail
The city of San Antonio held a ceremony October 8 to open a walking trail at Haskin Park in Oak Park/Northwood. Construction of the trail was funded to the tune of $300,000 from the city bond that voters approved in 2017. Bond-funded improvements inside Haskin Park include enhanced LED lighting, benches, more parking, new trees, and other landscaping.
Terrell Hills Approves Tax Rate
Terrell Hills City Council approved a property tax rate of $36.5 per $100 valuation for the fiscal year 2020, which begins January 1. The council will adopt an FY 2020 budget later this month.
By Edmond Ortiz