New Office Building Planned in Heights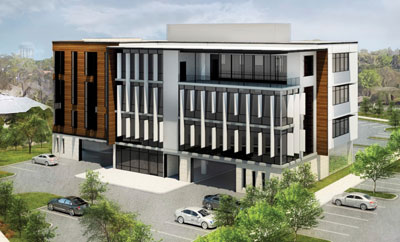 Alamo Heights developer Ridgemont Properties is proposing to put up a four-story commercial building at 200 Austin Highway.
Architects from the firm Studio8 presented preliminary plans at the Dec. 10 Alamo Heights City Council meeting.
The building would include street-surface parking underneath the bulk of the structure, as well as some parking on the outlying road.
Located on a 1-acre lot, the building will be designed and marketed to lease to local small business owners.
Construction of the 30,502-square-foot building will require demolition of the existing former Bank of America motor bank. The project still needs to go through the city's Architectural Review Board before going to the council.
Local officials said variances and a floodplain development permit will be required, too.
San Antonio OK's Zoning Near Alamo Heights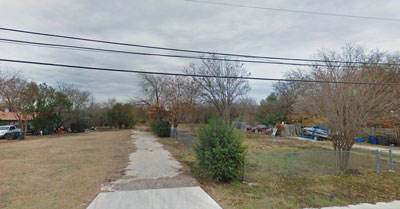 The San Antonio City Council voted Dec. 6 to approve a request to rezone two lots in the 1500 block of East Sandalwood Lane, northwest of the Sunset Road/Broadway intersection.
The council's action changes the zoning of the less-than-1-acre tract from residential single-family and commercial to Infill Development Zone to accommodate 12 residential units.
---
Alamo Heights Seeks New City Manager
The city of Alamo Heights is conducting a comprehensive search for a new city manager. Mark Browne resigned in December, ending a stint of more than seven years with the city to take on the similar position in Schertz.
The City Manager met Dec. 5 to officially accept Browne's resignation and to have the city start posting the job opening.
Browne kept working in Alamo Heights until the end of 2018, and began helping the city to comb through applications for city manager.
Mayor Bobby Rosenthal indicated he would like to see a new city manager in place by late January. While no specific person had been serving as interim city manager, Fire Chief/Assistant City Manager Buddy Kuhn had been helping address some daily operations in the meantime.
Browne became Alamo Heights' city manager after helping to lead Terrell Hills as its city manager. A former U.S. Air Force colonel, Browne oversaw several initiatives in Alamo Heights, including a voter-approved bond to fund construction of a new municipal complex, and revamps of commercial signage rules and of residential design standards.
Rosenthal said he was impressed with Browne's straight-forward attitude on the job, and that Browne was unflustered in the face of local political turbulence.
"His lasting legacy will be the way he led the city hall project," the mayor added.
Before departing in December, Browne said it was a difficult decision to apply for the city managerial position in Schertz, but that he was looking forward to the challenge in guiding a still-growing city that has a population of more than 40,000.
Browne said his municipal administrative and military leadership experience would be a good fit for Schertz. He added he was leaving behind a solid, capable group of fellow city staffers in Alamo Heights. He also expressed gratitude to the city's elected officials and residents for their support and assistance over the years.
"It's the people here that I'll miss the most," he added.
The city is also needing to fill the position of community development services director. Following Jason Lutz's departure, Ken Roberts served that role briefly before taking up a city managerial spot in another city in Bexar County.
---
Terrell Hills Talks Possible Charter Election
Terrell Hills City Council on Dec. 10 discussed the potential for a charter election in May to change the city budget calendar.
Terrell Hills' fiscal year follows the traditional calendar year, whereas the fiscal year in most other area cities runs from Oct. 1 to Sept. 30.
Mayor Anne Ballantyne said moving Terrell Hills to a more traditional fiscal year calendar will help the city to better understand its local appraised property values. The Bexar County Appraisal District usually releases assessments in late summer, not long before taxing entities – mainly cities and school districts – finalize their property tax rates and budgets.
"If passed, we will need to either have a budget for a short year, then have another budget process not long after – or do a long year then get on a regular budgeting schedule," Ballantyne said.
Terrell Hills' has until Feb. 22 to order a special election on May 4, the same date that general elections will be held.
---
Filing for May Elections Now Happening
Residents interested in filing for a ballot spot ahead of the May 4 local general elections have until 5 p.m. Feb. 15 to do so. The candidate filing period began Jan. 16. Area offices that are on the ballot this year are: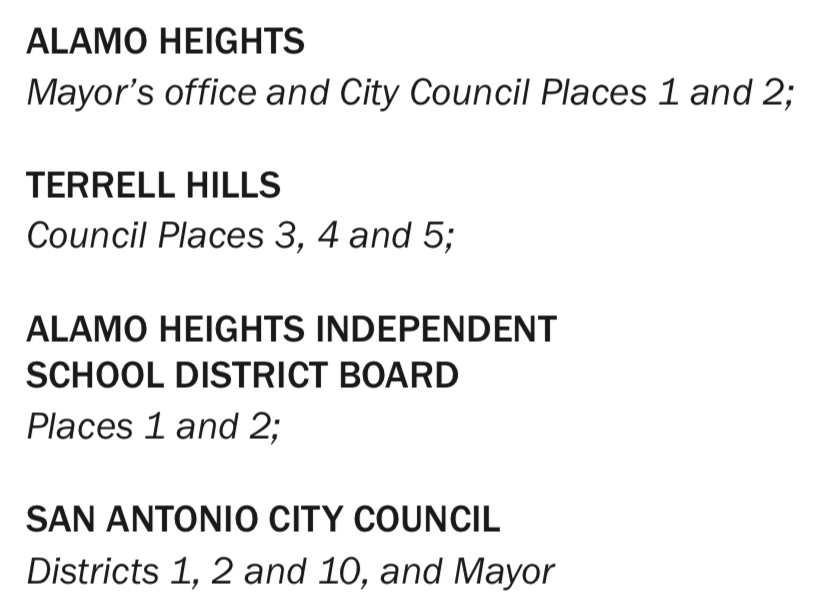 As of deadline for this issue, the San Antonio council was collecting applications from people interested in replacing William "Cruz" Shaw as the District 2 representative.
Shaw in December announced his resignation from the council, effective Jan. 7, to become associate judge in the 436th Juvenile District Court.
The North East Independent School District was deciding what to do with the District 4 seat, from which Jim Wheat resigned as trustee in December.
District 4 stretches from Wilshire and East Terrell Hills elementary schools, to near Live Oak.
Wheat's four-year term is due to end in May 2020. No regular school board elections are scheduled in odd-numbered years.
---
20-Story Office/Hotel Tower on Broadway Gets Preliminary OK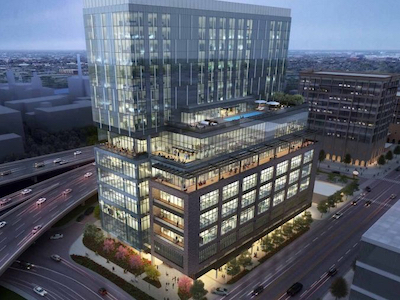 The San Antonio Historic and Design Review Commission in December approved GrayStreet Partners' site plans for a 20-story hotel/office building at 1603 Broadway and Newell Avenue.
GrayStreet will get back to the HDRC this spring with designs from the firm Gensler for final approval. The local developer expects to start construction on the $97 million project during the first half of 2019. Construction is expected to last more than two years.
The structure near Pearl will be mostly hotel rooms (eleven stories worth) with four stories of office space, one story for retail, and four levels of parking.
---
Pearl Welcomes New Restaurants
The Culinary Institute of America-San Antonio has opened a new restaurant at Pearl while a separate second restaurant is in the works to open at the popular retail and dining destination later this year.
CIA-San Antonio launched Savor in January in the former Sandbar Fishhouse and Market space. Savor's seasonal modern American concept is based on the CIA's curriculum, which teaches cuisines and techniques from around the world.
CIA-San Antonio's renowned chefs and hospitality instructors will lead the students who will prepare and serve dinner at Savor as part of their associate degree studies.
"We are thrilled to have Savor join the Pearl community," Shelley Grieshaber, Pearl's culinary director, said in a press release. Grieshaber previously directed education for CIA-San Antonio.
"As a graduate of the CIA, I understand the hard work these students put in to make this a special experience for the guests, and I am excited the restaurant will bring flavors from all across the globe to our city."
Meanwhile, Nao, which focused on Latin-American cuisine the last six years, served its final meals in mid-December. According to media reports, Victoire, a new restaurant, is renovating the former Nao space with plans to open later this year.
By Edmond Ortiz