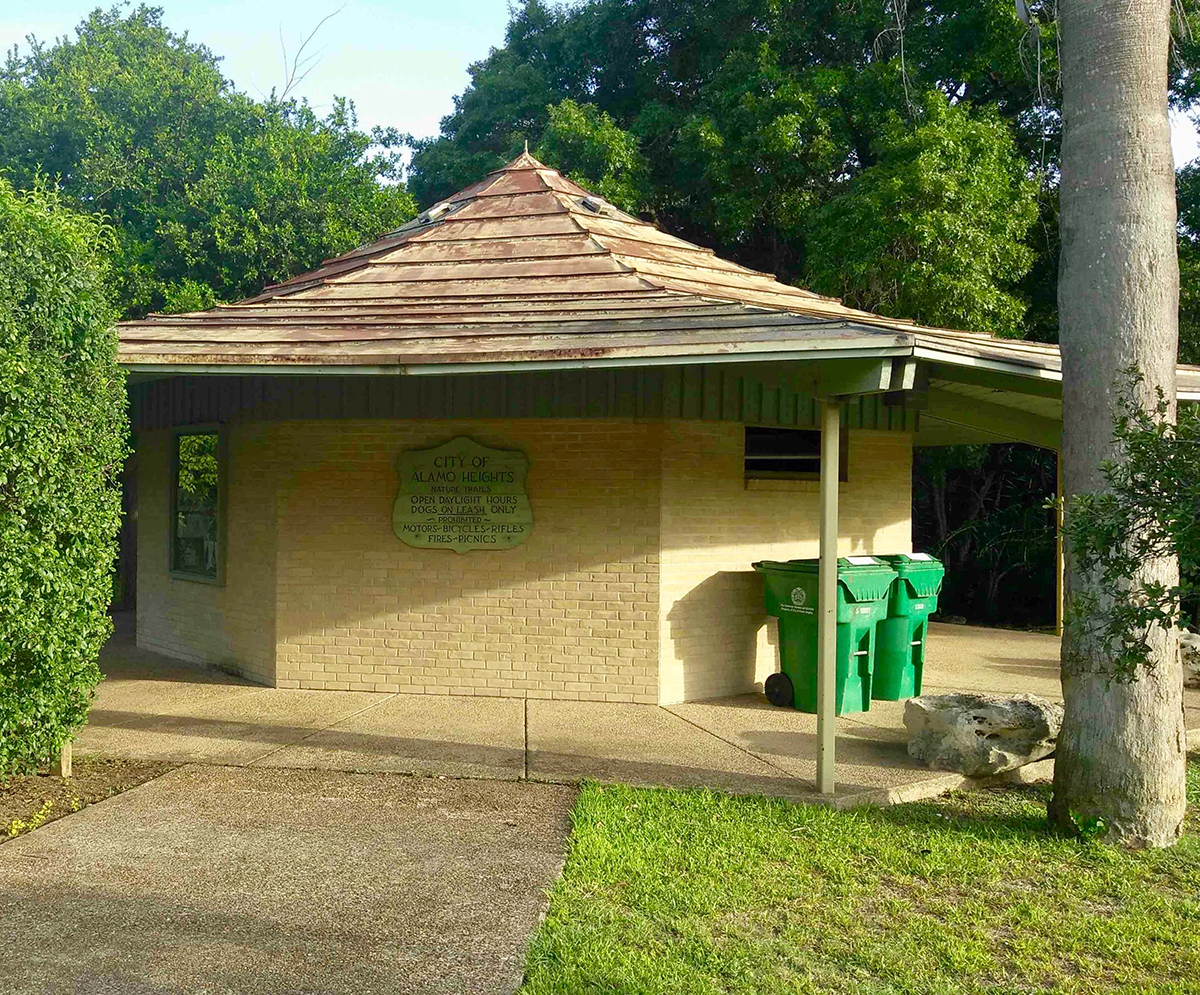 Heights to Fix Up Nature Trails Building
The city of Alamo Heights is taking steps to renovate the Jack Judson Nature Trails building, a 1960s structure in need of repairs and modernization.
The City Council unanimously agreed on Aug. 13 to pay $18,500 to local firm John Grable Architects for drawings of proposed improvements to the building, which is located off Viesca near the city swimming pool.
Approved for construction by the Alamo Heights council in 1965, the structure was developed on San Antonio-owned land, but is leased by Alamo Heights.
Alamo Heights is responsible for maintaining the building, which serves as an informational stop for visitors to the Judson nature trails.
City officials said repairs are needed to the roof, interior, wiring, bathrooms and plumbing. Upgrades could include replacing the existing metal roof, and all rotted tongue, groove timber and sheathing. Window frames and doors could be repainted, as well.
City Manager Mark Browne said the improvements project would be an opportunity to bring the structure up to current local building codes and to make the bathroom area compliant with the Americans with Disabilities Act.
Grable's architectural services fee covers the project and schematic designs, master planning and design development phases, and construction documents.
Developing architectural drawings would lead to a competitive bidding process on the actual construction work. Browne said renovation costs could range from $75,000 to $85,000.
"The building itself is made of brick, so it's solid," he said. "It's just other things that need work."
Council members expressed confidence the renovation will positively affect the community.
"It's a good use of city funds for our beautification concept," Alamo Heights Mayor Bobby Rosenthal said.
"This is a pretty unique building," added Councilman Lawson Jessee. "It looks bad now, but if you put some tender loving care, it's going to become a little beacon in the area."
Alamo Heights Council Address Sign Issues
The Alamo Heights City Council on July 23 repealed action it took the month prior, opting not to proceed with a new stop sign installation at Primrose and Buttercup.
In June, the council approved placing a sign at that intersection for westbound traffic on Primrose. Primrose, which already has a few other stop signs, has seen its share of busy traffic, neighbors say.
However, one homeowner on Primrose did not like how the new stop sign could look or handle traffic in front of their house, which is right at the intersection.
Plus, work crews could not find a viable spot for the new stop sign on the other side of Primrose. The council directed city staff to see if it could instead come up with alternative options.
On July 23, the council did approve revising its sign regulations code that affects mainly businesses.
The council also approved a one-year contract between the city and 4DogSakes Rescue, for sheltering of local stray and lost dogs.
Recycling Collector Notifies Terrell Hills Residents
Waste Management, the company responsible for garbage and recycling collection in several cities, has been notifying cities such as Terrell Hills about a fee change.
Waste Management officials have said large-scale and commercial recycling customers could be assessed a contamination charge of up to $175 per ton and/or higher processing fees for excess contamination found in their recycling loads.
According to a letter from Waste Management, contamination in the form of non-recycling items have potential to turn the entire load of recyclable items into trash, resulting in higher processing costs.
Waste Management offered some tips for all recycling participants, including residents. Those tips include:
• Don't bag recyclables. Plastic bags and film get tangled in machinery.
• Don't include food-soiled items.
• Don't add sharp objects, such as needles, or electronics in a normal recycling load.
• Don't include rubber hoses, wires, or other "anglers" that could shut down a whole recycling operation.
Budget Time is Here
Residents of Alamo Heights and the San Antonio neighborhoods of Oak Park/Northwood, Terrell Heights and Lincoln Heights are urged to touch base this month with their local elected leaders as those cities finalize their budgets for fiscal year 2019.
The new fiscal year starts Oct 1.
Alamo Heights City Council holds a public hearing at 5:30 p.m. Sept. 10 on the proposed budget and property tax rate, which the city proposes keeping at 38.6 cents per $100 valuation. Budget and tax rate adoption are set for Sept. 24.
Alamo Heights and North East independent school districts have approved their budgets for the 2018-2019 school year.
Terrell Hills City Council will have public hearings at 5 p.m. Sept. 10 and 13 on the proposal to stay with the current property tax rate of 36.5 cents per $100 valuation. The council will adopt the tax rate at 5 p.m. Sept. 17.
Broadway Project Gets Approval
The San Antonio Zoning Commission on Aug. 7 approved rezoning a vacant lot on Broadway to accommodate Stream Realty Partners' 11-story, mixed-use building.
Only a tiny house once owned by District 1 City Councilman Roberto Treviño sits on the lot across from The Bakery Building on Broadway.
Overland Partners, a local architecture firm, is responsible for the building's design. The project was expected to go before the City Council for consideration in late August or early September.
Imperfect Produce Comes to Town
Alamo Heights, Terrell Hills and Olmos Park are among the first parts of the San Antonio area to receive service from Imperfect Produce.
Imperfect Produce is a produce subscription service that sources "ugly" fruits and vegetables from farms and delivers them directly to consumers' doors. San Antonio is the first Texas city to receive Imperfect Produce service.
Since 2015, Imperfect Produce has been on a mission to eliminate food waste, help farmers benefit from a full harvest, and make healthy fruits and vegetables more accessible and affordable, according to a news release.
For the initial launch, San Antonio-area residents can use code SAT50 to receive 50 percent off their first shipment.
Visit www.imperfectproduce.com for details.
Jordan & Petersen Nontoxic Skincare Opens in the Collection on Broadway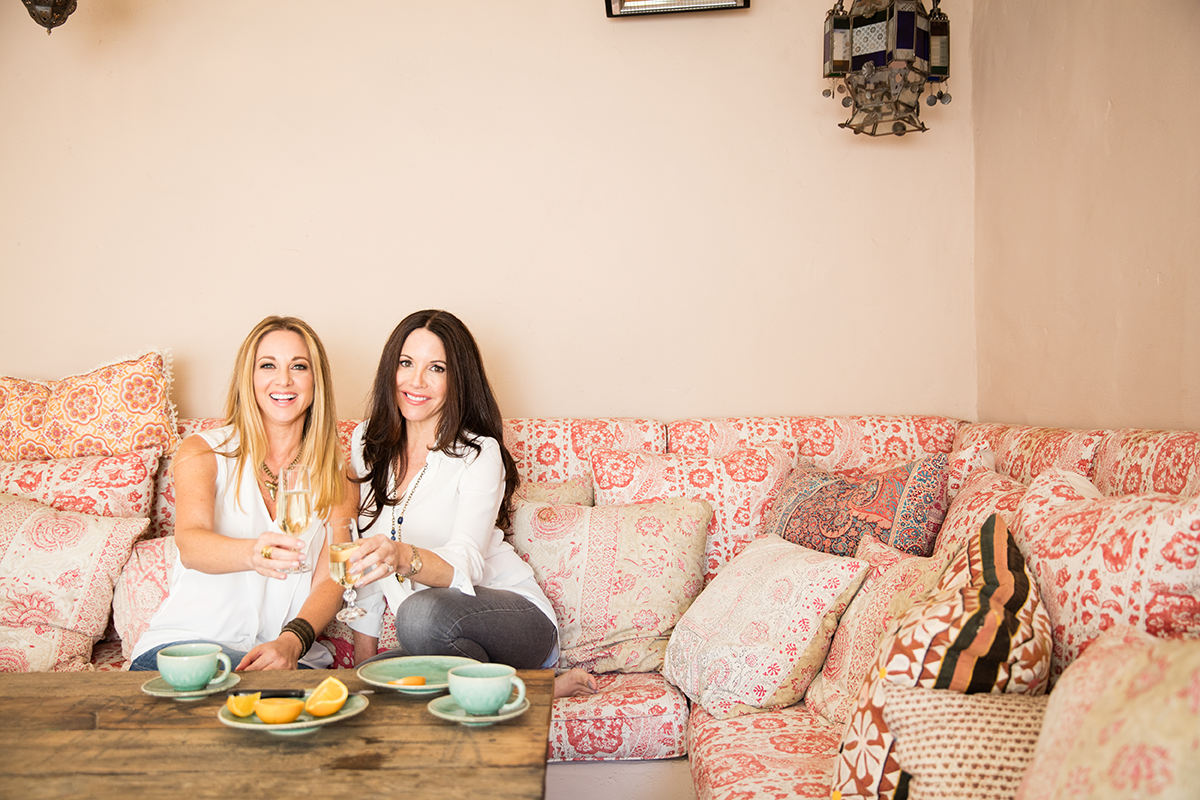 Andrea Jordan and Susie Petersen, a duo with a combined 40 years of skincare expertise, created Jordan & Petersen Skincare with a passion to combine the philosophy that health and beauty are inextricably linked.
The question was: "Why isn't there a clean skincare option free of animal-based ingredients, that's non-toxic, irritant free and that would deliver results?" In search of that answer, and with a drive to create a plant sourced "anti-aging" skincare line, the hunt was on.
"We understand there are an overwhelming amount of skincare products in the marketplace today," the women said, but we wanted to help consumers understand what they are using and what is being absorbed into their skin."
They said they believe that the clean beauty revolution is here to stay and that healthy skin has long-term, anti-aging benefits.
Alamo Heights High School Reunion
The Alamo Heights High School Class of 1978 will be celebrating their 40th reunion the weekend of Sept 28-29. There will be a kick-off party Friday night at Stonewerks Restaurant and Bar .
The celebration continues on Saturday night with dinner, dancing and live entertainment at the Petroleum Club located at 8620 N. New Braunfels Avenue, Suite 700. This event begins at 6:00pm and is open to class of '78 graduates only.
For more information or to purchase tickets go to ahhsclassof78reunion.com.
By Edmond Ortiz