More Office Development in Works on Broadway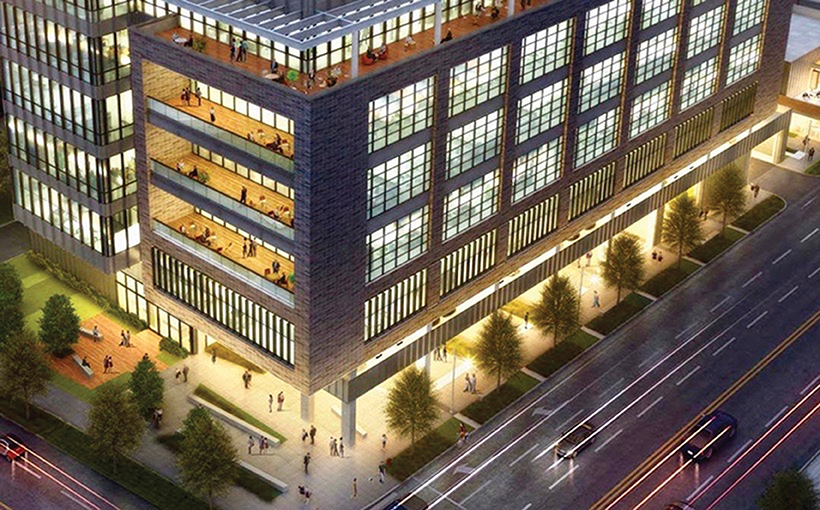 Lower Broadway, beginning in Alamo Heights all the way to downtown, is being eyed for more office and commercial space development.
A recently formed partnership has submitted to the city of San Antonio a preliminary site plan for an office building with retail space at the northeastern corner of Broadway and East Grayson Street.
The partnership, 1990 Broadway, has bought seven properties, spread over 1.7 acres, in an area that the city rezoned from industrial to infill development. This specific rezoned property could accommodate a multi-story office development and small retail space.
Four top Jefferson Bank executives formed the partnership, which, according to the San Antonio Express-News, has been working with local developer Milam Real Estate Capital on the site.
If this project were realized, it would increase the office space that is under development or planned for construction on lower Broadway and near Pearl.
Credit Human (formerly San Antonio Credit Union) is constructing a 10-story corporate headquarters in the vicinity.
Alamo Colleges is also developing a support services facility on North Alamo Street near East Grayson, a block from Broadway.
Development company Stream Realty wants the city of San Antonio to rezone a lot at Broadway and Ailing from River Improvement Overlay, District 1 (RIO-1) to RIO, District 2.
Such a rezone would accommodate the construction of an envisioned 11-story mixed-use building on the lot, which currently hosts a tiny house that City Councilman Roberto Treviño once owned and used as a field office for his architectural work.
Stream Realty was due to meet with the city's Zoning Commission in mid-July. The developer failed to get an endorsement from the city's Historic and Design Review Commission.
The Zoning Commission did approve a different rezoning request, one from Embrey Partners, a local developer that wants to erect a multi-story office building and apartment complex at Broadway, Nottingham and Nacogdoches.
The new development would replace a complex of 1960s-era condominiums.
Local developer GrayStreet Partners received from the city a variance for its planned mixed-use tower at 1603 Broadway. GrayStreet seeks to develop 130,000 square feet for office space, a hotel, and a small retail space there.
In recent years, San Antonio city officials and neighborhood leaders have talked about transforming the Lower Broadway corridor into a more walkable area that blends residential redevelopment with new opportunities for office and retail space.
The voter-approved 2017 city bond for infrastructure improvements will also fund much of the Lower Broadway corridor.
Heights Monitors Retail Center Parking Issue
On June 5, Alamo Heights City Council approved an agreement that will turn 39 parking spaces in a public right-of-way into private spaces for the Cambridge Shopping Center.
The center owner, Richard McCaleb, asked for the conversion of spaces along Fenimore Avenue and Circle Street to accommodate employee parking at center tenants, mainly Paloma Blanca restaurant.
Some neighboring residents questioned the move, but others saw it as a positive that would keep employees from parking in nearby residential streets.
The city will review the agreement in December. Councilwoman Lynda Billa Burke said this move could inspire partnerships with property owners in the business district in order to help ease parking issues along Broadway.
Heights Council Approves Features for Mixed-Use Project
Alamo Heights City Council voted May 29 to approve the pedestrian lighting and crosswalk and intersection colors around the mixed-use development underway at Broadway and Austin Highway.
James West of GFF Architects, who's heading up the project design, presented the council with proposed silver pedestrian light fixtures, graphite and foundry pavers for crosswalks, and French gray stained concrete at the corner of Ellwood and Fenimore.
The development includes a multi-story apartment complex and small retail space.
Alamo Heights High School Class of 1978 Reunion
The Alamo Heights High School Class of 1978 will be celebrating their 40th reunion the weekend of September 28-29. There will be a kick-off party Friday night at Stonewerks Restaurant and Bar located in the Shops at Lincoln Heights. The party will feature appetizers, a cash bar and a live band. If you're not from the class of '78, but are a "Heightster" from another year, you are welcome to join them. Tickets for this event are $30 and may be purchased online or at the door.
The celebration continues on Saturday night with a formal dinner, dancing, live entertainment by the Mo-dels, and a cash bar at the Petroleum Club located at 8620 N. New Braunfels Avenue, Suite 700. This event begins at 6pm and is open to class of '78 graduates only. The attire for this event is cocktail or business casual. Tickets for this event are $85 and $95 and may only be purchased online.
For more information or to purchase tickets go to https://ahhsclassof78reunion.com.
By Edmond Ortiz