Alamo Heights Ends Controversial Monument Proposal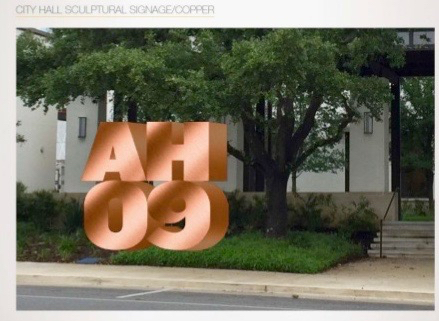 Alamo Heights Mayor Bobby Rosenthal said in a July email that the city would not go forward on a controversial proposal to install two city monuments.
The City Council on June 26 discussed, then tabled, the topic of erecting one monument in front of City Hall on Broadway, and an obelisk at the city limit entrance on Olmos Drive.
Local firm Bradford Lawton Design began consulting with the city about seven months ago on a citywide marketing and re-branding strategy. The firm helped to develop the idea of an obelisk and a City Hall monument as part of a wider effort to help give Alamo Heights a lasting, cohesive message to residents and visitors.
The last proposal involved a large aluminum or copper or hybrid sculpture with the letters "AH" atop the numbers "09" that would be placed at City Hall. As for the obelisk, one concept's lettering would have had a similar font type as the City Hall monument. The obelisk design bore the "AH09," but in a vertical pattern, followed by "The city of Alamo Heights" and "A great place to be." An established slogan, "The city of beauty of charm," was nowhere to be found on the conceptual designs.
Council debated the varying estimated costs, as the city obtained quotes from three signage and graphics companies. Prices ranged from $25,516 from one company for aluminum obelisk and monument to $44,416 from another company for copper obelisk and monument. The money would have come from the city's capital projects fund. But officials had concerns about the potential expenditure and the effectiveness of the proposed monument and obelisk.
The proposal also upset residents, many of whom aired their grievances on the official Alamo Heights Facebook group and to local media outlets.
"Why are we marketing? This is a very poor use of taxpayer money," said Mary Dixson on the Facebook group. "They changed the slogan from something classy to something awful," Randy Lockwood said on the same group. "And put it on what looks like a cheap imitation of the Washington Monument? Typical."
"Looks awful! It cost the city a fortune just for the design. Total joke," Lauren Oberman Newburn wrote.
Other residents have wondered why the city is attempting a re-branding campaign. "Changing the city seal is one thing, spending on re-branding when the city will not grow or produce more seems a waste," HP Hildebrand said on the Alamo Heights Facebook group. "Will more businesses locate here? There is little room. More residents? Perhaps the 'build it and they will come' developers are planning more apartments."
A few residents calling themselves "Citizens for beauty and charm" began an online petition at Change.org to oppose the proposed monuments. A few days after the debate made the local news, city leaders switched gears. Rosenthal wrote an email to residents, acknowledging critics' complaints about the proposal.
"I'm glad that we know how people feel and actually really appreciate you assisting in that regard. We will certainly pull the plug on the proposed monument," he wrote.
Rocketry Students Shoot For The Sky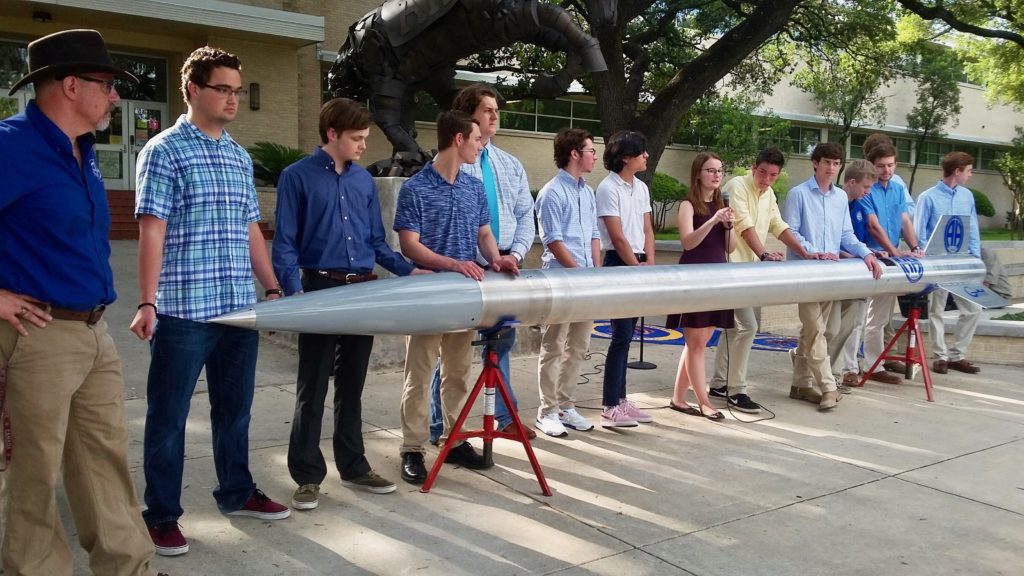 Aerospace engineering students from Alamo Heights High School once again got to display their skills in New Mexico in June, test-firing a custom-built rocket. They were among three Texas student groups that attempted to launch their rockets at the White Sands Missile Range.
On the first of a two-day visit, the Alamo Heights students had ignited their 20-foot-long, 600-pound rocket, but had no lift or burn. They made repairs and managed to ignite the rocket on the second day. Their goal was 100,000 feet, but the rocket spent several seconds faltering on the launch deck before finally clearing it. According to reports, the Alamo Heights rocket flew for nine seconds before developing a side burn and tumbling end-over-end toward the ground. It had ascended 300 feet.
The AHHS aerospace engineering program partners with SystemsGo, a Fredericksburg-based nonprofit that encourages students to choose a Science/Technology/Engineering/Mathematics (STEM) career.
The AHHS program, with community financial support, seeks to take part in SystemGo-organized test launches each summer. The students gather at the start of each school year to decide on a design and spend that academic year designing and building the rocket, solving problems along the way.
The AHHS students unveiled their finished product for family members and the media on campus June 19. The rocket included a biological payload of magnetic bacteria. Teacher Colin Lang, the AHHS program's director, said he'd like to encourage universities and companies to collaborate with aerospace engineering programs such as his.
"It's an amazing opportunity that we need to get research universities and businesses on board with," he said. "How often do you get a chance to put something on a rocket that's going to go 100,000 feet, acceleration is greater than four G's, and speeds of close to 3,000 mph? What can happen in those sorts of things?"
The AHHS program dedicated the development of this year's rocket to the memory of Blake Duckers, a 2012 graduate, who died unexpectedly last February at his Seattle home.
This year's students gifted Blake's surviving family members with a plaque and, as keepsakes, tiny pieces of a rocket he helped to build. Blake Duckers had possessed one tiny piece at his home.
Lang and Blake's mother, Cheryl Duckers, both said Blake was very dedicated to his activities in the aerospace engineering program. Duckers added that her son valued teamwork. "It was building something from nothing, the perseverance needed in the face of adversity— to keep going even when presented with failure," she said.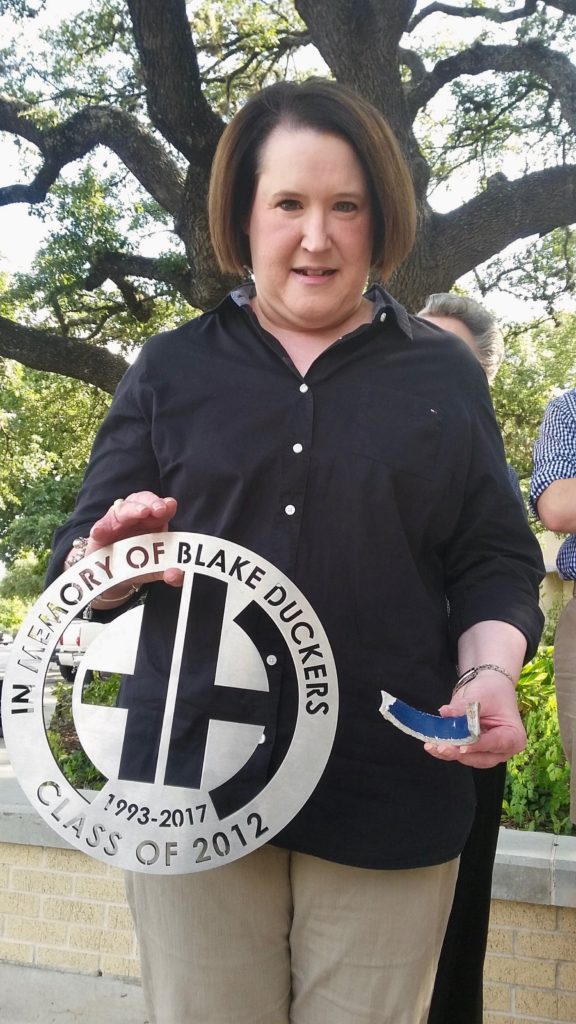 Heights Awards Road Project Contract
Alamo Heights City Council on June 26 awarded Clark Construction with a contract to handle the city's 2017 street maintenance program.
The council approved a base contract cost of $384,889 with city staff recommending an additional $96,222, which would include contingency funds and money for a few more roads.
Oldcastle Materials submitted the lowest of six bids received by the city. However, Oldcastle failed to submit references as part of its bid, as required. Clark Construction had the second lowest bid.
The city plans to address about 25,000 square yards of road improvements, a blend of milling and overlay as well as some full-depth reconstruction.
Repairs will apply to Ogden from Townsend to Viesca, Abiso from Townsend to Ogden, Columbine from Ogden to Abiso, Chichester from Austin Highway to Cleveland Court, and East Elmview from Vanderhoeven to North New Braunfels Avenue. Also affected are Tuxedo at Forest Shire and Imlay and Arbutus between Ogden and Abiso.
Joeris To Oversee AHISD Bond
The Alamo Heights Independent School District board on June 22 voted to name Joeris General Contractors the construction manager at-risk to oversee implementation of the district's new bond projects.
Voters in May approved the school district's $135 million bond issue, which will involve renovations and expansion at every AHISD campus. The contract was for $90,000.
Terrell Hills OKs Street Repair Contract
Terrell Hills City Council on July 10 awarded a contract to J3 Co. to handle a citywide street rehabilitation project. The contract is for $968,470.
By Edmond Ortiz