San Antonio Bond Money Could Help Reshape Lower Broadway Corridor
Imagine trees lining each side of Broadway, a multimodal vision complete with bicycle lanes, comfortable sidewalks, crosswalks, distinctive segments, wayfinding and signage and public gathering spots.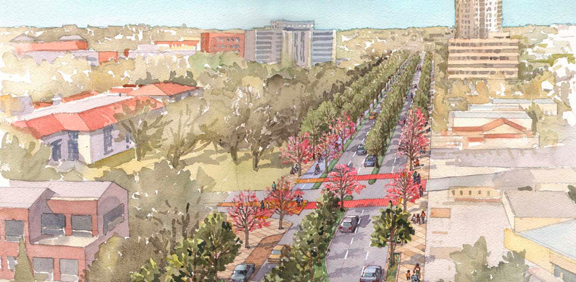 The organization Centro San Antonio and its partners envision these and many other amenities that could make Broadway, from Hildebrand Avenue to Houston Street, what they call a complete street. San Antonio voters will head to the polls, starting in late April, to decide the fate of the city's $850 million bond proposal. One of the biggest ticket items in the bond is a $43 million allocation to Broadway.
If voters approve the bond, the city will work with the Texas Department of Transportation to rebuild lower Broadway and include curbs, improved sidewalks, bike amenities, driveway approaches, drainage upgrades, buried utilities and other traffic enhancements.
Centro San Antonio, a nonprofit that advocates for downtown-area initiatives, formed its own committee to look at the city's latest bond planning process. The committee determined that remaking Broadway, along with the Hemisfair redevelopment and San Pedro Creek improvements, would help transform downtown.
The latter two projects would also get money from the proposed bond. For Broadway, the Centro San Antonio committee sees the street as a cultural gateway, as it links numerous museums and other recreational/educational institutions.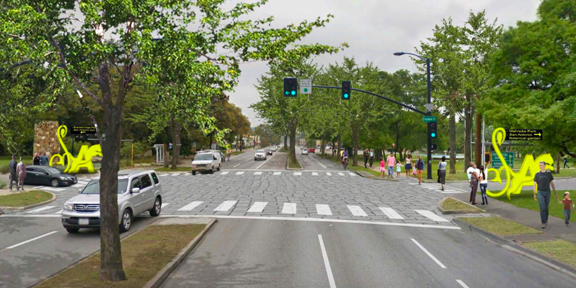 Broadway is considered San Antonio's main street, according to Centro San Antonio, because it also connects many parks and is often the scene of major public gatherings, from Fiesta parades to pop-up Spurs title celebrations. Even so, Centro San Antonio's representatives see Broadway as underdeveloped with much potential to boost the fortunes of neighborhood residents, businesses, institutions and the city at large. Some observers have pointed to the hodgepodge of new multi-family developments and the Pearl complex as well as vacant buildings located there.
An upgrade in the road, according to the bond study, "would encourage denser and/or higher-quality development along its frontage and on the property within, which will in turn generate significantly increased tax revenue."
An improved corridor, the bond study states, would provide a sense of greater continuity along Broadway in connecting cultural assets, from the McNay Art Museum through Brackenridge Park to the San Antonio Museum of Art. "Broadway links an urban university (Incarnate Word), multiple museums, the San Antonio Zoo, vibrant neighborhoods, and much of San Antonio's most dense mixed-use activity," the study goes on.
Centro San Antonio also concluded that an improved Broadway — one that is friendlier to motorists, pedestrians, cyclists, tourists and merchants — will help to brighten San Antonio's image before the world and its own residents. "Upgrading Broadway into a 'first-class' address will send a message to the outside world, but more importantly, provide a connector for San Antonio's greatest concentration of cultural institutions," the bond study states.
Terrell Hills Calls for Charter Election; No Street Bond
Terrell Hills City Council voted Feb. 13 to schedule a special election for May 6. The election will allow residents to amend the city's charter, mainly to clean up and modernize some verbiage in the document that the city last touched decades ago. The charter amendment election will run in conjunction with the usual City Council election.
Additionally, city officials have for now decided not to put a street improvement bond up for voter consideration. The city has identified millions of dollars worth of local streets in need of varying degrees of improvement.
City Manager Greg Whitlock said the council and staff will continue their research and possibly consider a road improvement bond in 2018.
Alamo Heights Sets Sales Tax Election
Alamo Heights voters will go to the polls May 6 to consider boosting the local sales tax allocation to fund street maintenance and repairs.
The City Council voted Feb. 13 to add the special election, which will be held the same day as the regular council election. If approved by voters, the city's sales use tax would be increased from the current 8 percent rate to 8.25 percent.
Heights voters last November did reauthorize a current one-fourth of 1 percent tax for road maintenance and repairs. Such funds help to support the city's 20-year street maintenance program. If voters approve this addition in May, that money would be deposited into the city's general fund and not be subject to voter reauthorization.
The city expects to generate $248,000 during this current fiscal year from the reauthorized rate. But $495,000 could be generated with the increased sales tax rate, which would go into effect Oct. 1.
Several File for Area Elections
The filing deadline for local May 6 elections came after the deadline for this publication.
As of Feb. 12, nobody had yet filed for Terrell Hills or Alamo Heights' council elections.
William Ochse and Marilyn Eldridge are the incumbents in Terrell Hills; Mayor Louis Cooper and Councilmen Lawson Jessee and Bobby Rosenthal are the incumbents in Alamo Heights.
In the Alamo Heights Independent School District, incumbent Barbara Judson filed for the Place 4 board seat, and James Nittoli filed for the Place 3 seat.
In San Antonio District 2, filed candidates include incumbent Councilman Alan Warrick, attorney William "Cruz" Shaw, and paraprofessional/tax preparer Dori Brown.
District 10 filed candidates are former social services worker Andrew Padila; retired Air Force civil engineer Clayton Perry; Oak Park/Northwood Neighborhood Association president Jonathan Delmer; health services consultant Reinette King; Army retiree Lon Jett IV; school psychology/business owner Diana Kenny; and business owner John Alvarez.
Incumbent Mike Gallagher is not running for re-election in District 10.
New Witte Museum Opening in March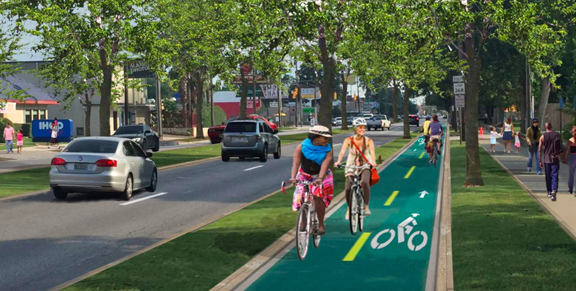 A renovated, expanded Witte Museum will host a grand opening community event March 4, celebrating the completion of two years of work that has spanned more than 170,000 square feet.
The "new" Witte will open its doors to a permanent Naylor Family Dinosaur Gallery, the People of the Pecos exhibition, and the McLean Family Texas Wild Gallery.
The museum will also greet visitors with the new H-E-B Lantern/Valero Great Hall/orientation gallery.
Visit their website at www.wittemuseum.org for more information.
By Edmond Ortiz