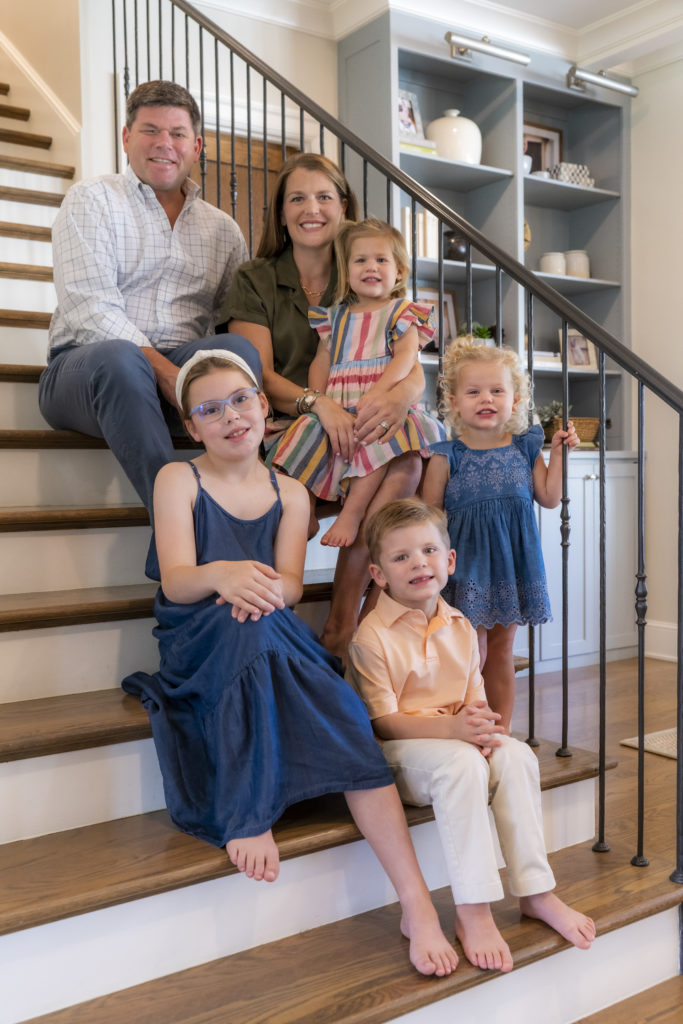 The Gray Family Party Never Ends
By Meredith Kay
Upon walking into the home of Ben and Martha Gray you would never know they had four children. The home is a clean palette of whites and neutrals with perfectly placed furniture throughout the living areas. It isn't until Henry comes barreling into the living room and pounces on this fleet of construction truck toys that you begin to acclimate to the happy noise of large family chaos. 
Ben and Martha are both Texas natives. Ben grew up here in San Antonio and attended San Antonio Christian School. He then graduated from U.T. Austin with a degree in Mechanical Engineering. He currently works for the family business that his father started in 1980. The company, H.A. Gray & Associates is a regional distributor for EVAPCO, and a leader in industrial cooling towers. Ben also oversees their service company, Tower Tech Services, servicing cooling systems in Texas, New Mexico, Oklahoma, and Louisiana.
The couple met in 2006 through mutual friends at a Robert Earl Keen concert at Floore's Country Store. Martha grew up in Kerrville and attended Baylor University. She was in her third year of residency at the U.T. Health Science Center, studying to be an anesthesiologist, when they met, and she currently works part-time as a board-certified anesthesiologist when she isn't wrangling her energetic family. The Grays have lived in their current home on Rockhill Drive for nearly four years now, and they love the community. In fact, one of Ben's best friends from childhood lives next door to them, and the brother of another close friend lives on the other side. Ben says of his Alamo Heights community, "Living here is like living in a small town inside of a big city. Everyone becomes such great friends, and you become ingrained into each other's lives."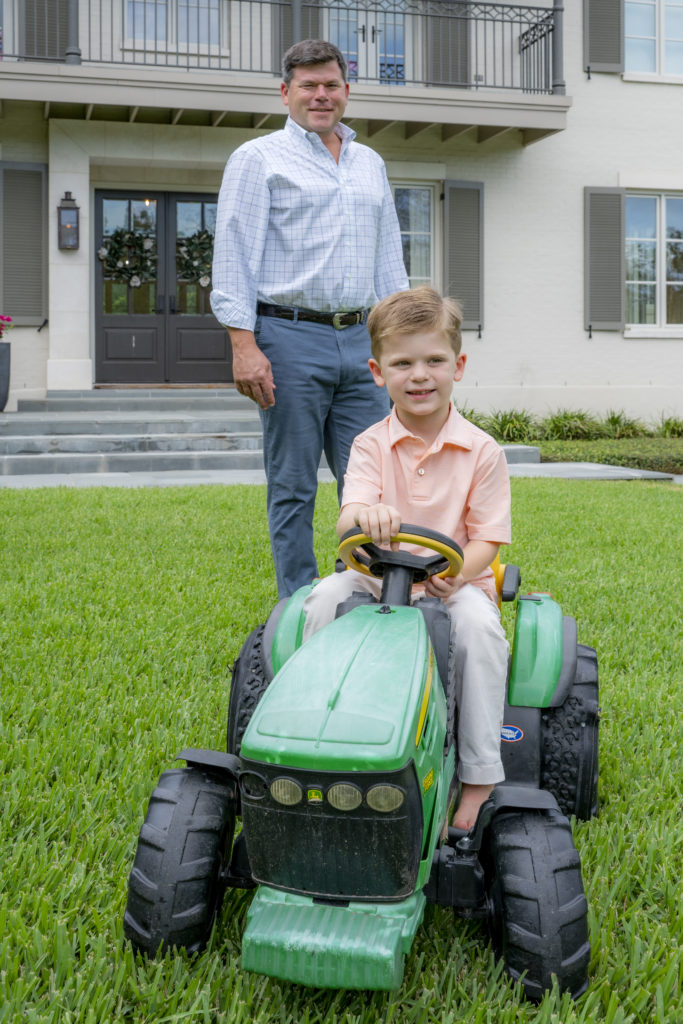 The oldest daughter, Mattie (9) is very outgoing and engaging. She attends Woodridge Elementary and tries to help corral her younger siblings when the family is trying to get situated for their family portrait. Her brother, Henry (5) is a rambunctious ball of boy energy, and he loves to ride his motorized ATV out in the backyard, when the neighborhood boys come over. The younger girls, Liza (3), and Katie, (2) are adorable and they love to play with their big sister's Barbie toys, and create unique structures with their Legos.
When they're not chasing children around, the Grays love to entertain and have friends over for dinner, and everyone in the family helps out in the kitchen. Mattie loves to bake, and Martha beams when she tells us that her daughter often makes pancakes and waffles for breakfast on the weekends. Ben brags that his wife makes the best fried chicken he's ever had, and when they talk about their time spent with friends, the couple agrees that, "You can't really go wrong with a great steak and a bottle of wine."
In their down time, the family loves to spend time at their beach house in Port Aransas together, and Ben is an avid hunter of upland game birds, and he enjoys spending time on the family's ranch with his German Shorthaired Pointers, Pearl and Riley.
On most Sundays, you can find the family attending services at Shearer Hills Baptist Church, where they have made many friends. At home, the Grays have big plans for their family as they add amenities to their home to accommodate the kids as they grow. The family loves to swim, and one of their goals is to install a swimming pool in the backyard soon. The Grays love spending time together and it shows in their respect for one another, and the easy way they interact with each other. The Gray household is definitely a home filled with love, and amidst the craziness, they are happy to be a part of the '09 community.