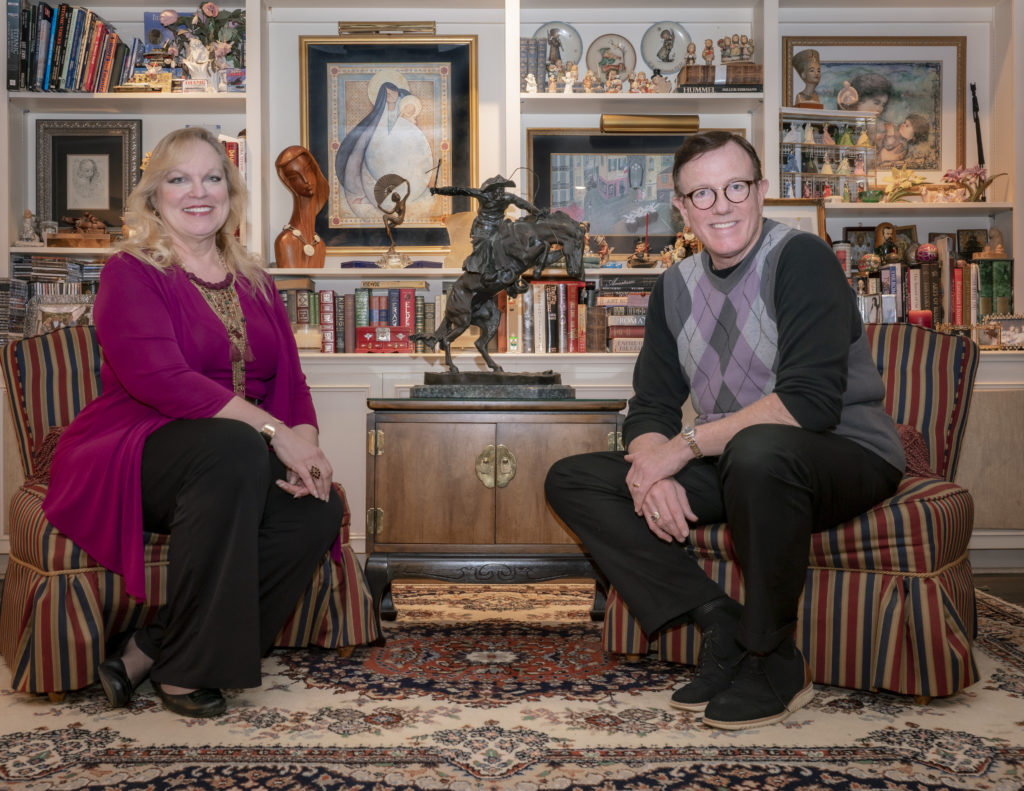 The Bulls Always Return to Alamo Heights
by Meredith Kay
Photography by Al Rendon
When you step through the front door and into the home of Steven and Mary Bull, it is like you have been invited to view a very exclusive exhibit at a private museum. Everywhere you look, there is a unique collection of tchotchkes and trinkets collected from their travels around the world. Steven is most proud of his collection of Fabergé eggs and painted Russian boxes, but if you take the time to look around, there is something unique to see on every shelf and in every nook and cranny.
Mary and Steven are easy-going and friendly, and they love to talk about their travels, their theatre, musical experiences, and their three daughters. The eldest daughter, Ellen (35), has a master's degree in Art History and currently lives in New Orleans working on film projects with her partner, Thomas. Emily (33) is married to Barrett Schmidt and lives here in San Antonio. She is currently the Director of Development for Rice University. She holds a master's degree in International Social Work, which has allowed her to travel the world extensively to places like Tanzania. The youngest daughter, Stephanie (29), graduated from Texas Lutheran University with a degree in Vocal Performance and currently lives in Seattle with her husband, Ben, the Managing Director at Youth Theatre Northwest. Stephanie is also pregnant with the Bulls' first grandchild, and the soon-to-be grandparents couldn't be more excited.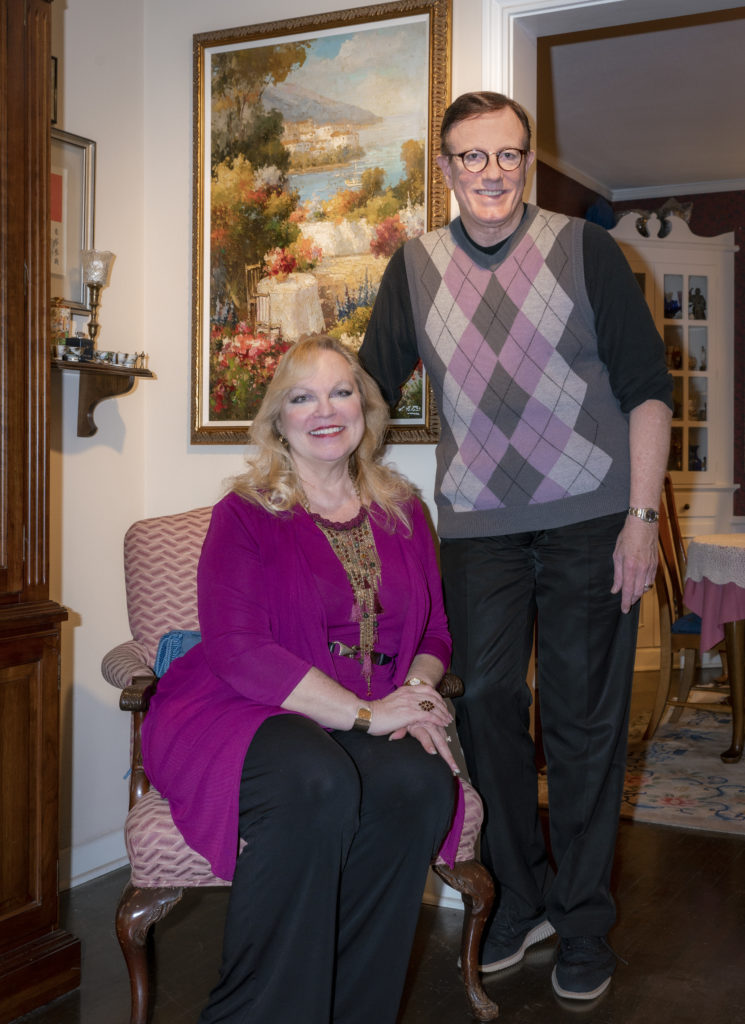 The Bulls have lived in their current home for the past 22 years. Steven works as an Interior Designer for Star Furniture and has clients throughout the U.S., Mexico, Canada, and the U.K. Mary is a Marketing Consultant for Major Accounts at Sinclair Broadcast Group. Together they have built a life in the Alamo Heights area for 40 years. Although they are empty-nesters, they share their beautiful home with an incredibly sweet German Shorthaired Pointer named Tallulah, whom they found running down the alleyway behind their house about six years ago. 
Steven was born in Washington, D.C., where his father was an officer in the Air Force Diplomatic Corps before retiring in San Antonio. He was a member of The Flying Tigers in World War II and then married Steven's mother. Steven attended San Antonio Academy, and T.M.I., before heading north to attend Austin College in Sherman, Texas. He returned to San Antonio after graduation and met Mary working at Joske's department store downtown. Mary was born and raised in Okmulgee, Oklahoma, and moved to San Antonio when she received a full scholarship to Trinity University to study music and history.
When Steven asked Mary where she would like to live in the city to begin their life together, Mary said that she always loved the community of Alamo Heights because it reminded her of her hometown. Mary says, "I loved the way that Alamo Heights would string up lights for the holidays. It reminded me of Okmulgee's town square, and everyone seemed so nice and welcoming."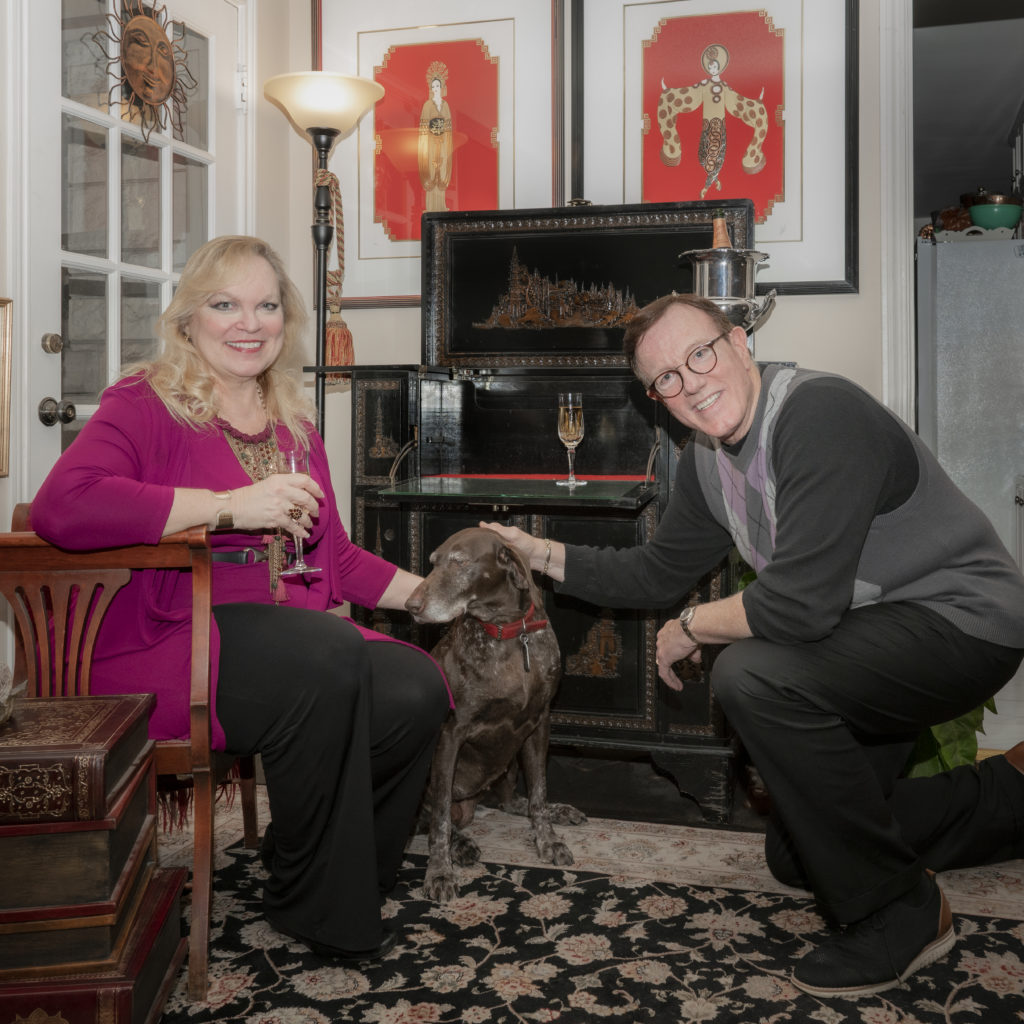 The couple reminisces about raising their family in an established neighborhood, where the girls could walk to school, and that no matter where you go, you always see someone you know. They still feel the same way today, and although their daughters are grown, they stay in the area for the same reasons that drew them there when they were newlyweds.
Both Steven and Mary have also had quite a career in the arts community here in San Antonio. Steven has been in over 100 productions. He cites his favorite roles as The Prince in "Into the Woods" and John Jasper in "The Mystery of Edwin Drood." Mary has also had a notable career on stage at several community theatre playhouses. She is an active member of The River City Ringers, a community handbell choir that performs holiday and seasonal concerts in San Antonio and surrounding communities. The group was even scouted to audition for "America's Got Talent" in 2019.
Throughout their 40-year marriage, the Bulls have seen the city grow and change. However, the tight-knit community where they chose to raise their children still holds their heart and history, and they intend to share their home with their grandchildren and future museum collections for many years to come.