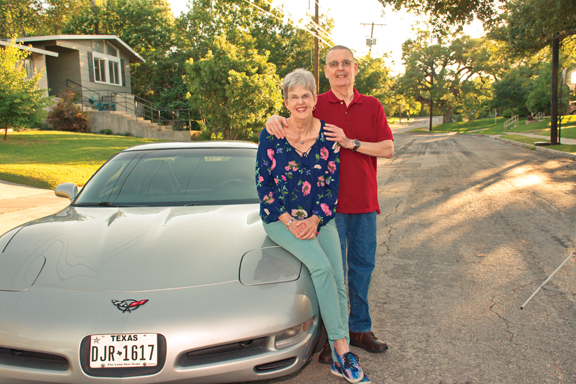 Every so often, if we're fortunate, we just might get to meet a married couple so seemingly at peace with each other and the world around them that in their unpretentious presence we simply become better too. In today's hectic society, where complaining and carping can be commonplace, experiencing such an innate and calming contentment can truly be contagious, and when considered, that's really pretty neat.
Thankfully, such inspirational examples are out there sharing their outlooks and attitudes, ultimately benefiting all who come into their contact. One notable case-in-point right here in 78209: loving husband and wife Phil and Susan Lewis, who as a result of their many selfless actions, private and public, have achieved a praiseworthy joint fulfillment while in the service of family, their many cherished friends and especially in spiritual faith.
Both have been in the '09 neighborhood for decades. Susan, who hails from bucolic Taft, Texas, got here in 1961 when her lumberman father received a transfer to San Antonio. He settled his family in Alamo Heights and enrolled Susan in the school system as a seventh-grader. She went on to excel not only academically, but also while singing in the choir – an activity she would continue to enjoy throughout her life. More importantly of that time, she and her parents became devoted members of Alamo Heights Presbyterian Church, establishing a relationship that, as you'll read, would strengthen over the years to come.
Phil, an admitted "Army brat," moved multiple times as a child. As he remembers, "I attended nine schools in 12 years, but we were sure good at change." He credits the "variety" he encountered as helping make him the person he is today or, in Susan's words, "flexible, adaptable and unflappable." Phil was 18-years-old and out of high school before his father, recently retired after 32 years in the military, permanently relocated the family to Alamo Heights in 1964. Although the young man immediately enlisted in the Army (like father, like son) after graduation, AH would become his "official hometown," no matter where his subsequent career would send him. Coincidentally, like Susan's family, upon arrival in '09, the senior Lewises also joined Alamo Heights Presbyterian Church.
Both attribute a great deal of their personal success to the influences garnered from their parents. As Susan attests, "We were each blessed by being raised in homes filled with joy and based on solid Christian values."
But now, back to the church. They first met at an AHPC mixer in 1967. Susan was a sophomore at Southwestern University in Georgetown, and Phil, then enrolled at Trinity University, had just returned from a tour in Viet Nam, where, as an infantry paratrooper sergeant, he suffered the combat wounds that would ultimately end his military career – something he hadn't planned on. Nevertheless, the decorated "hero" and the studious Susan had made initial contact at that gathering. But as the future Mrs. Lewis recalls, "While all of the other girls in attendance were impressed by Phil (the new guy!) because of his demeanor and, especially, his car, a beautiful gold Pontiac GTO, I didn't really form any opinions about him at that time." Some weeks after the mixer, however, a "surprise" first date instigated by an already smitten Phil would begin to cause Susan to rethink things.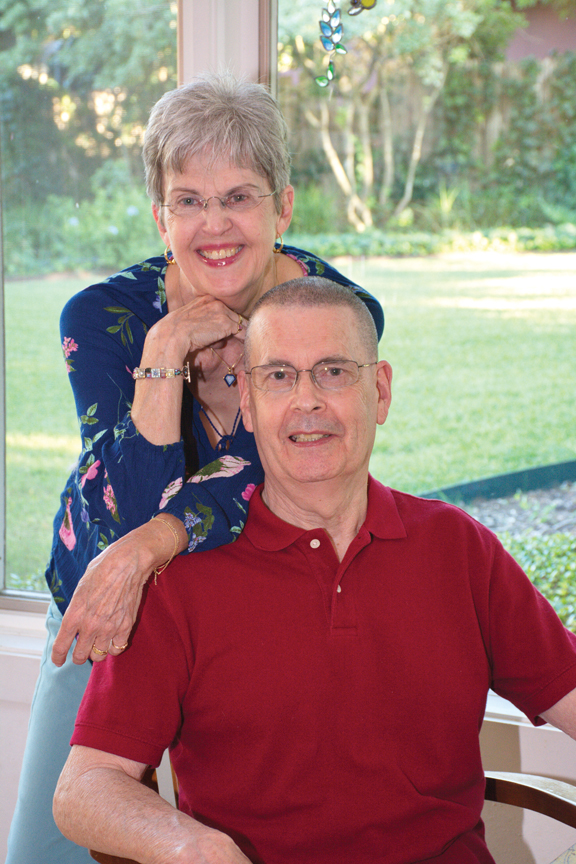 As their dating continued, their relationship quickly deepened over the following months even though both attended different universities and could only see each other at various, sporadic church and social events. Susan was more and more attracted by Phil's kindness and honesty. He appreciated Susan's intelligence and maturity. As they inevitably grew closer (emotionally and spiritually) and began to realize just how special each was to the other, Phil suddenly surprised Susan by presenting her with an engagement ring – paid for, no less, by the sale of his beloved Pontiac. Wowed by such a gesture, Susan said yes (who could refuse?), and they married at the church in January 1968 and then settled, as husband and wife, into the '09 neighborhood.
And thus started their almost 50-year marriage marked by children and multiple occupational moves across Texas and beyond, which happily in 1993 brought them back to the old 'hood, thanks to a final assignment.. Phil enjoyed a long career in law enforcement before retiring as an ATF resident agent-in-charge for the San Antonio field office in 1996. When he "received those orders" for the Alamo City position, he and Susan, now with two kids, were ecstatic. As he says, "We were finally coming home!"
Today, settled in the 78209 home they've occupied since '93, for the delighted empty nesters, life is truly wonderful. And, of course, both are heavily involved with their cherished Alamo Heights Presbyterian Church more than ever. Phil is an ordained elder as well as a commissioned chaplain. In each capacity, the gentle wisdom, calm, approachability and understanding that served him well professionally for so many years continues to assist as he deals with new sets of responsibilities. These have included his role as a volunteer chaplain for VNA Hospice of South Texas (aka Hospice San Antonio) from 1997-2002, and as a volunteer for the Department of Ministry and Pastoral Care at San Antonio Military Medical Center (BAMC) from July 1996 to present, as well as being appointed a law enforcement chaplain for the U.S. Department of Justice. The always caring, supportive and very well organized Susan remains actively involved in the Presbyterian Women's Group and the Prayer Shawl Ministry. She also spends time helping in the church library and teaching Sunday school.
Above all, the Lewises find their current lives brimming with contentment fueled by giving, sharing, interacting and contributing. Life is good for these laudable role models and for those lucky enough to know them. They're soul mates who have found fulfillment in family, friends and faith – and also in a replacement for the lost GTO, a 2004 Chevrolet Corvette, no less, that they both love – vroom, vroom!
By Ernie Altgelt
Photography by Martin Waddy