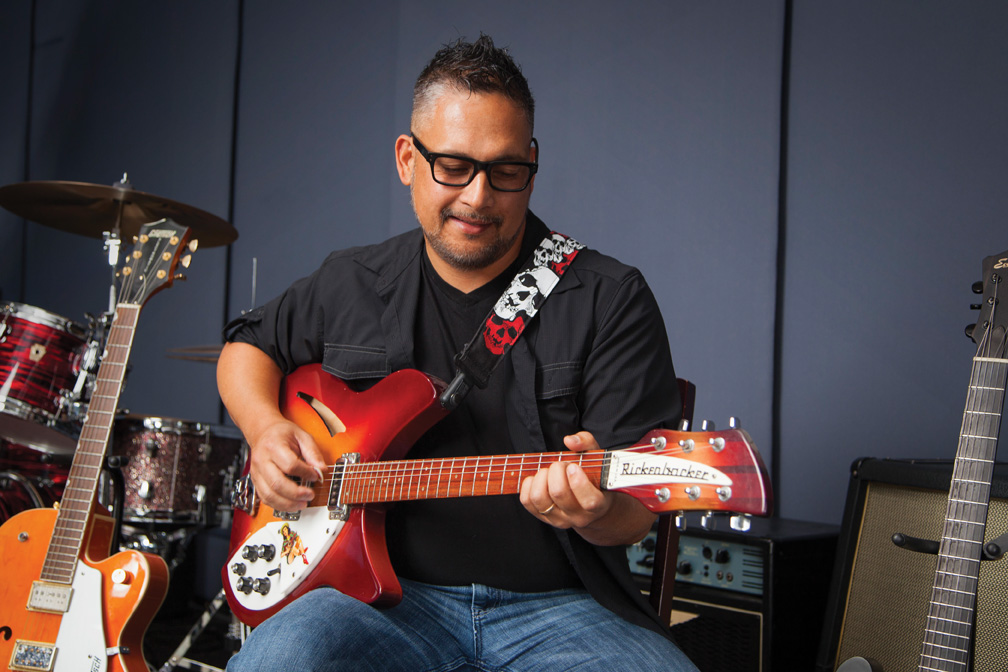 By Ernie Altgelt
Photography by Elizabeth Warburton
Freddy Echiverri has an unabashed passion for making music. And while also a devoted husband, nurturing father, successful businessman and all-around "good '09er," for this consummate and committed rock 'n' roller, composing, performing and recording have always and will continue to play an "instrumental" role in the maintenance of his enviable upbeat tempo. It's a key part of his life, and frankly, he thrives on it.
So know that even while happily attending his son's or daughter's sports event, offering expert product service to a client or just hangin' at the house with his wife, he's still "tuned in," from the tips of his guitar-gifted fingers to the depths of his melodically creative awareness. That's because wherever Freddy is and whatever he's doing, his music is always close, and that's pretty cool. But if you've met and/or heard him, you already knew that. Rock on!
Born in Lexington, Ky., but raised in a music-loving household in nearby Paris, Freddy grew up in a family that embraced all genres of music. As an encouraged youngster, he got his start on the piano, but thanks to the lightning-fast riffs of Eddie Van Halen, soon switched to the electric guitar. And while he was wowed by the innovative superstar, it was ultimately B. B. King that would prove to be the greater influence. The first song Freddy wrote while still a teenager was a tribute to King titled Foolin' Around. That bluesy tune won the high school sophomore a coveted "best of show" in a local radio station talent competition. As he recalls, "The feeling I got playing my composition in front of a large studio audience, followed by the applause and then taking top honors, still helps keep me musically inspired today."
During his college years spent in Kentucky and Tennessee, Freddy continued to compose and play publicly and professionally – in bars and clubs, as a solo act and with a group. It was a heady time that culminated when he and his "very tight" band were selected to compete on network television's Star Search, a precursor to American Idol. Remembering that experience, Freddy admits to "feeling like a rock star." Though his band didn't win, it was a great experience of which he is justifiably proud.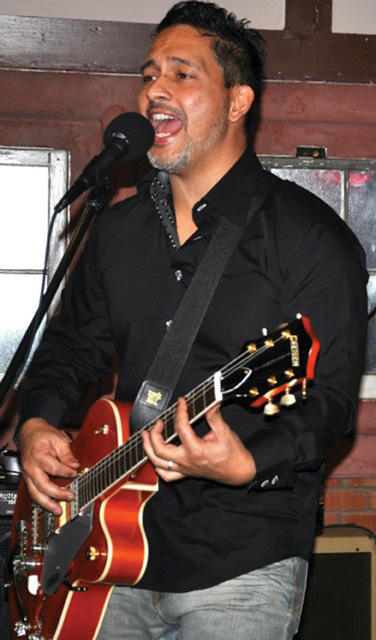 While in his 20s and enjoying life as a working musician, as he relates, "We all have to grow up some time." Therefore, after meeting his future wife, Sharon, (they married in 1997), his focus began to shift from the uncertainties of life on the stage to "becoming a good provider, family man and settling down." Initially working at various nonmusical jobs, Freddy eventually accepted a sales position with his sister, who had a booming medical equipment supply business based in San Antonio. Moving to the Alamo City and 78209 in 2007, Freddy (with his family that now included Sharon, daughter Madilyn and son Alfie) settled into a successful career servicing clinics, doctors, hospitals and others within the medical industry. After his sister left the business in Freddy's good hands, the now corporate head not only expanded the company's territory and product lines but also began a well-received consulting division targeting medical startups. All told, his desire to provide financial stability was achieved, but to a degree, at the expense of his music.
Sharon appreciated the musical sacrifices her husband had made on behalf of his family but began to notice his lack of a creative outlet and that his guitars "were just gathering dust in the closet." Spurred to action, she "secretly" committed Freddy to play at a fundraising event at their son's neighborhood pre-school, a part of St. David's Episcopal Church. When told about the commitment, a then-out-of-practice Freddy confessed to being "scared big time," but being a trooper, tuned up his six-string, exercised his voice and proceeded to wow the crowd. Freddy had forgotten just how much he missed performing. Following that event, he was quickly invited to join a local cover band and subsequently played a number of fun gigs throughout San Antonio and Austin.
After several years, however, doing "someone else's songs" just wasn't enough. With Sharon's and the kids' support, Freddy prepared an original playlist, booked time at a studio and recorded a CD titled Here I Come in 2014. On that album, Freddy not only penned all of the songs but played most of the instruments as well. Each track is pure rhythmic rock that showcases Freddy's considerable instrumental and vocal abilities, and thanks to iTunes and Amazon, the CD has enjoyed sales across the United States. Released only two months ago and to great fanfare was Freddy's second musical opus. Named for a children's tune that's a favorite of his daughter, Mr. Moon provides a more emotional spin, where each lovingly written and performed song touches the heart. This mix of hard and soft rock has a broad appeal that all can and do enjoy.
So what's in the future for Freddy Echiverri? With a young family and thriving business to tend to, lots, but rest assured it will include music because from now on and in all ways, he's keeping it close. Rock and roll forever, Freddy!