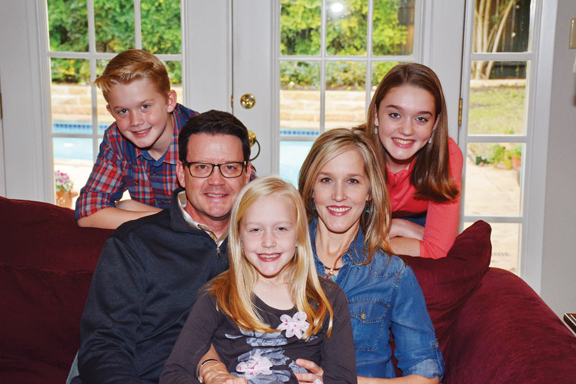 We've all heard the old saying, "A good fit." Its application generally refers to any situation where two or more things come together and combine happily, largely resulting in a benefit for all. And while many apt examples can be tendered, for the sake of this article, let's focus on one wonderful family who, after relocating from Washington state, now calls 78209 home. So meet the Soupisets, a classic all-American household enthusiastically embracing the equally classic Alamo Heights way of life and finding it a very good fit indeed!
Composed of dad and primary breadwinner Mark, loving mother and educator Robin and their three wonderful children — Hailey, Austin and Mimi — the Soupiset (pronounced soup-ah-say) household has come far and on many fronts. Mark, a born-and-bred northwest San Antonian, hails from a well-entrenched family that's been in the Alamo City for generations. He attended Clark High School in the '80s, put in some time at UTSA, then moved on to Baylor, where he earned bachelor's and master's degrees in journalism. Robin's childhood was spent at various times in Mississippi, Texas, Colorado and Wyoming, reflecting her father's oil industry assignments. However, she also attended Baylor, earning a BS in education – cum laude – and even was a Bears' songleader. The destined pair met at the university, but as Mark ruefully admits, "We never dated."
Mark came home to San Antonio after graduation, eventually landing a job in communications within USAA. And serendipitously, Robin a few years later also moved to the Alamo City, then working as a teacher at a church school and eventually as a sought-after private tutor. Fortunately (almost magically) for both, mutual friends reintroduced the soon-to-be inseparable twosome, and as Robin states, "We hit it off immediately this time." After a whirlwind courtship, in 1997 Robin and Mark wed and settled down in their newly purchased home near Mark's old boyhood turf. Daughter Hailey joined the newlyweds in 2002.
Unexpectedly, a geographical change came with a job offer in 2004 that took the couple to Seattle, where Mark, soon to be handling communications at another financial institution, helped Robin establish their second homestead. Ultimately spanning more than a decade, it proved to be an adventure that was made more blessed with the additions of Austin and Mimi.
But like many homesick out-of-staters, the Soupisets found themselves drawn back toward Texas. And after a 12-year separation, back they came with Mark re-establishing himself at USAA. By this time the ex-teacher/tutor Robin was fully engaged as a very involved mother and homemaker.
While preparing for their return to SA, the excited Soupisets initially looked for a new home in the Boerne area. But on the advice and encouragement (and even nagging) from friends and family members, Alamo Heights kept popping up as the place to settle. Both were familiar with the neighborhood, loved the amenities and had many friends living in the area. And just like their reacquaintance after Baylor, once again destiny seemed to intervene when Mark and Robin, while visiting the ZIP, discovered a beautiful "not yet listed" house in the Northridge area. After some quick deliberations and feeling the correctness of "everything," they contacted the owner, made an immediate offer, and within hours a deal was made. As they sincerely attest, "It truly was meant to be."
Now as official '09ers, all of the Soupisets, parents and kids alike, agree, "Why did we wait so long?" Hailey, Austin and Mimi are all enthusiastically enrolled in AH schools, participating in extracurricular activities ranging from dance to football to gymnastics, and as the proud parents attest, "Scholastically and socially, doing great!" And even after his professional demands, Mark still has time for some basketball, backyard barbecuing and even a little yard work while Robin rides herd over the entire crew, nurturing, assisting and contributing in a "million essential ways."
Individually and as a group, the Soupisets look forward to getting much more involved in worthwhile community and church-based activities. Not surprisingly, the entire family has proven to be a warm and welcome addition to the area with everyone, new acquaintances and old, delighted to have the charming Soupisets comfortably in their midst – but, that's just what happens with a "good fit." Welcome to the neighborhood!
By ERNIE ALTGELT Photography by MARTIN WADDY