Old School/ New School Couple
It's always interesting to analyze a successful, long-term marriage. Are the participants alike, or does each contributor possess individually unique qualities that, in other circumstances, might seem at odds with the other? Well, when considering their soon-to-be celebrated 40-year union, for Liz and Ben Jackson, a little of both might just be the answer.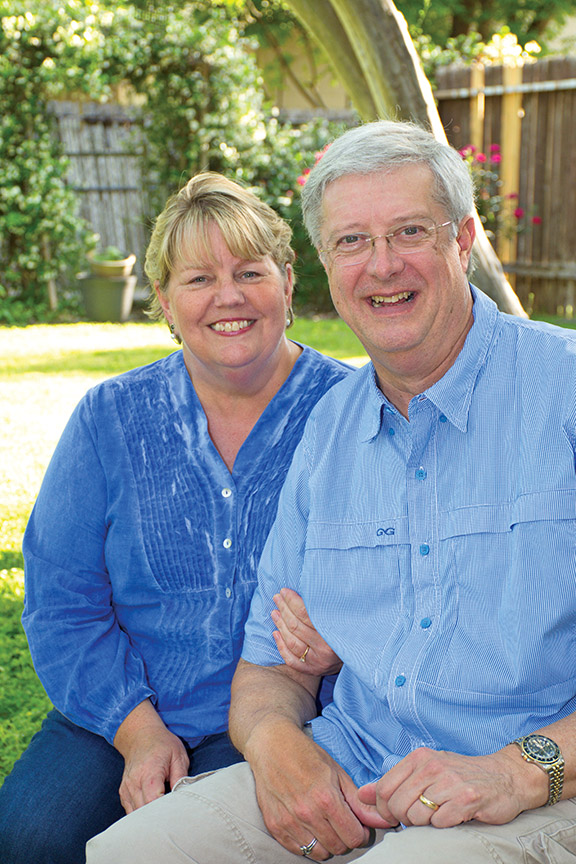 Liz is an admired "old school" educator who's honed time-honored teaching skills over a long, productive career by gently fostering countless young minds in neighborhood classrooms throughout 78209. Ben, on the other hand, is a proud modern-day "techie" who works his substantial magic, generally one-on-one, developing and enhancing IT systems for some of the area's most prestigious commercial firms – definitely "new school." Though different paths were professionally pursued outside of their cozy, well-maintained home, once back across their shared threshold, the differences seem to contribute to a "oneness" that truly is the Jackson household.
For a little background, Liz grew up in Fort Worth, and thanks to her inspirational fifth-grade teacher, she always dreamed of being an educator. Ben is a fifth-generation San Antonian and consummate tinkerer who grew up in Monte Vista. Both were the children of attorney fathers and stay-at-home moms. They serendipitously met at their orientation when enrolling at Trinity University, and as Liz openly admits, "It really was love at first sight." They quickly became an item, and after graduation four years later, happily wed and moved into their first home in Terrell Heights. After six years, the pair relocated to their current home in the Northwood neighborhood. That was 33 years ago.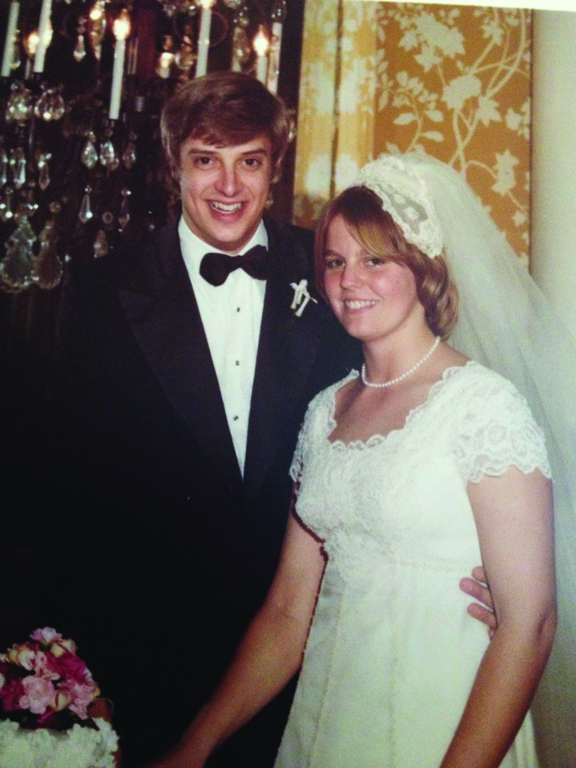 So let's take a closer look at Liz. This always cheerful, communicative and energetic lady has spent the last three decades (with an 18-year break for motherhood) primarily focused on bettering the writing, reading and comprehension skills of NEISD middle-schoolers. During her teaching tenure, Liz garnered (pun intended, she taught at Garner Middle School) the special accolade of being recognized as a Campus Teacher of the Year. She also was nominated for the prestigious Trinity Prize in Education and the H-E-B Excellence in Education awards. Beyond that, she served as president of Northwood Elementary's Parent Teacher Association and was later lauded for her efforts with a lifetime membership in the Texas PTA. Since retiring a few years ago, Liz now has a lot of appreciated time for gardening, reading, cooking, quilting, sewing and doting on her treasured grandchildren. But she still finds time (somehow) for a little private tutoring too.
Ben, surprisingly, graduated from Trinity with a degree in architectural engineering. His original intent was to get into construction and real estate, and this he did for several years. But as was mentioned, Ben was/is a tinkerer. One story that he relates: "When I was a youngster, I disassembled the front door handle and locking mechanism just to figure out how it worked." When Mom discovered his "research," she told the precocious boy that he better have it put back together – and working – before Mr. Jackson came home. No problem for Ben. He got everything reinstalled, oiled, and as he recalls, "It never worked better." He's still tinkering at home and at the office.
However, it was that innate curiosity coupled with a position within USAA's Real Estate Department that eventually led Ben permanently into the information technology field. This was in 1980, and personal computers were just coming on line. The always curious young man discovered that he loved the equipment and what it took to "make it operate." He went on to quickly develop a passion for IT, further immersing himself in the ever-advancing technology, and it wasn't long before he landed a job within USAA's fledgling information department. And did he excel! Over the years, Ben was tasked with handling complicated (some might say mind-boggling) varied assignments for USAA, including the development of intricate Wide Area Network (WAN) systems. After leaving USAA, he now oversees the same areas for Wells Fargo Bank – designing, creating, managing and anything else that requires a forward-thinking, out-of-the-box approach to computer problem solution.
But back to our hypothesis. What has been the magic behind the Jacksons' amazing compatibility? When queried, Liz confesses, "I adore my computer – when it's working. When it's not, I'd just as soon toss it out the window." And that's when the unflappable (and very handy) Ben comes to the rescue. He'll quietly and calmly sit down in front of the offending machine, and in no time, it's working again. And Liz offers, "He's like that when any crisis arises – mechanical or otherwise. I'm very lucky to have this incredible resource at my constant beck and call."
Ben is continually impressed by Liz's people skills. Watching her "perform" for a group of barely focused middle-schoolers, then somehow redirect their attention to the day's assignment, is, as he says, "awesome." Admittedly, "I'm a lot of fun at social gatherings (just ask Liz), but at work, I'm generally dealing with small, targeted groups. Liz can take on anything and everything and the more varied, the merrier. I could never be an effective mainstream schoolteacher." And because he's got Liz, he thankfully doesn't need to be.
But obviously, there are many areas where the two are in perfect sync. Their mutual reliability, positive attitudes and kindness are just a few of their shared traits. And as they both agree, "We make each other look good!" Now that's a combination – a little old school and a little new school.
By Ernie Altgelt
Photography by Martin Waddy