Craig and Criste Christopher Hope to Raise $1 Million for Cancer Research
For Craig and Cristie Christopher, life in '09 is a busy blend of work and play.  Over the past 15 years, they have logged countless hours at the Little League ball fields, H-E-B, school carnivals, pep rallies, sporting events and parades, all right here in Alamo Heights.
This year, the Christophers have added fundraising to their list of activities. As chairmen of the 2014 American Cancer Society's Cattle Baron's Gala, the Christophers are taking the bull by the horns.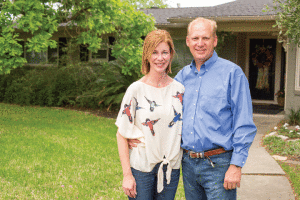 Married since 1992, the Christophers bought their first home in Alamo Heights in 1999. "We bought a house on East Oakview and remodeled it," Craig recalls. "Since then, we have really made the rounds through Alamo Heights; we've lived on Argo, East Elmview, Lilac Lane in Terrell Hills, and now we're in Northwood on Country Lane. I think this is our favorite spot so far."
Cristie agrees: "Northwood is such a great neighborhood, where we really do know our neighbors. Our kids feel safe and love getting out and doing things outside with their friends. Not only is it a family-friendly place to be, it is convenient to everything."
With Caroline, a senior who is preparing to attend Kansas University after graduation; Chandler, 15, a freshman at the high school; and Colby, 12, a sixth-grader at the Alamo Heights Junior School, choosing a home in Alamo Heights was all about the education. "We love being part of this close, tight-knit community, but our No. 1 priority was the quality of the public school system," Craig states.
"Our kids have felt like they are important and that they belong," says Cristie, who serves as the instructional technology specialist at Cambridge Elementary School. "From their classrooms to extracurricular activities, their individual talents, gifts, learning styles and/or even difficulties have been nurtured, valued and appreciated. The message they receive each day is that they are important. What I truly love, not only as an employee of AHISD but as a parent in this district, is that our students are truly known and valued by all of our faculty and staff."
A self-proclaimed "recovering attorney," Craig turned in his ties and suits for jeans and boots and joined the family business as president and marketing director of the Rio Cibolo Ranch in 2002. Founded in 1987 by his parents, Rio Cibolo Ranch is a 130-acre working longhorn cattle ranch and pecan orchard. "We are an entertainment ranch and special events venue," Craig explains. "We do over 150 private group functions each year, including weddings, receptions, fundraisers, team-building and corporate events, as well as many convention and tour groups."
Located just 25 minutes from downtown San Antonio, Rio Cibolo Ranch caters to the hospitality and tourism industry that flocks to San Antonio. Complete with longhorn cattle and its own 850-seat rodeo arena, the Rio Cibolo Ranch offers visitors from all over the world a true taste of Texas.
With the ranch serving as the venue for this year's American Cancer Society Cattle Baron's Gala, chairing the gala was a no-brainer for the Christophers. "We agreed to chair the gala this year because the cause of the American Cancer Society is so important not only to us but to our community as a whole, and we felt like it was the right time to get our community more involved," Cristie explains.
Rio Cibolo Ranch first hosted the Cattle Baron's Gala back in 2006 and again in 2007, when it was still widely attended and supported by the '09 community. "Since then, the gala has sort of moved around town, and attendance from our community is down," says  Craig. "The ACS is really looking to us to help bring the 78209 businesses and families back into the fold."  With past chairmen bearing names such as Steves, Cavender and Frost, the Cattle Baron's Gala has long been associated with Alamo Heights. Helping their community re-embrace this event was a task with which the Christophers were happy to assist.
"Everyone is affected by cancer," Craig says. "This year, the majority of the committee is from our community. Right now, we're seeking underwriting and sponsorships from businesses and individuals from Bexar County and surrounding counties, and I would like to see us raise and net $1 million this year for our local ACS."
Last year's event raised an impressive $325,000, but Craig insists, this year's goal is attainable. "Biomedical research and medicine are two of San Antonio's biggest industries," he points out. "Last year, 850 people attended the Cattle Baron's Gala. Rio Cibolo Ranch can easily hold 1,500 to 2,000 attendees, and we have several new attractions that we hope will assist in drawing a crowd and raising more money for local programs and services and cutting-edge cancer research."
With San Antonio's own recently signed Nashville recording artist Chris Story, along with numerous other featured bands and performers, the Christophers hope to fill every seat in the house.  They also have a few new tricks up their sleeve, including an after-party — Bulls, Barrels and Blackjack — that will offer a full-blown rodeo competition featuring bull riding and barrel racing complete with casino games, fireworks, live music and an opportunity to take a chance on your favorite bull rider or barrel racer to win fabulous prizes.  This after-party will continue to raise funds to cure cancer after all of the traditional gala fundraising activities have been completed — a new and exciting twist for the event, now in its 36th year.
In a community known for supporting its own, this year's American Cancer Society Cattle Baron's Gala is sure to be a huge success with the Christophers holding the reins. "With the support of the Alamo Heights community, this year's gala has the potential to raise more money for our local ACS than ever before," Craig states.  "Let's make it happen!"
by Courtney Burkholder    
Photography by Casey Howell