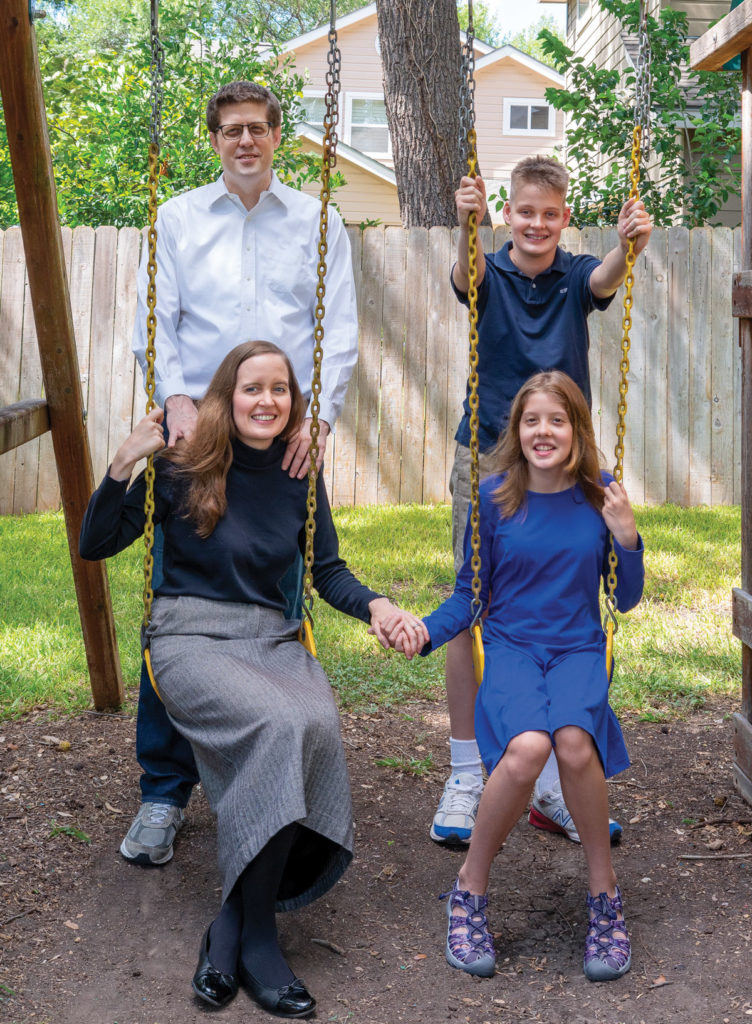 When Inga Cotton met her future husband, Mike, at Trinity University , she had no idea they would wind up raising their family just down the road in Alamo Heights. Both academics, Inga earned her law degree, then went onto work for the university, and Mike, a cybersecurity expert, was guest speaking at the school when their paths crossed. After renting in Monte Vista as newlyweds, the couple settled on a home in the cottage district of '09 and loved the friendliness and walkability of their neighborhood.
"On our street, particularly, there's a critical mass of tricycles, scooters and basketball hoops in the street, and cars can barely even drive down," Inga said. "It's almost like the street is another public space to play. The cars know they are low down on the totem pole. We also get to barricade it off during block parties and Halloween and have a food truck, so it's the place to be."
The Cotton kids, Nicholas, 13, and Annika, 10, were preparing to have their first "free-range" summer this year until COVID-19 ruined their plans. Living not far from Bird Bakery, Inga prepared the kids to cross streets safely, roam the neighborhood solo, and do fun, simple things like go for a cupcake. Nicholas was also finally old enough to hit the pool solo, which is just two blocks from their home.
"They were looking forward to having their independence, but we're confident things will open back up soon," Inga said. "I feel for the small businesses suffering right now."
Throughout this shelter and stay summer, the Cotton family has enjoyed learning to cook together, and Inga said they've binged disaster movies and geeked out watching the original Star Trek series.
"I feel pretty blessed in how we've been able to get through quarantine, and it makes me want to help others," Inga said.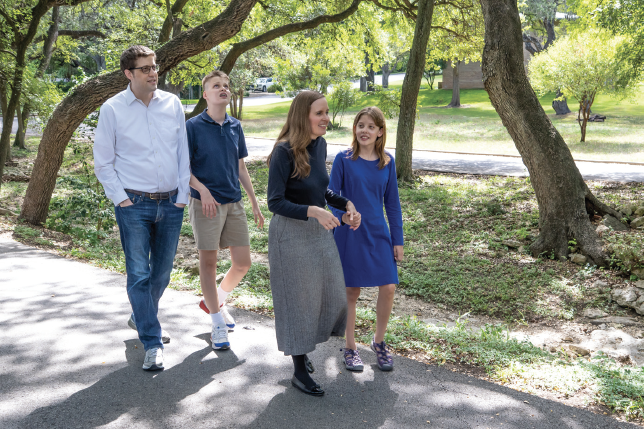 During the school year, both Nicholas and Annika attend Great Hearts Charter School. Finding the right fit for her children's academic needs became more than just a personal quest for Inga. While doing her research, she founded the non-profit San Antonio Charter Moms, which offers educational information to all parents in San Antonio.
She feels fortunate that during the pandemic shutdown, she and Mike, who is Senior Vice President of Engineering at Digital Defense Inc., have been able to continue working from home.
Their love of technology has been passed down to their kids, who both love video games and coding. But on the weekends, the Cottons can be found off their devices and on the trails.
"We love visiting all the different state parks, hitting the trails and swimming holes," Inga said. "We also love to visit many of the cultural institutions in the city like the Witte and the McNay, but lately, with the shutdown, we've been doing more outdoors."
Living close to the museums and performing art hubs, like the Tobin Center, has been a big perk for the Cottons.
"We love classical music, ballet, and the symphony, and Alamo Heights is so wonderful because you're so close to everything," Inga said. "This is a beautiful place to raise your children if you want them to have a good education and rich childhood memories."
By Christie Cuthbert
Photography by Al Rendon