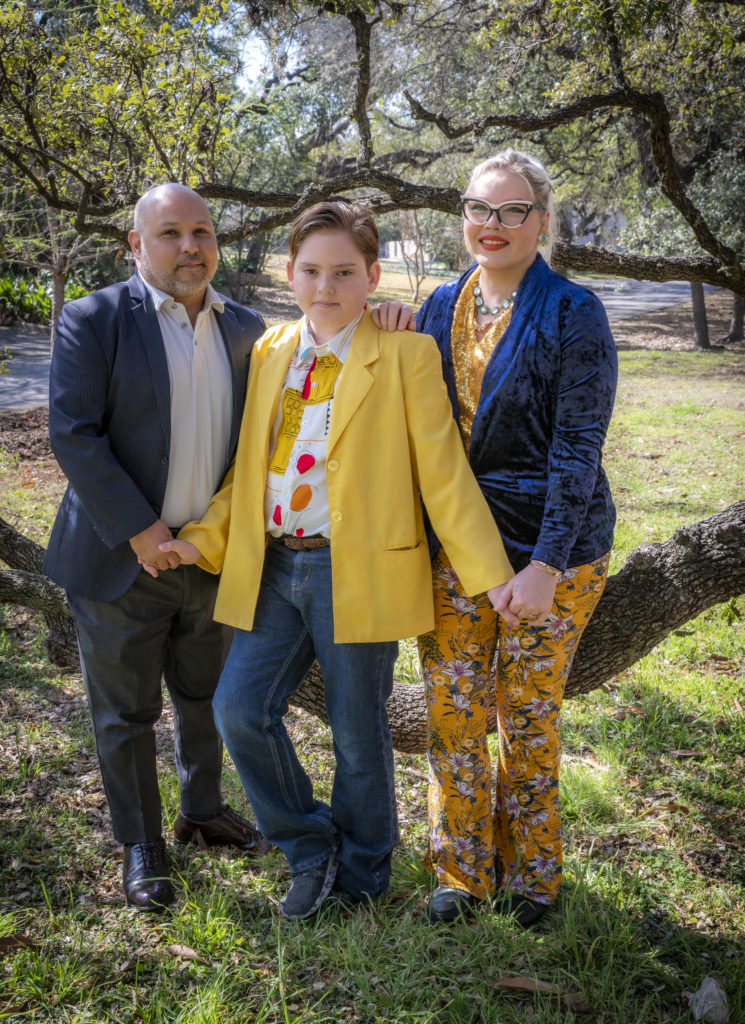 Bringing Color and Flavor to Alamo Heights
By Meredith Kay
Photography by Al Rendon
As soon as you meet The Gomez family, there is no doubt in your mind that they will have an interesting story. Joe A. Gomez III is friendly and affable, and he will make you feel as if you are talking to a friend. Kathleen "Kat" Day Gomez is engaging, with her bright colors, unique jewelry, and beautiful smile. Aiden Gamez, Kat's son, is curious and observant, and his mind is always creating. Together they are a creative force and have dedicated their hearts to bringing beauty and great taste to their Alamo Heights neighborhood.

Joe and Kat met in 2019 and were married last March, when Snowmageddon ruined their February 2021 wedding plans. Joe grew up in San Antonio until high school, when his family moved to San Marcos. When he graduated, he returned to San Antonio to attend St. Mary's University, where he received his degree in Entrepreneurial Studies. Joe spent 23 years working with Cavender's Boot City and Western Wear, managing décor and branding. He has always had a flair for style and what works well together. He has also always been an avid foodie, teaching himself to perfect his cooking techniques throughout the years. It was Kat who began promoting Joe's culinary talents on Instagram as he cooked for friends and created new dishes. When Joe created the menu and cooked for a friend's birthday party dinner, he was met with rave reviews and inquiries to do more.

Joe launched NOVEM Cuisine during the pandemic, and he is now in high demand as a personal chef and in-home dining experience curator. Joe will tailor a menu and create an experience design aesthetic that aligns with his client's unique vision for their event to look, feel, and taste. Joe says, "I was inspired by my father, who loved to cook and travel, and I love working with clients to bring their visions to life for parties and unique dining events."

NOVEM is Latin for the number "nine," and Joe takes the name because he only has nine fingers. He lost a finger in a severe auto accident in his early 20s. You can find Joe and NOVEM on Facebook and Instagram, where Kat keeps his portfolio updated, dazzling viewers with his mouth-watering culinary creations.

Kat is quite the style maven. She was born in Pennsylvania, but her family moved to Converse when she was 12. She attended Judson High School, where she received the Presidential Award for Literary Excellence. She knew as a teenager that she wanted to live her life and make a living at creating art, and she has quite successfully done just that.

She says, "My dad taught me how to market myself as an artist to local businesses, and now I get to work with amazing business owners helping them bring their design and image visions to life."

A multi-faceted artist and business owner herself, Kat creates multi-media art shown in galleries worldwide while also running a successful graphic design, photography, and branding company as a creative brand consultant. She is a dynamic lady with many different talents and says that it was only when she was identified to have ADHD, and later finding out that she was on the autism spectrum as well, that her interest in so many different directions really made sense.

Kat's son, Aiden, is also on the spectrum, and he has definitely inherited his mother's artistic side. Aiden is 11 and attends Alamo Heights Junior School. Just watching Aiden play in nature, you can see his creative side working in the way that he positions natural items he picks up into little montage scenes of found object sculptures and arrangements. He will arrange and rearrange items of different sizes and textures until he is happy with the balance, and then he will move on to create something else.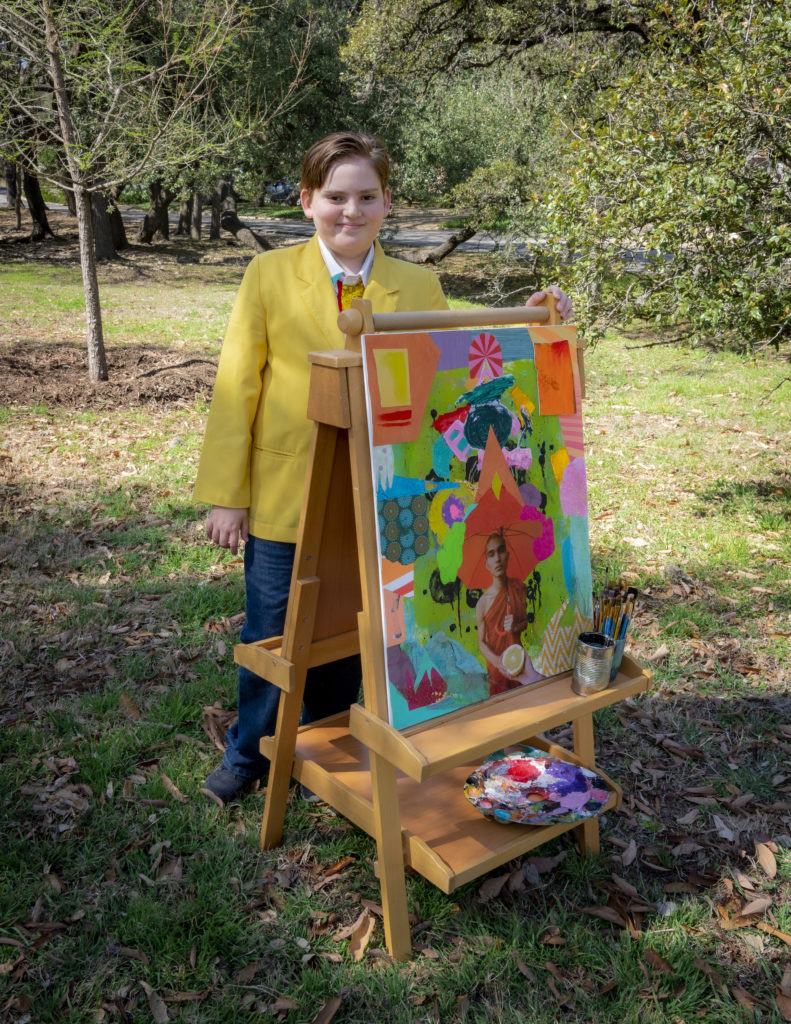 Kat states, "Aiden has been creating art since he was a toddler. His finger paintings, for example, were so advanced in the way that he used colors and textures that it was very evident that he had a discerning eye. So, I showed him techniques and instructed him how to improve upon what he naturally gravitated toward."

As Kat showcased Aiden's art on social media pages geared toward children's art museums, magazines, and other creative endeavors, he captured the attention of the Dream a Dream organization. They are a foundation based in India that "existsto empower young people from vulnerable backgrounds to overcome adversity and thrive in a fast-changing world." They used one of his creations in their "What If" branding campaign, and Aiden is quite proud of it.

Joe, Kat, and Aiden have called Alamo Heights home now for two years, and they love to patronize the local shops, galleries, and restaurants along the Broadway corridor. Kat and Aiden love to take long walks discovering new places near their neighborhood, and they are constantly surprised by how friendly and accepting everyone is in this community. Kat has hopes to open her own studio and gallery in the area one day, but until then, the Gomez family will continue to create and enjoy the community that has welcomed them with open arms.