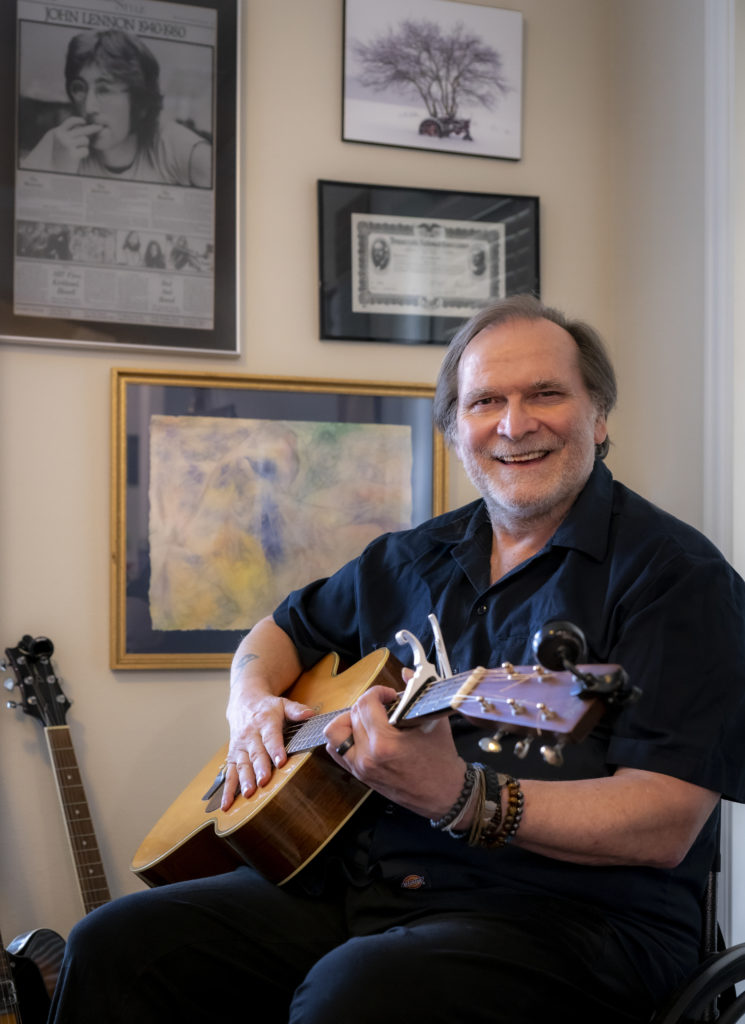 A Talented Artist Blooms in Alamo Heights
By Meredith Kay
Photography by Al Rendon
When you walk into the apartment of D.C. Bloom, your eyes don't know where to look first. The walls are covered in unique shadow box artwork containing one-of-a-kind artifacts arranged in thematic vignettes. Bloom states that his shadow box artwork was inspired by Joseph Cornell, an American visual artist and filmmaker credited with a form of sculpture called assemblage.

Bloom's art boxes are inspired and sourced from those mementos that we all keep hidden away in junk drawers and memory boxes up in the closet. They consist of event tickets, pictures, and tchotchkes that we all collect from the most memorable experiences in our lives. Bloom says that his shadow boxes are autobiographical and that each one is personal.
One box features a tribute to Elvis, with a broken 45 record, a torn piece of sheet music, a picture of The King himself, and an old, torn king of spades playing card. There are also boxes that feature an ode to Texas A&M and U.T. Austin, along with one that features an old cover of a western graphic novel with bullets and a toy gun. Each box is incredibly unique and holds a story that Bloom is happy to explain.

David Charles Bloom was born in Northwest Ohio and studied art education at the University of Toledo. His father was a dairy farmer, and D.C. remembers that his only goal growing up was NOT to become a dairy farmer. So, he studied hard, made his way through college, and began his professional career as a speech writer for the FBI. He married his high school sweetheart and moved to Washington D.C., where he worked under FBI director William Webster until 1988. He then went on to study Political Science at George Mason University in Virginia and eventually moved to Boston to work for Nynex, now Verizon, until he moved to Texas to become the Comptroller of Public Accounts for the state of Texas in Austin.
In 2004, Bloom moved to San Antonio to work for SBC, now AT&T, and he has called the Alamo City home ever since. He and his wife have two children. His daughter, Alyssa, teaches biology at Lee High School and has a daughter named Lilah, who is eight years old. His son, Evan, works in cyber-security and also has an 8-year-old son named Jackson. D.C. loves being a grandpa and spends time showing them how to create their own shadow boxes with things found at thrift stores and trinkets given to him by friends and neighbors.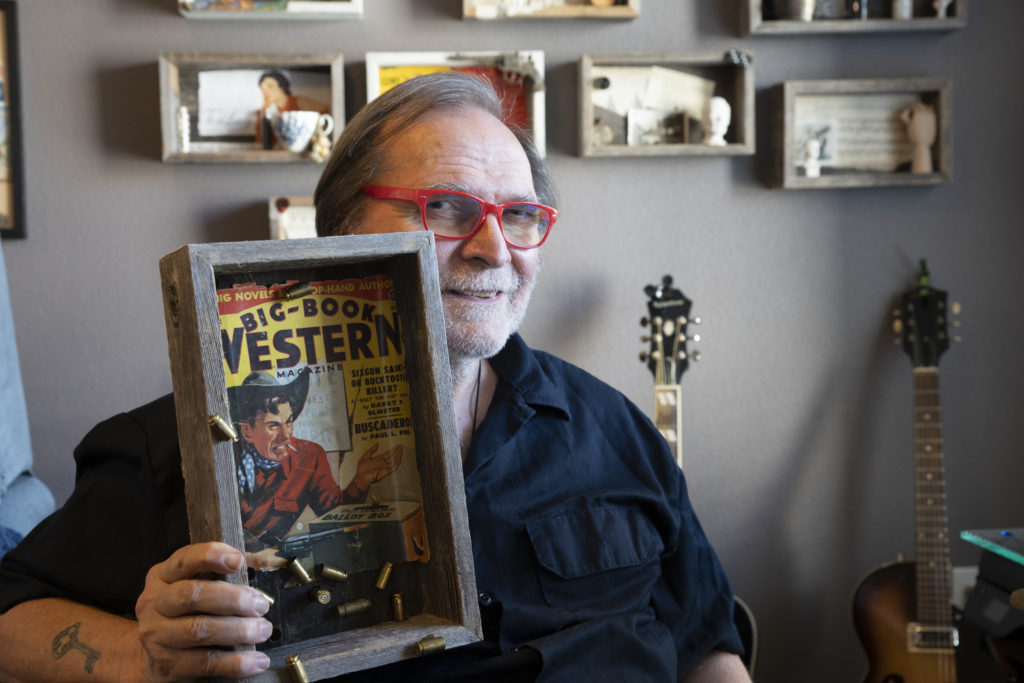 Bloom lives at Franklin Park Alamo Heights, a luxury retirement community on Sunset, where he sometimes teaches art classes to other residents. He is also an avid musician. He plays the guitar beautifully and has recorded five albums. He has even had an impressive career as a songwriter and a performer. In fact, it was a visit to the annual songwriter's conference in Kerrville one year that sparked his love for Texas and Texas music.
About that experience, Bloom states, "I have always been a Texas music fan, and I was so inspired by the artists I met in Kerrville that I committed to writing one song per week for an entire year." Bloom wrote 55 songs that year, and the best songs were recorded for his first album.

Currently, Bloom is working remotely for the CDC, writing for the Alaska Department of Health and Social Services. He sources content and interviews experts about health concerns affecting Alaska. He reports on COVID-19 and how it has affected the various communities in Alaska. Through his research, Bloom says, "No community suffered more than the native population in Alaska during the Spanish flu pandemic, and it's my job to monitor the data and keep up to date on how this pandemic is impacting the state and its native peoples."
Last month marked the 5th anniversary of Bloom's debilitating stroke, but he still manages to write, create art, and play music from his wheelchair quite effectively. He is grateful when he muses, "I'm so thankful and blessed that I can still write and create art and music because I get to live my passion and put it out there for others to see and appreciate."