Passionate About Her Community's Well Being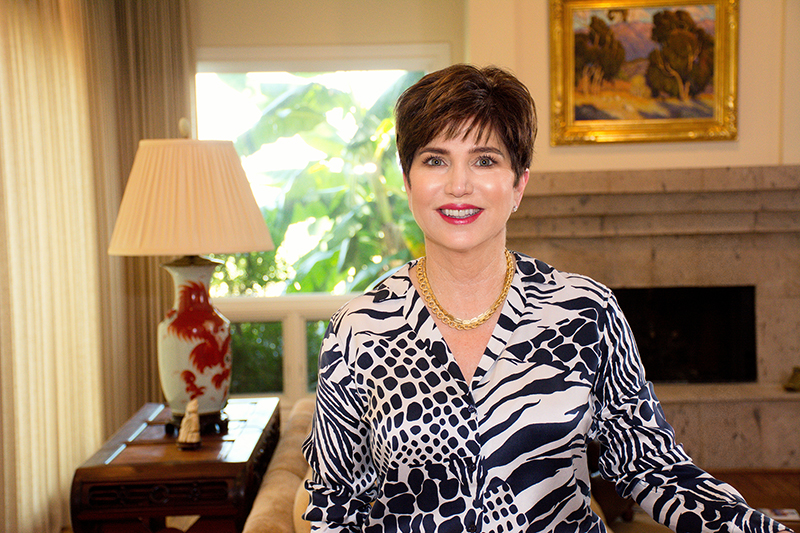 It's only human to develop a personal passion. Most of us have at some point, and those enthusiasms can run the gamut from unwavering support for our local sports teams (go Mules!) to the pursuit of culinary perfection within our '09 kitchens. Whatever the fervor we find focus in, the result can be an extraordinary dedication that, in many instances is quite impressive.
One exceptional case in point is our ZIP's very own Loretta Patterson, a lady whose lifelong passion has gone beyond the neighborhood to embrace not only our greater community but the entire state as well. Through her tireless efforts within the wellness industry, Loretta continues to make a difference that's beneficially felt far and wide. Her biography really is a story of caring contributions that have, and continue, to touch so many.
Originally from a military family hailing from Southern California, the recent University of California graduate (earning a degree in biological science with honors) was first introduced to the Alamo City through employment. That was in 1978, and the eager young lady, then working for the American Hospital Supply Corporation and assigned to San Antonio, was tasked with marketing its high-tech products to area heath care providers. As she recalls, "With my military background, servicing the medical centers within Fort Sam Houston and Lackland Air Force Base was especially perfect. However, satisfying their demanding needs stipulated by possible rigorous uses in the field could be quite challenging."
During this productive time, as Loretta excelled in her role as the company's representative traveling throughout Central Texas, she not only married but started a family as well. A few years later (in 1986) she also made the joyful decision to residentially (and permanently) relocate from the Northwest side to 78209. Loretta's reasons were simple: "Alamo Heights was like the small West Coast town where I grew up. In '09, most people knew each other, they had neighborhood parties and parades, it was a real community, and I wanted us to be a part of it."
Once comfortably ensconced in the neighborhood, while Loretta would continue to grow and contribute (professionally and personally) over the next three and a half decades, her family (especially her sons William and Monte) and their new home would become her primary focus for several wonderful, nurturing years. These were happy times filled with Little League games, Howdy Nights, bike rides, Cub Scouts and roller skating.
But with Loretta's education, expertise and energy, by the late 1980s she found herself involved again in the health field with her appointment as a director of the Texas Medicine Political Action Committee. For 12 years, her work took a public relations turn as she staged fundraisers and developed support for various judicial candidates sympathetic to the PAC's patient-centered mission. She also addressed physician groups and became associated with the American Medical Association. Her involvement ultimately led to her prestigious appointment by then-Gov. George W. Bush as a public member of the Family Practice Residency Advisory Committee, a part of the Texas Higher Education Coordinating Board. Her duties included helping make recommendations relating to the approval and funding of family practice residency training programs. As she states, "The exciting work I was involved in taught me how important personal engagement was for all of us. I was very proud of what we accomplished on behalf of the citizenry of Texas." As an added result of her contributions, Gov.Bush then appointed her to be a director to the State Bar of Texas. Wow!
By 2000, with the kids grown and gone, Loretta assumed her last full time position as the executive director of St. Luke's Lutheran Health Ministries and was ultimately charged with managing its charitable foundation funding numerous local wellness-related nonprofits. Thanks to her considerable skills at multitasking, she was able to beneficially impact many area health providers and, more importantly, their clients. For a very special reason, one of these recipients' work eventually led her to form a much deeper relationship that remains to this day.
As she remembers, "In my capacity with the Ministries, I came into contact with many nonprofit health care organizations. When I visited the San Antonio-based Blood and Tissue Center, I knew it was special. I jumped in with both feet and have been actively involved ever since."
So, while today Loretta has slowed a bit from those heady times with the PAC, the Texas Higher Education Coordinating Board and the Lutheran Ministries, she maintains a supporting role with the Blood and Tissue Center. She and her late husband, Jim, co-chaired the Center's foundation's first Red and White Ball – a gala fundraiser that helped establish the first life-saving umbilical cord blood program in the state. This important program relies on donated stem cell-rich blood retrieved after a healthy birth. Later, the harvested stem cells are used to affect astounding cures, often in previously desperate children. On a personal note, as she relates, "Ironically, I myself needed a stem cell treatment to address a blood cancer. That was six years ago, and I continue to thrive thanks to similar sciences like those that were developed at the Blood and Tissue Center." Hale and hearty and even more committed than before, she's looking forward to participating in this year's Red and White Ball extravaganza slated for early October.
Yep, Loretta Patterson really is one of 78209's passionate people. It's just that her passion has always been one of working on behalf of her community's wellness, and when you think about it, that can make us all feel really good! Thanks Loretta.
By Ernie Altgelt
Photography by Martin Waddy