Where a happy marriage is par for the course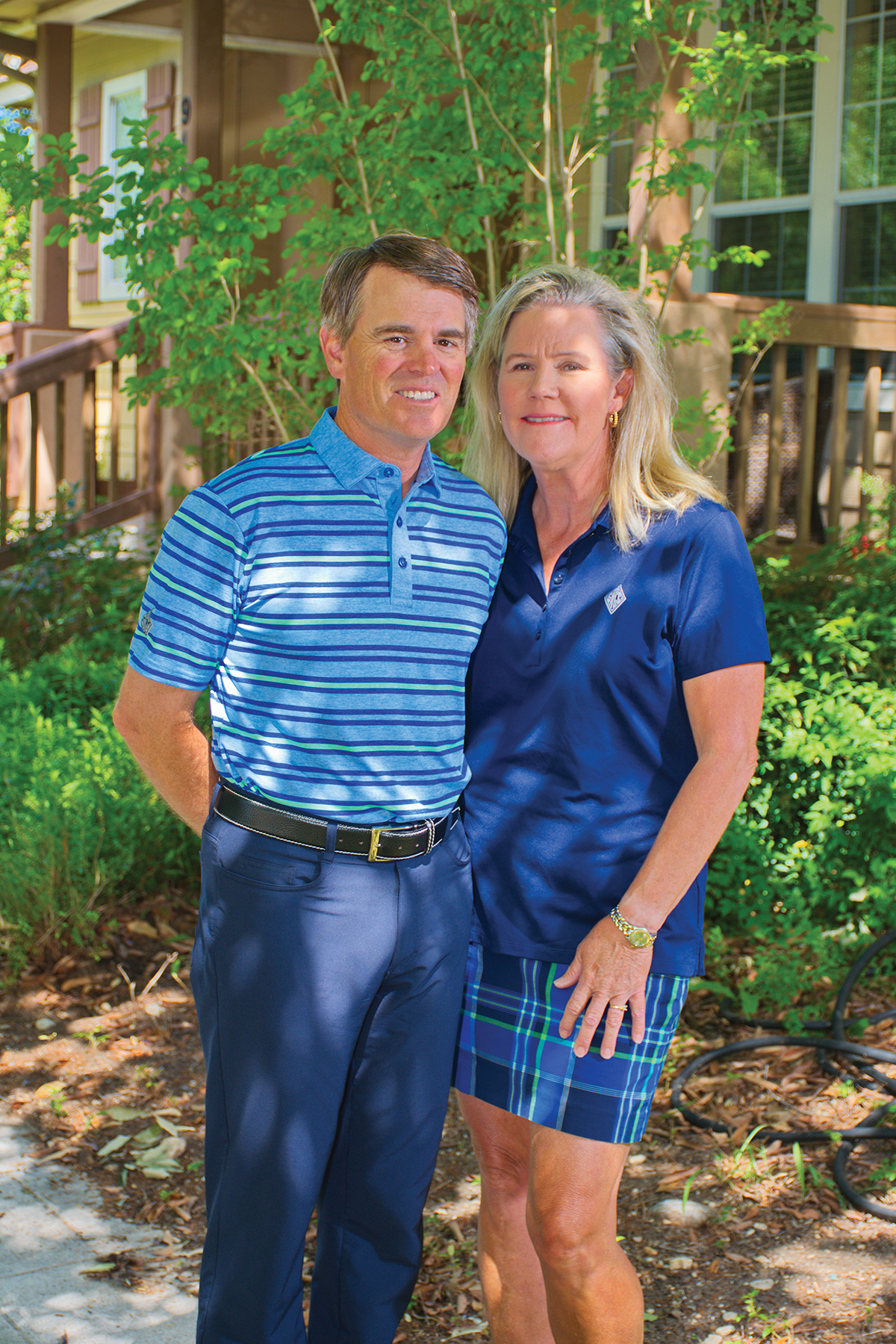 It's not unusual for a married couple to share an interest or even a profession. Many do just that, and it demonstrates a like-mindedness that can ensure compatibility at home and on the job. So while opposites might attract in some instances, a little life-oriented "linking" can and does go a long way too.
And when considering the same, no wedded team illustrates this better than '09's Kelley and Jim Nittoli – truly a match made for always finding the middle of the fairway and keeping far, far away from the rough. Yep, regarding this talented twosome, we're talking golf as that shared interest and as their profession to boot. Both, currently at the top of their games, have been able to transform their love of the ancient and esteemed sport, not only into a paycheck, but on a much deeper level, a loving relationship as well where each day represents another jointly enjoyed winning round. For the Nittolis, having a very happy marriage (and for that matter, their wonderfully completed lives) is simply par for the course. And that's "FORE" sure!
For the greater parts of Kelley and Jim's professional lives, each has striven to excel from tee to green – in competition, as teachers and especially as ambassadors to the game, always intent on introducing the joys of participation to one and all. Together, they continue to touch countless lives through their heartfelt encouragement as well as in the examples they provide – not only while on the links but also through their interactions as beloved members of the greater 78209 community.
But what's the backstory? Kelley (nee Markette) grew up in a golfing family originally based in South Carolina. When she was 11, the clan moved to Victoria, and it was there where the always athletic young lady grew up honing her skills with the sticks with her father's appreciated assistance. And she got so good that when college loomed, Kelley snagged a full golfing scholarship at Houston Baptist University, where she majored in finance and accounting. But even with the impressive degrees, as she admits, "It was always golf for me."
After graduation, Kelley (by then a minus-handicap golfer) embarked on a career that would ultimately take her all over the world. Competing in tournaments across the United States while a member of the Ladies Professional Golf Association, she also participated in other prestigious contests sponsored by the Asia Circuit and the Women's European Tour. Wow!
Later Kelley held non-touring positions as an assistant pro at a number of private clubs in Texas and New York. And everywhere she went, she not only impressed others with her golf skills but also with her warm, engaging personality.
Native New Yorker Jim, a lifelong golfer even though he was the only one in his family to play, also developed an early attraction for the sport by following the pros. Without a parental role model to guide his development, however, it was while working as a 12-year-old caddie that the avid adolescent was able to acquire some of the more intricate ins and outs of the game. Gifted with a natural ability for hitting the ball long and straight, and encouraged by others, he too became determined to make his living on the links. But that would have to wait.
Jim, at his father's request, first earned an accounting degree from Florida's Stetson University and even spent several years successfully but unhappily toiling as a numbers man. As he recalls of that time, "I worked so much that I never had time for golf." Actually, he just wanted to be a professional at a private club, and after leaving the accounting biz, that's exactly what he became.
Starting at a New York club as an assistant pro, he later moved to other premier clubs in Texas and Massachusetts. There he was continually recognized for his teaching and organizational skills as well as his ability to positively interact with the membership. Then, in 2009, he readily accepted the position as director of golf at our ZIP's own San Antonio Country Club, a job he ably (and popularly) fulfills today.
But how did he and Kelley get together? Well, it's pretty simple. Both met while working at the same club in New York, and as both agree, "We immediately hit it off." Dating ensued (which often included evening rounds of golf), followed by a wedding a year later. And throughout the past 20 years, no matter the location or title, as a couple, both have had the opportunity to practice their craft professionally while, more importantly, remaining devoted to each other.
Today, as proud parents of two equally accomplished children (both Heights grads and athletic), James II and Julia, Jim and Kelley both find fulfillment doing what they love. For Jim, it's overseeing the golf program at the SACC. For Kelley, it's as the assistant coach for the UTSA women's golf team. How lucky can each get? Couple their immense job satisfaction with living in this wonderful neighborhood — they eagerly moved into Alamo Heights not only because of Jim's SACC job but also because so much of Kelley's family is already here — and the Nittolis really do seem to have scored success on all fronts (and backs too!)
So can a shared interest really ensure a happy marriage? Just ask the Nittolis, and they'll enthusiastically respond, "Of course!"
By Ernie Altgelt
Photography by Martin Waddy