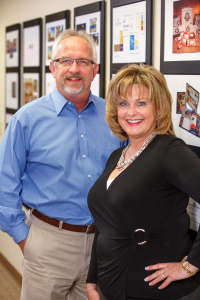 PERFECTLY MATCHED
Some things when combined almost magically result in a wonderful new "whole" that, as one, can greatly surpass and enhance the potential accomplishments of the individuals. An excellent case in point (beyond the Beatles) is the very successful and happy merger, personally and professionally, of marketing mavens and '09ers Jamie Allen and Brian Eickhoff. Since joining forces almost 30 years ago, this sharing, equally creative, productive and loving husband and wife team have excelled on all fronts – at home, the workplace and beyond. With each daily contributing their own unique and formidable strengths, abilities and talents to the mix, this dedicated duo continues to exemplify what a perfect match can achieve in tandem. Really, it's just "two" neat! While both grew up in families that relocated often, San Antonio became home to each of them in the early '80s after graduation from college. Brian (always gifted as an artist) attended Southwest Texas State University and received his degree in commercial art while Jamie (also talented creatively) earned her advertising degree from Michigan State. It was back in the Alamo City, however, when chance brought the two together in 1983 while Brian was employed as an art director at a local advertising agency and Jamie worked as an account executive with a popular radio station. Both found themselves assigned to the same project – promoting the grand opening of a new nightclub. As Jamie recalls, "We mark that promotion as the beginning of our relationship. And like our relationship, that club is still thriving too." Over the next several years as the two became closer, the inevitable happened, and Jamie and Brian married in 1986.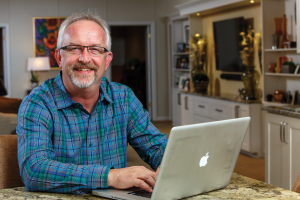 Once established under one roof as husband and wife (and later parents), both continued to work in related fields, but apart. Visually creative and print-oriented Brian had opened a graphic design firm in 1985 and continued nurturing that business while Jamie remained in the radio biz — selling, preparing media plans and campaigns and handling various accounts. As Brian's company grew with the addition of new clients, staff and project responsibilities, Jamie eventually moved into the demanding world of sports marketing by joining the San Antonio Spurs organization and narrowed her focus solely to selling sponsorships for the franchise. It was a time of learning and growth for both. By 2001, however, the pair saw the obvious and decided it just made sense to come together professionally. Facing the challenging business environment of post 9/11, Brian realized that change was needed if his business was to continue prospering. With Jamie's varied background in overall marketing, which perfectly complemented Brian's award-winning strength in graphic design, uniting corporately seemed a natural. With the success enjoyed since, as Brian admits, "Many wonder why we waited so long." After Jamie came on board as the chief operating officer and Brian continued in his previous roles as president and chief creative director, a whole host of new services were added, and with so much positive change, a new identity was called for as well. Enter Texas Creative – now a full-service advertising and marketing agency. And, as a proud Jamie states, "It's been a thrilling ride ever since."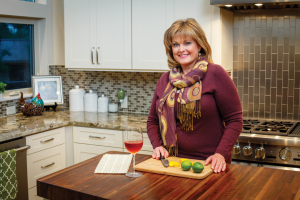 So while their marriage continues to pay big dividends at the office, those same individual strengths that blend professionally also came into play during their recent home remodeling project. Starting with a 1950s-era structure located in the Northwood area that they purchased in 2012, Jamie and Brian have co-created a state-of-the-art habitat where comfort, livability and beauty are paramount. As Brian and Jamie confess, "We basically changed every surface inside and out." Working together (with professional help), they added walk-in closets, completely gutted the kitchen and installed Thermador® Chef appliances, and designed and outfitted a marble master bath, not to mention introducing myriad new treatments and décor touches throughout the entire interior and exterior. As they relate, "We're almost done, with just a little landscaping, decorating and driveway work remaining." After spending a year in a small on-site efficiency apartment (with their two dogs), Jamie confesses, "Our patience was stretched to the limit because of the close quarters – but we survived! We now have a wonderful new home that we made together." It's just amazing what a perfectly matched couple can accomplish, anywhere!
By ERNIE ALTGELT Photography by CASEY HOWELL