They know how to balance work and play
---
By Bonny Osterhage
---
You know that old adage about what happens to people who are all work and no play? Well, that doesn't apply to Alamo Heights residents Rick and Jennifer Flume. When it comes to balancing work and play, this family has the bases covered.
If the Flume name sounds familiar, chances are it's because of baseball or bankruptcy. One is the family's livelihood; the other is their passion. Attorney Rick Flume has been helping San Antonio residents who are experiencing financial trouble to obtain a fresh start since 1999 through his firm, Flume and Associates. More than just offering his clients a way to start over, this San Antonio native offers instruction and education on ways to make more money and save more money to improve their chances of future financial success.
"Rick offers them ways to think differently than they have thought before," says Jennifer, who handles the firm's bookkeeping. "It's an extra personal touch that he offers to try to make a difference in their lives."
Rick and Jennifer, who celebrate 16 years of marriage this month, met on a blind date at a Spurs game."We were set up by friends, and we hit it off so well that we didn't even watch the game because we were so busy talking," recalls the bubbly Jennifer, who moved to San Antonio with her family at the age of 8.
Settling in Alamo Heights seemed a natural fit for the pair. Rick was a graduate of Alamo Heights High School, and both he and Jennifer were attracted to the convenience and what Jennifer describes as the "close-knit, small-town feel of the community."
"It's like a city within a city," Rick agrees.
The Flumes do more than simply live in Alamo Heights; they embrace it! Sons Hayden, 13, and Harrison, 11, have attended Alamo Heights schools since their days at Howard Elementary. A stay-at-home mom, Jennifer has devoted countless hours and lots of energy to volunteering at various school events and is an active member of the Alamo Heights School Foundation Board, using her background as a CPA to help with the resource allocation, marketing and finance efforts of this fundraising organization.
"I love the concept that the funds raised go directly to the schools in the Alamo Heights District," she says enthusiastically. "We are gaining recognition and getting more donations every year."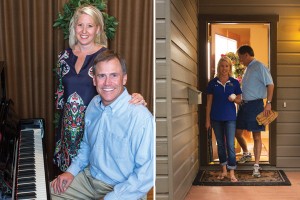 In addition to doing what they can to support the Alamo Heights schools, Jennifer and Rick both donate their time and talents to a cause near and dear to their hearts: the Alamo Heights Little League. Both Flume sons cut their teeth playing Tee Ball in the league, and Rick and Jennifer both serve on the board. "We love the Alamo Heights Little League because not only does it give the kids an opportunity to compete, it teaches them about good sportsmanship and how to work well with others," says Rick. "It also allows them to meet other kids, which is helpful in a school district as large as this one."
Rick, who has been on the AHLL board for three years, serves as treasurer, while Jennifer is in charge of the league uniforms. "He writes the checks, but I do all of the work," laughs Jennifer.
Even when the boys aren't playing, you can find the Flumes either cheering or working behind the scenes at the ballpark. "This is a working board, and it's a big-time commitment," says Rick. "But we really enjoy it."
During the summers, you can find the Flumes taking a break from their commitments to enjoy family time spent waterskiing, wakeboarding and simply hanging out at their home on Lake Dunlap in New Braunfels. It is here where the family unwinds and relaxes, playing games (Jennifer is an avid mahjong player) and entertaining friends.
"We just really enjoy spending time together here as a family," says Jennifer. "The kids would move to New Braunfels if we'd let them, but we are committed to staying in Alamo Heights."