The laughter of their young daughter frolicking in the backyard is a sound that brings a smile to Justin and Lina Triesch's faces.
Their family's story spans through the years and many miles in between. Justin Newell Triesch is a hometown boy. He grew up in San Antonio and has been working in the family business since he was 18 years old. "I am a fourth-generation scrap metal guy," he says. His grandfather founded Newell Recycling, which eventually included the whole family being involved in the business and now have scrap yards throughout the United States. Today Justin runs River City Steel and Recycling here in San Antonio, which will celebrate 30 years under his ownership in 2020.
It was through this family business where he met his wife, Lina. However, her journey into the world of Newell recycling was quite different than Justin's. Lina grew up in Bogotá, Colombia. She was a university student, studying psychology when she got a record deal. "I came to New Jersey to meet with the producer, but it didn't work out." The record label fell apart and with it her dreams of making it as a singer. "I stopped singing when I went to college." She finished up her degree in psychology and then went on to get her masters in Atlanta. It was there she started working for a particular scrap metal company that just happened to be owned by Justin's mother. "I was the Human Resources Senior Manager. We used to travel to San Antonio to help with their HR as well."
And thus began Justin and Lina's romance which resulted in Justin moving to Atlanta for her, but only for a year. "It wasn't home," he says, "I needed to go back home." The two were married in 2013 and have a 5-year-old, Annemarie. Lina frequently goes back to visit her home in Colombia. In fact, the family just returned from South America. On the occasions that Justin cannot accompany her and their daughter to her home country, the family meets up in Costa Rica instead. "We visited Costa Rica for the first time 10 years ago and fell in love with it," Lina says. "We even got married there."
However, Lina has grown to love San Antonio. "I got here in October of 2009, and I discovered tacos." She laughs about this life-changing discovery. "I soon realized this is something you cannot eat every day!" They love the area they live in, especially for the community it has created for Annemarie. "It is the best place to raise a daughter. I can see her growing up here," says Lina. She attends St. Luke's Episcopal School and has made great friends there.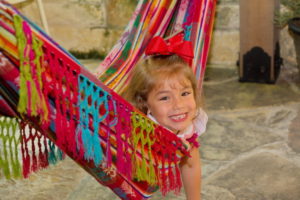 Both parents admire their daughter's spirit and note how much she has added to their lives. "I started writing down the things she says," Lina adds. She makes a note and dates each one. "She is very outgoing, and we are very reserved, so I don't know where she gets that from," she laughs. "We started a little bit late," says Justin. "For a long time, I didn't know how I felt about kids." But Annemarie changed his life. "It has been really great having her. She is very well behaved, and she travels very well. The conversations she comes up with are just hilarious. This is such a great age. I wish she would stay this age forever."
While Annemarie is growing and exploring, Lina is taking time to revisit her old love of singing. "Now that my daughter is getting older and I have some time to do things for myself, I decided to buy some musical equipment," she says. It is something she wanted to do for herself. Lina doesn't see this as a career change, but rather a hobby she hopes to share with others. "I want to maybe go play at a senior home or just anywhere to entertain people." She has had the opportunity to share her talents with her home country as well. "About four years ago, a non-profit in Colombia asked if I would write a song for them." She wrote music and lyrics that helped create awareness for organ donations. Talk about putting your talents to good use!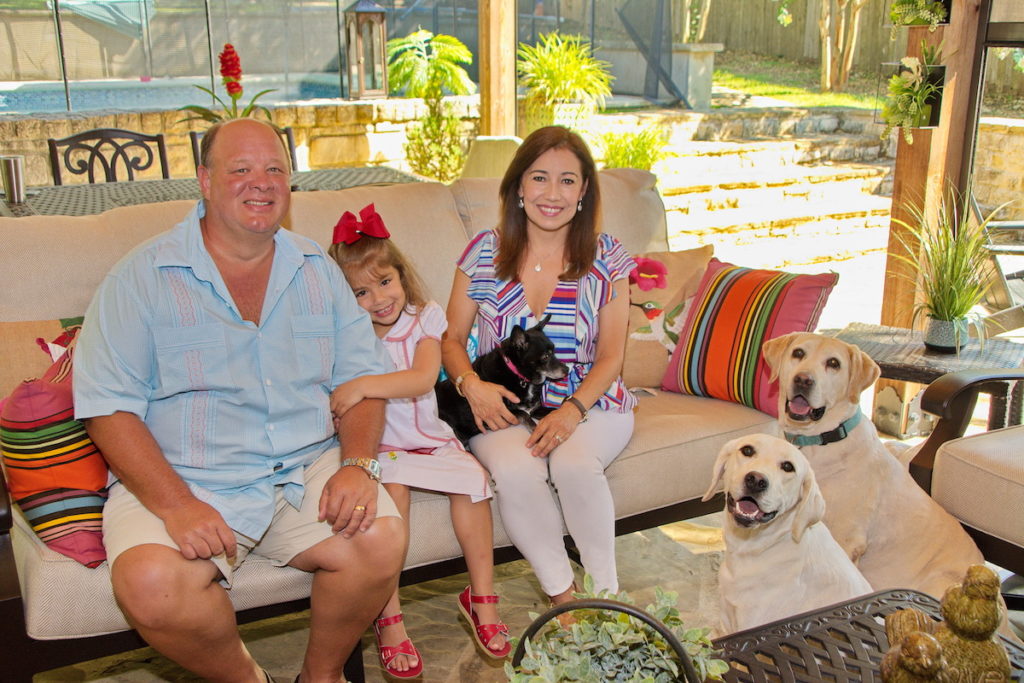 The three love to spend time together exploring the Lone Star State. Whether they are out on their ranch, at the beach, or taking a road trip, you can guarantee they are enjoying time as a family. "There is so much this state has to offer, and if you are in San Antonio it is so easy to get to it all," says Justin. Though they love their time with their little one, adult time is equally as important to Justin and Lina. "We try to have a date night once a week," says Lina.
The family, including their three dogs, enjoy their neighborhood and have found contentment in their Terrell Hills home. "I like the small community where kids get to enjoy their childhood," Lina says. "The world is so complicated nowadays, so it is good that you can have that space where things are easy for them."
By Gabrielle Hernandez
Photography by Martin Waddy