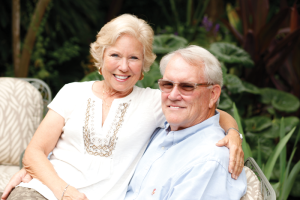 Some might describe happily married couple Lisa Walker and Mark Paulson as pretty much "down-to-earth." And when thinking about it, both are certainly open, honest, sharing and caring. However, where the description really proves apt is in how these two productive and talented individuals have each geologically grounded themselves professionally.
While Lisa, with an eye-level focus, daily excels at beautifully creating and transforming green spaces across the '09 ZIP code and beyond, Mark has elevated his sights by marketing commercial technology capable of photographically capturing the lay of the land from far, far above. Yep, no matter the vantage, both Lisa and Mark have truly found considerable on-the-job satisfaction and success just being down-to-earth while, more importantly, remaining personally very much "up" on each other.
Lisa has been an '09 girl since early childhood. Born in Corpus Christi, at age 2 she and her family headed north and settled into a cozy Bel Meade neighborhood home. As she approached the seventh grade at Alamo Heights, a second move ensued, this time to the distant "country" at what is today the intersection of Bitters and Blanco Roads. Even though no longer living in the neighborhood, Lisa remained a student at Heights until her graduation. It was during her rural years that the youngster learned to love and appreciate the land, feelings that would eventually propel her into her current career. Mark got to the ZIP code (and San Antonio) much later. He grew up in Bryan/College Station and lived there until graduation from high school. That was followed by a stint in the Marines, then enrollment in the University of Houston studying engineering. Later, he worked in an oil field trucking business in Eldorado before transitioning into a career in land surveying. The firm that he worked for was based in San Antonio, forcing Mark to spend his weekdays in the Alamo City while commuting home on weekends to be with his then-wife and two daughters back in Eldorado. It was not an ideal arrangement, the marriage deteriorated, and a now single Mark eventually, and permanently, relocated to San Antonio.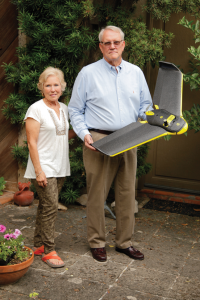 Lisa had a previous marriage, too, that produced three wonderful children – a son and twin daughters, all Heights graduates. After her divorce, a mutual friend introduced Lisa to Mark. Both, at the time, admit to an immediate attraction tempered by an understandable degree of "gun shyness" attributable to their past marital histories. But after a slow and cautious start, love eventually won out, and this remarkably individualistic but compatible twosome joyfully tied the knot in 2005. Today, they blissfully occupy the Mexican-style house in the Northwood area that Lisa purchased in 1993. So has it been a success? To those in the know, after 10 years it's pretty obvious this delighted duo still "dig" each other.
As a couple, Lisa and Mark definitely have their differences – politically, stylistically, professionally, even about where to go for dinner. However, when quizzed on what makes their marriage so strong despite their often "at odds" opinions, both respond by admitting to having benefited greatly from their emotional pasts. In their current relationship, as Mark attests, "We have a lot in common and concentrate on the positives rather than looking for something negative to correct." Lisa further clarifies by adding, "We're good because we focus on the big things and let little differences sort themselves out."
Whatever, it's been a winning formula for two very, at times, "stubborn and strong" personalities who admittedly enjoy a little sporadic intermarriage "debate." To keep peace in the family, Lisa does confess to occasionally "letting Mark think he's won" during some of these exchanges. Overall, Lisa and Mark truly and appreciatively share much that keeps their relationship intact and healthy, including lots of "humor, intelligence and, above all, big hearts."
Now back down to earth: Professionally, Lisa has built a stellar landscaping business, Lisa Walker Landscape Designs, Inc. With her keen eye for design coupled with her knowledge of horticulture, a carefully selected staff and insistence on near perfection, she has been able to transform ordinary outdoor environments into stunning displays of nature's beauty – all expertly suited to esthetically satisfying the property owner while being appropriate for South Texas' climatological limitations. The results can be breathtaking. And for Mark, it was his love of all things high-tech that ultimately gave him the wings to further his professional ambitions. As a long-term registered land surveyor, Mark got the opportunity to work for and with a diverse clientele. All needed the same things – legal and geographical descriptions of the earth, no matter the ultimate use. At one point he was introduced to some exciting technology that involved aerial-imaging drones for commercial use. These high-flying, camera-equipped wonders could "do the work a survey crew would need days to accomplish in an amazing 45 minutes." Wow! After each flight, orthomosaic (corrected to the ground) photos would be produced along with very accurate three-dimensional models. Mark was smitten by the capability and now, working through G4 Spatial Technologies, represents a Swiss firm that manufactures these modern-day dynamos and markets the same to companies across the greater Southwest.
So while both have found contentment with each other, their blended families and their professions, part of their joy stems from living within 78209. As Mark volunteers, "San Antonio is a wonderful city, but '09 is truly its best part." And what's more, for Lisa and Mark, it's just a great place to be down-to-earth!
By ERNIE ALTGELT
Photography by ELIZABETH WARBURTON