CUSTOMERS CAN FIND THE LATEST PRODUCTS
---
by: Bonny Osterhage
---
In the ever-changing and fickle world of beauty, youth is considered a valuable commodity. So what keeps a barber and beauty supply shop with a vintage appeal in business past the ripe old age of 70?
Well, as most people know, age is simply a state of mind. Not only surviving but thriving in today's competitive market requires a clear vision, an understanding of your customer and your industry, and an ability to combine the latest advances with the tried and true. Pablo Suarez, owner of Alamo Heights Barber and Beauty Supply, possesses all of these attributes, along with a love of the Alamo Heights community that he has called home for the past 16 years.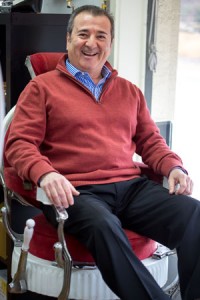 AGING GRACEFULLY
Born and raised in Mexico City, Suarez moved to San Antonio and purchased the Alamo Heights Barber and Beauty Supply and the adjacent Oh Nine Hair Studio in 1998. It was a store with a history and a following, and Suarez made the decision to maintain the charm that had served the business so well. In fact, the only changes he initiated were to the layout of the floor plan and the quantity and quality of products he sold. Suarez kept the original sign, proudly displaying it above the door to his office, and he left the original hardwood floors intact. And even though dozens of bottles of old- fashioned barber products, like a rum and egg shampoo, line the shelves behind the counter, don't let the homage to the early days fool you! This is a shop that caters to both the discerning public and the licensed professional, offering them the latest in products and equipment.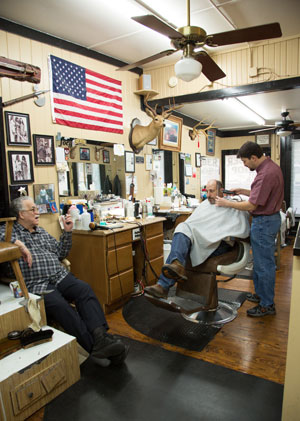 A BEAUTIFUL CAREER
Suarez has spent a large part of his career in the business of beauty product distribution, importing sought-after lines from the United States, France and even China to big box retailers in his home of Mexico City. As a result, this is a man who has his finger on the pulse of the beauty industry and knows what sells. He offers hard-tofind lines such as Lucky Tiger and Clubman, as well as what he considers the must-haves, like Sebastian hair and OPI nail products. To those he adds of-the-moment and higher-end lines such as Moroccanoil, Brazilian Blowout products, BaByliss styling tools, Mason Pearson brushesand more. Over 12,000 more, to be exact.
"We are the largest barber and beauty supply store in San Antonio," says Suarez, "It's one of the things that sets us apart." It's not the only thing. Many of the sales consultants are also licensed stylists and, as such, can offer customers expert advice on which products will best meet their needs. Many of those stylists are employed next door in one of the two adjoining shops: the Oh Nine Hair Studio and Suarez's newest addition, Barber Shop of Oh Nine, which he opened in 2010.
"With the salon and barber shop being an extension of the beauty supply store, we are more like a beauty super center," explains Suarez. The salon offers customers everything from nail services to waxing and nearly every hair service imaginable, including the popular Brazilian Blowouts and hair extensions, all in a relaxing environment.
The barbershop is a decidedly masculine experience. Here gentlemen can get a shave, haircut or shoeshine in a room filled with animal trophies on the walls, a large flat-screen television and leather belmont barber chairs from the 1970s. "The addition of the barbershop was the biggest change I made," says Suarez. "The customers seem to really appreciate it."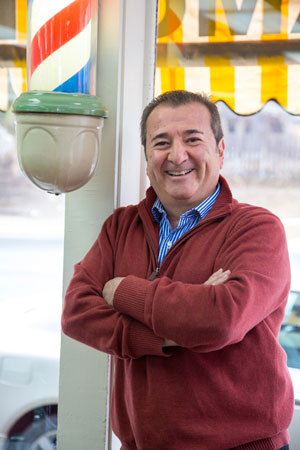 CUSTOMER SERVICE THAT'S A CUT ABOVE
Suarez understands that it is the customers that have kept Alamo Barber and Beauty Supply in business all these years. He has made it a priority not just to service their needs but to ensconce himself within their community, embracing Alamo Heights and the lifestyle it affords. " I love the tranquility of Alamo Heights and the friendliness of the people," says this single dad of two grown sons.
Things like joining the local health club, playing tennis and taking long walks with his girlfriend through the neighborhood have given him the opportunity to meet his neighbors and customers and learn more about them. "Many of my customers have grown up here and have been loyal to the shop for more than 50 years," he marvels.

With beauty superstores like Ulta popping up in the near vicinity, Suarez makes sure to stay a step ahead by rewarding his customers for their devotion. He sends twice-weekly discount coupons via email, and if a customer wants a product or a line he doesn't carry, Suarez will do his best to get it for them.
"I think what makes our customers unique is that they will still come here to shop rather than shop online or go to another big-box retailer for the same product," he says. "This neighborhood is very committed to supporting local businesses whenever they can and putting their money back into the community."
Suarez does his part for the community as well by participating in the Cancer Therapy and Research Center's Partners Card Program, citing it as a way not only to give back personally but also a way to offer customers the opportunity to stock up on their favorite products. An enthusiastic supporter of the Alamo Heights High School band program, he participates in a fundraising program whereby local businesses pay for the band to come in and play for their customers and employees. "It's fun," he smiles. "They are really good!"
Giving back to the customers and communityextends to Suarez's passion, which is travel. He attends international trade shows and brings back the newest hard-to-find products, as well as plenty of knowledge and information that he imparts to his staff.
Suarez realizes that with the Internet and the growth in the neighborhood, the competition for dollars is fierce. By marrying the expectations of the original customers with the demands of a new, techsavvy clientele, he is successfully cultivating a new era of devoted, brand-loyal shoppers. "Our customer service really is what sets us apart," he says. "Customers want that personal attention that comes from the boutique neighborhood stores. We give it to them."