Therapeutic Riding and Hippotherapy in San Antonio
By Kerstin L. Fosdick, LPT
Equine Therapy Helping to Improve Self Esteem and Quality of Life
Formed in 1991, The Saddle Light Center (SLC) is a 501(c)(3) non-profit organization located in Selma, TX, inside Retama Equestrian Center. As a Professional Association of Therapeutic Horsemanship (P.A.T.H.) organization, SLC provides professional equine-assisted activities and therapy (EAAT) to the disabled population of San Antonio and surrounding areas with the goal of improving their quality of life. "Our mission to provide equine therapy to individuals with varying disabilities – including, but not limited to, neurological, orthopedic, learning, and emotional – with the goal of inspiring our riders to achieve accomplishments previously considered beyond their capabilities."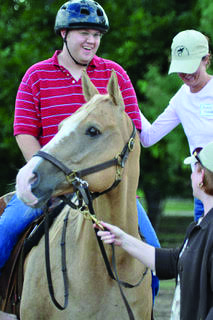 EAAT is an umbrella term used to describe all equine activities and therapies designed for people with disabilities or diverse needs. SLC focuses its program on Therapeutic Riding and Hippotherapy. Therapeutic Riding centers on teaching a rider the sport of horseback riding within the scope of their abilities. In comparison, Hippotherapy refers to the use of the movement of the horse as a treatment strategy by licensed therapists to address impairments, functional limitations, and disabilities in patients with neuromotor and sensory dysfunction.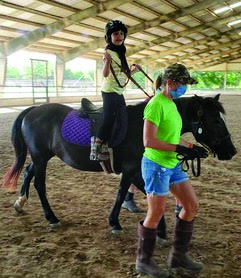 Many types of disabilities can be treated through SLC's EAAT program. The riders may include those diagnosed with ADHD, Autism, Cerebral Palsy, development delay, head injury, learning disability, Spina Bifida, or Multiple Sclerosis, as well as recovering stroke and brain injuries. Through the program's carefully planned and customized lessons, riders have been shown to profit physically, cognitively, and emotionally.
Benefits of lessons may include:
Physical benefits:
Improved muscle tone, strength, and control.
Increased range of motion, endurance, balance, gross and fine motor skills.
Stimulation of cardio-respiratory function.
Improved coordination, sensory processing, and ambulation.
Cognitive benefits:
Better critical problem-solving skills.
Ability to understand and follow verbal instructions.
Enhanced concentration and focus.
Promotes spatial judgment.
Emotional and social benefits:
Greater self-esteem and an increased sense of accomplishment.
Emotional control and self-discipline.
Social interaction.
The ability to ride one of SLC's 13 horses gives tremendous physical and psychological benefits to those previously denied the usual scope of outdoor activities. Take it from their rider M. Moser, "SLC has changed my outlook on life – providing me with purpose, improved my overall health and mental wellness." Between Moser's testimonial and a quick glance at the program's Great Non-Profit's page – https://greatnonprofits.org/org/saddle-light-center-for-therapeutic-horsemanship – the impact it has had on the quality of life of those who have participated in the program is evident, as words like "godsend" appear. It is clear that SLC is achieving their mission and continue to do so through the generosity of their sponsors and volunteer workforce.
If you are interested in learning more about The Saddle Light Center, please visit their website at www.thesaddlelightcenter.com