BY LESLIE FOLEY
Parties, parties and more … we locals love a good party, and that's what's in store, San Antonio.
The Texas Historical Foundation will present the Star of Texas Award to Charline and Red McCombs, two business and civic leaders who have not only helped preserve Texas history, but also created some history of their own. The glitzy western shindig will take place Jan. 20 with a cocktail reception followed by dining and program/presentation at the Jack Guenther Pavilion at the Briscoe Western Art Museum. Frost Bank president Don Frost, former mayor Henry Cisneros, former U.S. Sen. Kay Bailey Hutchinson and J.P. Bryan from Houston are previous winners of the award.
DON'T PUT AWAY THE BOOTS YET: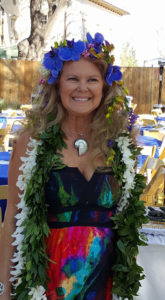 Texas /Hawaiian gal Susan Moulton is planning the eighth annual and final Will's Quest for Hope — The Cowboy Rides Away. This will be the last gala in a series honoring 8-year-old Will Smith, who died in a tragic car accident on Maui in 2007. Save the date, March 19, for what would have been Will's 18th birthday, when the final gala will take place at the Witte Museum and Will Smith Amphitheatre. Perfect theme for a kid who would answer only to the name Cowboy Smith when he was 5 years old; the night will feature a good ol' cowboy feast, a hula show and a special country music guest as well as the traditional Bryan Lewis tunes. Don't miss the bidding for a George Strait autographed guitar from his final Cowboy Rides Away Tour. The Will Smith Foundation funds and serves over 50 local children's organizations in the San Antonio area.
AND SPEAKING OF WESTERN …
Among the many who attended the 46th annual Witte Game Dinner were Eric and Suzanne Peterson, Craig and Martha Rosenstein, JJ and Tracee Feik, Paula Miller, Mary and Bryan Bush, Tricia Steves, Jim and Bevin Crow, Jane McFarrin, Pam Gilbert, Trish DeBerry, Jenifer Brown, John and Rita Feik, Raven and Fred Labatt, Melinda and Ed Hart, Robert Shaw, Heather and Jeff DeRojas, Tashya and Lane Riggs, Helen and Paul Rohlfs, Jr., Johnna Schroeder, Dale and Sandra Tremblay, Anne Rochelle, Bonnie Korbell, Chris and Courtney Schultz, Megan and Tres Steves and Corinna and J.B. Richter. Very much in evidence were lots of bling, boots, wranglers and cowboy hats at the annual shindig with entertainer Charlie Robison.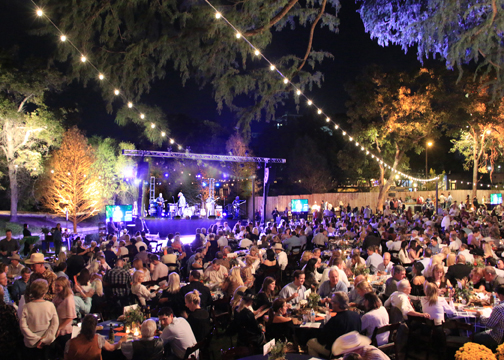 SPEAKING OF ANOTHER SHINDIG
Those boots were kickin' at the 37th annual Grand Western Shindig, benefiting Mission Road Ministries. I sat next to chairs Carmen and Steve Goldberg at Cabaret at the end of October, and they gave me the lowdown on the event and how they and co-chairs Amy and Mark Kipnes moved the hoedown to the Witte Museum. Among those rallying for the cause were Lynette A. Farrimond, vice president, development and communications, along with committees, sponsors and donors, including Broadway Bank, Bird Bakery, DoSeum, Carol and Jack C. Hebdon, Jr., Trudy and Ed Moore, Cheesy Jane's, Loretta Patterson, Catherine and Joe Taylor, Denise and Marty Landon, Jimmy and Vicki Perkins, Painting with a Twist, Rick and Kristin Lepere, BurgerFi, Bite Restaurant and Chez Vatel Bistro, Steve and Bea Dutton, Dr. Nancy H. Gerhard and Dr. Glory B. Marshall with Alamo Heights Orthodontics and Langmore Photography.
A LUNCHEON WITH JONATHAN SANDYS
At a luncheon at First Presbyterian Church, Jonathan Sandys, the great-grandson of Britain's wartime Prime Minister Winston Churchill, read from his newest book, God and Churchill, the portrayal of Churchill's life and legacy with emphasis on the great leader's guiding belief about God's work in his life. Among those attending were chairman Pat Krueger, Cindy Timmins, Lynn Thompson, Mary Alexander, Mary Frances Churchill, Manette Owen, Karla Keahey, Catherine Whitsett, Cheri Stith, Almeda Hodge, Rhonda Low, Linda Rittenhouse, Sarah Quirk, Jan Fischer, Mary Ellen, Rhae Chell, Leslie Kingman, Lisa Swann, Ken Krueger, Loretta Patterson and her dad, Paul Kuros.
LOOKING GOOD
And who better to help you glamorize and prep for a night out during the holidays or that special soiree? Trendsetter, style maker and hairdresser to many '09ers is Ric Marmolejo, an '09er for 33 years, who has moved from his signature crystal palace salon to his new, colorful pied à-terre. His hip and quintessential tangerine boutique is located at 7701 Broadway, Ste. 139 in Dijon Plaza. According to Marmolejo, "I've seen my clients through the bob, the wedge, the shad, the perm, the pixie, the Jen and more. We've come a long way together. And there is so much more to do!" Hey, Ric, I heard the bob is back.
MOTHERS AND DAUGHTERS
The mother and daughter members of National Charity League, Inc., Rose Chapter, celebrated their 10-year anniversary on Oct. 15. National Charity League, Inc. (NCL, Inc.) was founded as a national nonprofit organization to foster mother-daughter relationships in a philanthropic organization committed to community service, leadership development and cultural experiences.
The celebration included a chapter-wide day of service, with volunteer opportunities at 11 area nonprofits for a full day of philanthropy accounting for an estimated 350 hours of volunteering. The NCL, Inc., Rose Chapter culminated the day with a celebration rally hosted at the San Antonio DoSeum. Other nonprofit benefactors included the San Antonio Botanical Garden, the Fisher House, Any Baby Can, Family Service Association, the Witte Museum, Chandler House, San Antonio Food Bank, San Antonio Humane Society and SNIPSA.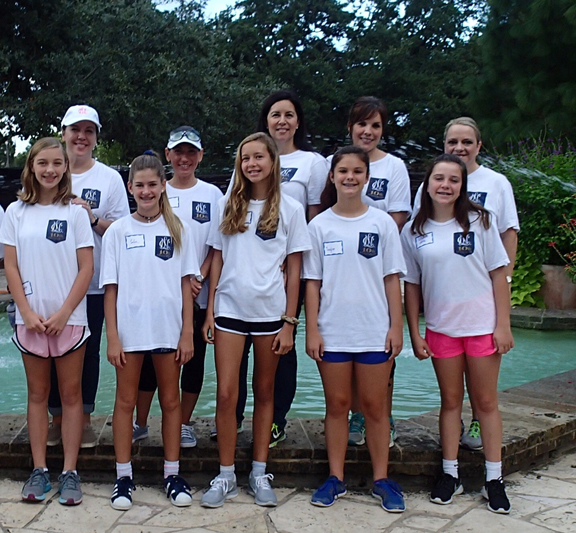 San Antonio Rose Chapter is the first organized in the San Antonio area. With 343 active and sustaining members, this chapter has contributed over 40,000 hours since its 2006 inception, and it has served 16 philanthropic organizations. Members are women and their daughters in grades 7-12. According to current president Julia Mann, "The NCL, Inc., San Antonio Rose Chapter is marking this special day as a time to celebrate its history and accomplishments. Through our actions, we share the NCL experience to inspire other area women to start a chapter and foster the importance of empowering the next generation of women not only to be great leaders, but also to have compassion and willingness to step up and take action when they see an issue that needs to be tackled in a community."
Attending the 10-year celebration were Annie Snider, Paola Lloyd, Debra Moczygemba and Tobey Cleek, Ainsley Snider, Sofia Lloyd, Brooke Kerby,Taylor Moczygemba and Lilly Kate Cleek. Also participating were Lynn Cunningham, Donna Welsh, Brooke Kerby and Cynthia Kerby, Celebration chair Caroline Oden and Kasey Oden, Katherine Zackary, Jennifer Zackary, Sarah Mann, Hannah Mann, Hannah Shannon and Kristen Shannon.
GARDENIA AND MUSICAL CLUB
New members have joined the San Antonio Gardenia and Musical Club, founded in 1960 to further interest in the fine arts by providing scholarships to students within the local area and to promote friendships within the membership.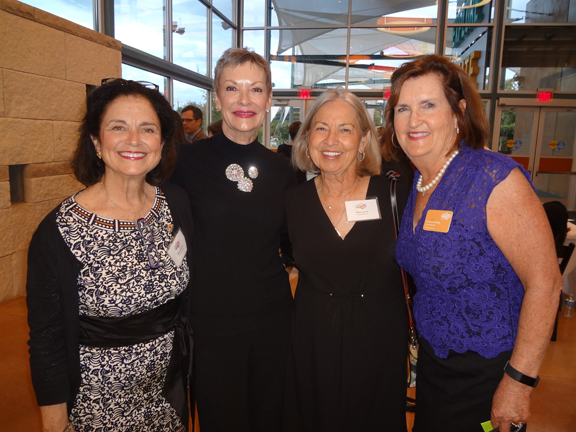 New members include Dana DeLayne Laird (78209), Melissa Gonzalez, Carolyn Jackson (78209), Teresa Clark, Lisa Watel, Lisa Gurwitz, Michelle Healy, Kimberly Jones, Karen Bell, JoAnn Coates, Cory Bakke (78209), and Christi Tidwell (78209) Not pictured are Holly Beckett, Kristin Kellum, Ginger Lord, Susan Sideman, Carole Thompson and Cristina Wheeler.
HONORING OUR FOUNDERS
The DoSeum recognized the board and founders of the San Antonio Children's Museum with a cocktail reception honoring the founding board members, volunteers and donors while celebrating the future. A few founding members included Anita Taylor, Kaye Lenox, Dan Richards, Carmen Goldberg, Claire Inglish, Diane Rath, Marie Smith, Karen Herrmann, Kelley Frost, Dr. Fernando Guerra, Julie Straus and Frank Ruttenberg. Board president Suzanne Goudge and interim CEO Julie Huls welcomed guests and presented a plaque listing the founders that will be hung at The DoSeum. Other guests touring the DoSeum included Billinda Wilkinson, who recently returned from Italy; Ty Edwards, who serves on the board; recently retired Beverly Purcell-Guerra; and Kim Richards.
On a sad note, after turning in my article, I learned Susan Moulton's other son, Charlie, passed away in early November. Charlie will be remembered as a free spirit who walked to the beat of his own drum, loving life, living to the fullest, and always dancing on the edge.
Next month: Check in to see who attended the Greater Heights Night, HeartGift's Heartfelt Shot and more!