TRANSFORM YOUR GARAGE
CREATING MULTIFUNCTIONAL, ORGANIZED SPACES
Garages in the homes of 78209 hold great potential from older, traditional designs to the modern. In an effort to add value to the property, many have considered a garage makeover. Also, it's a way to expand without leaving this beloved zip code. For a few ideas, we went to Erica Williams, marketing and retail manager at California Closets, that stubborn garage can be revamped and transformed into a functional, organized space, not just used for parking.
WHAT STAYS AND WHAT GOES?
"First things first, figure out your clutter by asking yourself a simple question: Why do I have this?" explains Williams. "Sort items by their end use to begin managing your clutter. Utilize three different categories: necessary, storage and toss." The garage is typically the zone for unwanted household items, so sorting contents into piles of related items, such as sports gear, holiday decor, garden tools, etc., can help when deciding what should stay and what shouldn't.
CABINETS AND SHELVING
The most crucial point in giving your garage a face-lift is providing enough shelving to store all your items, while also leaving walls open for a workbench and hanging tools if need be. "Cabinets offer a safe place to store power tools and crafting equipment," says Williams. "If you don't already have shelving in your garage, it's time to add it. Getting items off the floor and onto unused wall space is a great way to declutter." Multiple drawers and cabinets not only keep everything organized, but right at your fingertips — no more searching through piles and piles of boxes. When storing your belongings, use plastic bins to keep everything dust-free, and you can easily see what's inside and label it.
FLOOR- TO-CEILING STORAGE
"A fusion wall in the garage is the perfect organization tool," explains Williams. "Almost any type of rack or accessory bin can be attached. This system gives you a place for tools, sports equipment and even gardening supplies." Display racks and overhead storage help reduce floor space, which means more room for your car or bulky items. Take advantage by placing ceiling hooks to accommodate storage of recreational items, such as kayaks, surfboards or golfing equipment.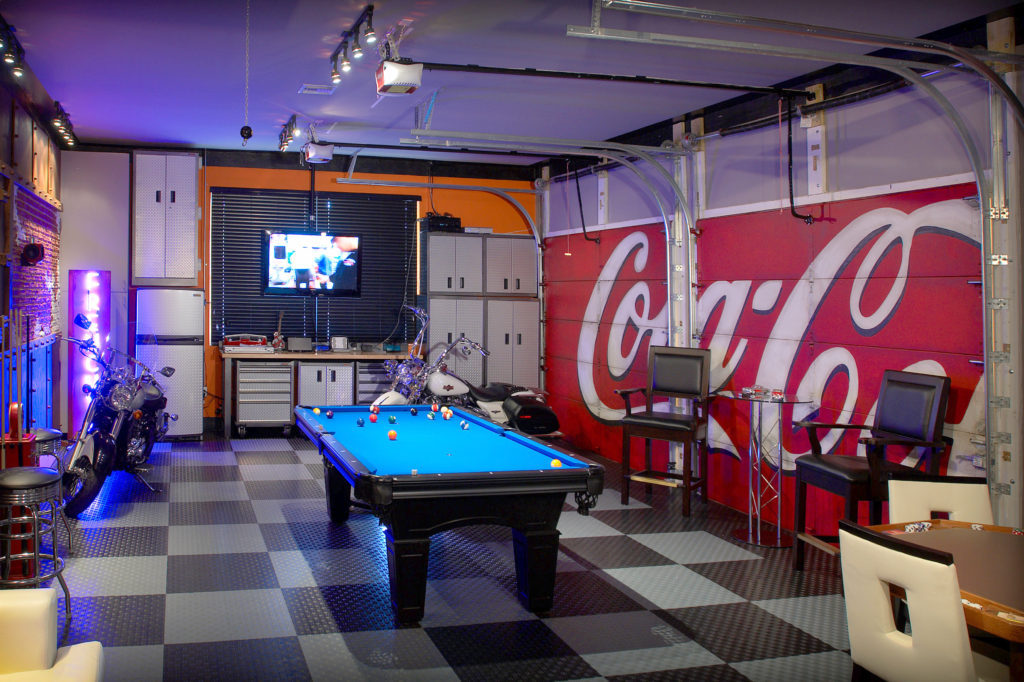 MULTIFUNCTIONAL SPACE
If you use the garage as your main entrance, consider creating a mudroom next to the door. This will not only curb clutter and keep dirty shoes and bulky backpacks or jackets out of the house, but it will add more character and make the garage seem less of an uninviting space. Garages can also be multi purpose rooms that function as storage and parking spaces, but also as spaces for exercise and recreation.
BY KRISTIN MEARS