Snooze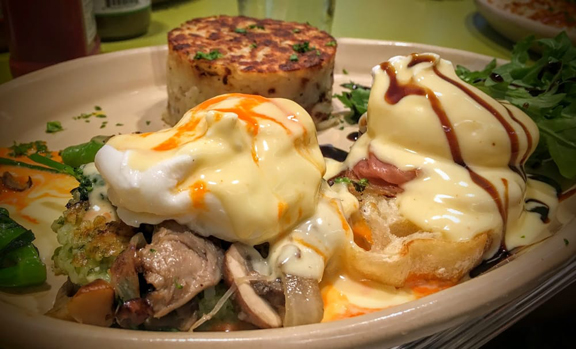 Snooze, an a.m. eatery and Denver-based brunch restaurant, has moved into the former EZ's at the Quarry Market. It is located at 255 East Basse Road, Suite 160, snoozeeatery.com. It's open daily from 6:30 a.m. to 2:30 p.m. for morning cocktails, bloody marys galore, beer and pancakes, corned beef hash, omelets, grilled cheese and French toast, to list a few. So get to Snooze and dine!
Restaurant Happenings
Folc restaurant and Park Social cocktail bar have closed and are leaving their home in Olmos Park. La Posada Del Rey in Carousel Court, a family-owned-and-operated restaurant for nearly 40 years in the heart of Alamo Heights, has shut its doors. And Periphery, the new Monte Vista restaurant at 2512 N. Main Ave., will offer a varied menu at its new neighborhood spot. Barbecued catfish, polenta-crusted pimiento cheese with bacon jam, crispy lentils, peanut butter poundcake and more are worth a try. To learn more visit www.peripherysa.com.
A McNay Art Museum Must!
Monet to Matisse: A Century of French Moderns, 1850-1950, March 1–June 1. Showcased at the McNay will be 65 works of art from the Brooklyn Museum's renowned European collection,  including drawings, paintings, sculptures and more by the masters Pierre Bonnard, Gustave Caillebotte, Paul Cézanne, Marc Chagall, Camille Corot, Gustave Courbet, Edgar Degas, Jean-Léon Gérôme, Fernand Léger, Édouard Manet, Henri Matisse, Jean-François Millet, Claude Monet, Berthe Morisot, Gabriele Münter, Odilon Redon, Pierre-Auguste Renoir, Auguste Rodin, Yves Tanguy and Édouard Vuillard.
Patriot Martial Arts
Patriot Martial Arts has opened a second location at 9200 Broadway, Suite 124. The vision of Patriot Martial Arts is to enrich the community by helping people get in shape, learn street-smart self defense, and at the same time instill the life skills and character of a true martial artist. They teach important values like respect, self-discipline, confidence, self-control, and integrity. 210-365-5137
By Leslie Foley