Coffee with an Alamo Heights Cop, But Danish Not Donuts!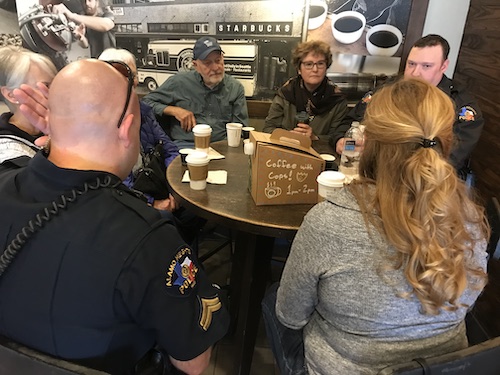 Several Alamo Heights residents met at the Starbucks at 5321 Broadway Street in late January for "Coffee With a Cop." The event fulfills a commitment by the AHPD to connect with residents so they can ask questions about Alamo Heights, such as crime prevention and safety tips.
Alamo Heights patrol officer Jordan Hosey and corporal Jeff Nugent spent nearly an hour talking with the group about a variety of issues including porch and mail thefts and overnight parking on Alamo Heights Streets.
Starbucks sponsors the gatherings and provides coffee and Danish for all, at no cost. The next Coffees are scheduled for: March 12th (Tuesday) at 4 p.m. and April 12th (Friday) at 3 p.m. No reservations are required. Citizens are simply invited to show up.
---
Ballroom Dance Annex Seeks Zoning Change at Broadway & Ridgecrest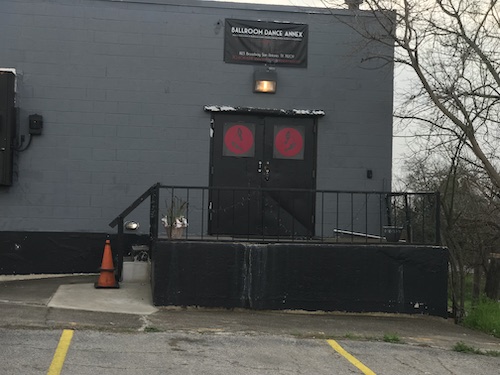 The Ballroom Dance Annex, 8123 Broadway Street, is located behind bars Salud & Bentley's. The property sits on the right-hand side of the bars, at the intersection of Broadway and Ridgecrest. The owner is seeking a zoning change to permit the Annex to operate as a dance hall. According to San Antonio Zoning Commission case manager Marco Hinojosa, the current zoning does not permit operation of a dance hall. He told 78209 Magazine the zoning change will not impact the three bars that face Broadway unless they go out of business. "In that case," says Hinojosa, "if they are closed for a year or more, a bar may not re-open on the site." Russell Hicks and his daughter, Danielle Hicks, operate the dance hall. He told 78209 Magazine, "We've been here for 10 years. When we rented the space, we had no idea zoning did not permit a dance hall." In fact, he added, "We had no idea there was a problem until we were cited a year ago." Russell said the Annex is a family oriented dance studio offering lessons and social activities for people of every age. "We invite neighbors to join us for our social dances and other activities." He chuckled and said, "What's interesting is we could open a bar and a strip club with no problem." For more information on the Ballroom Dance Annex go to www.ballroomdanceannex.com.
---
1206 Nacogdoches Flattened for New Office Building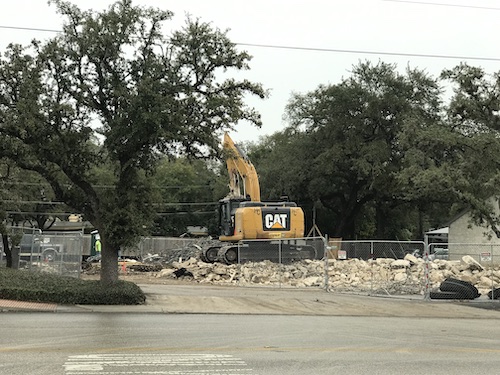 Big changes are coming to the intersection of Nacogdoches and Broadway.
The building at 1206 Nacogdoches, next to Lincoln Heights Animal Hospital, is gone. It was demolished in January 2019 to make room for a new office building, according to an Oak Park Northwood Neighborhood Association board member. Early plans had contemplated a restaurant at that location, but plans have changed. Developer Luis Oseguera Kernion's company, Prize Permanent Holdings, LLC, purchased the property in 2017. Bexar County appraised the site at $416,600. Kernion, who lives in Alamo Heights, had told 78209 Magazine "he is committed to respecting the character of the neighborhood."
---
Scooters Everywhere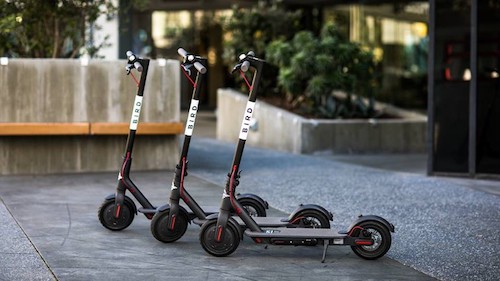 Almost everywhere folks look these days there are electric scooters and bikes either parked, being ridden, or seemingly abandoned. They appeared almost overnight. Some block sidewalks and storefronts and riders can be seen moving in traffic without wearing helmets. This reporter has seen adults with children perched on the handlebars or standing behind them as their scooters sped along at up to 34 miles per hour. Until recently, there were no municipal ordinances governing scooters and electric bikes to promote the health and safety of riders while protecting pedestrians and others. But that's changing. Last October San Antonio City Council enacted a six-month pilot program governing scooters and e-bikes. In December, Olmos Park imposed regulations on scooter riders and the companies that lease them. The City of Alamo Heights is expected to consider an ordinance regulating e-bikes and scooters.
---
Paesano's Restaurant Turning 50!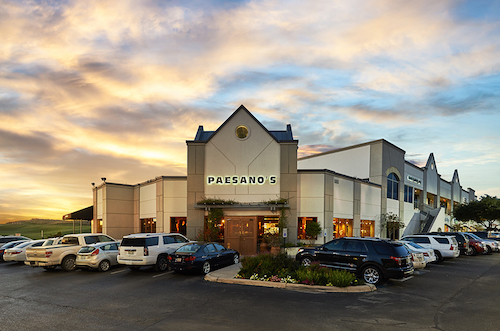 Paesanos at Lincoln Heights, 555 E. Basse Road, is celebrating its 50th anniversary. This landmark Italian restaurant originally opened in 1969. Paesano's has been a neighborhood fixture and preferred restaurant for celebrating special events with friends and family. They are known for their delicious Italian dining, signature dish – the Shrimp Paesano, and extensive wine list. To celebrate they are now offering a 50th-anniversary edition of their Cabernet Sauvignon, a classic wine that pairs deliciously with most everything on the menu!
---
Lila Cockrell Very Much Engaged at Age 97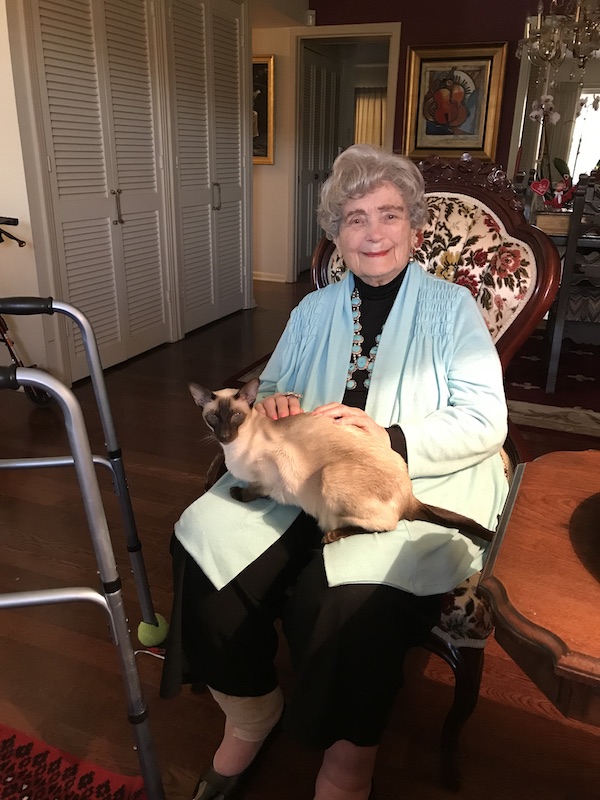 For former San Antonio mayor Lila Cockrell, writing her new book – Love Deeper Than a River – was a labor of love. I recently visited with her at her home in Alamo Heights. We chatted in her living room, surrounded by original art, unique pieces of furniture, and one gorgeous Siamese cat she named YumYum. "He's my companion." At age 97, Cockrell said, "Life is good. I'm a little slower. I have to use my friend here to get around, (pointing to her walker). But that's ok. "I'd been thinking about writing a book. Many of my friends were encouraging me to do so, too," Cockrell said.
So, she started by writing out long-hand her recollections about the city and her years as a city councilmember, mayor, and community leader. She switched to a computer, but, as Cockrell told me, "I never took typing, so it was slow going, hunt and peck. I just wasn't organized enough, until someone put me together with Catherine Nixon Cooke." Cooke is an accomplished author and former executive director of San Antonio's Mind Science Foundation. "She helped me bring it all together, to make sense of all my notes. She's a wonderful writer." As we talked, Cockrell recalled her election to city council in 1975, she served three terms on council, followed by four terms as Mayor. About becoming mayor, "As an individual, I was just thrilled to have this opportunity and I did have some pride in breaking new ground for other women." She's thinking of writing a second book, offering advice to women on politics. Or, she said, with a twinkle in her eyes, "Maybe a book on 'YumYum and Me'." Love Deeper Than a River, published by Trinity University Press in January 2019, is a great read.
As Cockrell told me, "Most biographies are boring. I wanted to write something that's not." And she did.
By Ron Aaron Eisenberg