Do Not Forget Water Restrictions Continue
It has been a brutally hot summer with little rain, so the City of Alamo Heights wishes to remind us of the water restriction policy residents must follow.
The 10-day average for the Edwards Aquifer at Alamo Heights's monitoring well has dropped to 659.9, requiring Stage 1 water restrictions effective Friday, July 14.
Today, per City ordinance, Public Works Director Patrick Sullivan in consultation with City Manager Mark Browne declared Stage 1 water restriction regulations are in effect.
Stage 1 of the city's drought plan is triggered when the 10-day average of the Edwards Aquifer at the J-17 monitoring well drops to below 660 feet. As per the City's Groundwater use reduction program ordinance, the drought stages can be considered to have ended after the level of Index Well J-17 remains above its trigger level for the stage in effect for a ten-day rolling average.
Under Stage 1, Watering (using automatic or manual irrigation systems) is permitted only once a week before 10 a.m. and after 8 p.m. The last number of your address determines what day you are able to water. You may use drip irrigation, soaker hose or hand-held hose during any day at any time.
• Wasting water is prohibited at all times. Do not allow water to run off into the street, drain or ditch. Repair all leaks.
• Do not use water to wash an impervious outdoor ground covering such as a parking lot, driveway, street or sidewalk, unless for health or safety reasons.
• Restaurants and other eating establishments are prohibited from serving water to customers except upon request of the customer.
• At least 25% of all non-public swimming pools' surface area must be covered with evaporation screens when not being utilized. Inflatable pool toys or floating devices may be used.
• Washing of vehicles or other equipment at a residence is only allowed during their designated watering day. Water is not allowed to run into the street.
• Charity car washes are prohibited except at commercial car wash that recycles at least 75% of the water it uses or that is certified as a conservation car wash.
• Ornamental outdoor fountains are not to be utilized unless the water is recycled and the only additional water used is to compensate for loss due to evaporation.
If you have any questions or concerns please contact the Public Works Department at (210) 882-1518.
New Owners for Crescent At Alamo Heights Apartments
A joint venture between AMAC Holdings and EBEX Holdings has acquired Crescent at Alamo Heights, a 306-unit apartment community located in the Alamo Heights neighborhood of San Antonio for $37 million. Built in 1993, the property is situated on 14.6 acres and features a mix of one-, two- and three-bedroom units ranging in size from 669 to 1,370 square feet. Amenities include a pool, playground, picnic area and a business center.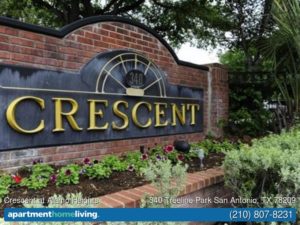 Neighborhood Track Passes Available
One of the best-kept secrets in the AHISD is the availability of a pass to walk or run on the high school football track year-round, 24-hours a day, seven days a week (except when school activities take over the field and track). The pass costs just $25 per family per year and may be purchased at the Administrative Offices, 7101 Broadway. Just ask for Ms. Fallon Petty. Bring a driver's license and utility bill to verify your address. You must live within the school district's boundaries. To date, only 95 passes have been sold.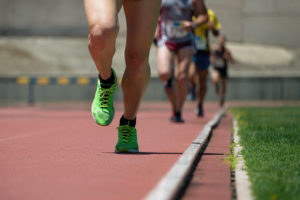 Liquid Therapy, new bar, to open near W. Lawndale
Over the past few years, several bars have occupied the space at 8123 Broadway, including Revolution and Mad Marlin. Neighbors frequently complained about noise, underage drinking and traffic congestion. As a result, Mad Marlin shut its doors a few months ago. Now Samuel Garcia, who owns Sugartime at 2730 Bill Miller Lane on the Southside, has sublet the property and applied for a liquor license. He has promised neighbors in writing there will be no live music inside or outside the bar. In addition, he has agreed to turn the rear of the property into a parking lot to reduce congestion on East and West Lawndale, Flamingo and Ridgecrest. He has also pledged to hire a security guard to patrol the parking lot and sidewalks adjacent to the bar. And he will enforce a dress code not permitting folks with facial tattoos to patronize Liquid Therapy. The new bar is expected to open in August or September 2017.
H.E. Butt Family Foundation purchasing former Horse of A Different Color property
Long-time 78209 residents may recall Fred Pottinger's antique store, Horse of a Different Color, at 146 West Sunset. Several structures sit on the slightly more than 1.5 acre property, which includes three lots. It was recently purchased by the H.E. Butt Family Foundation from the current owner, Emily Dial, for an estimated $1.4 million. The property was appraised at $1,501,140 by Bexar County. The sale is contingent on rezoning part of the property from single family to commercial, which is expected to be approved by the zoning commission, according to the Foundation's law firm, Golden Steves. 78209 Magazine was told there are no plans to build or open a retail store on the land. Rather, plans call for office space in the existing buildings for the Foundation, which currently is headquartered and housed in Kerrville.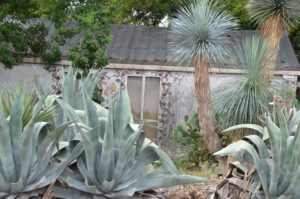 By Ron Aaron Eisenberg