AHHS Sophomore Eyes 2024 Olympics, Competes in Modern Pentathlon
For 15-year old Lulu McCutchen, Modern Pentathlon gives her the opportunity to do something few others can do – compete in five events that mimic what cavalry soldiers in the 19th century were expected to master.
The five events in the modern pentathlon are fencing, swimming, horseback riding and jumping, pistol shooting, and running. It is a demanding competition, all done in one day.
In March, McCutchen competed in an Olympic Qualifier in Colorado Springs, Colorado. According to her dad, Paul McCutchen, only the top 14 competitors in the country were invited to compete in the event. She finished 8th.
In July, she will compete in Egypt in the Youth World Championships. Her dad accompanies her on her travels.
McCutchen told 78209 Magazine she loves the travel and enjoys the competition. "I like how it is different…no one else really does it…it's my own thing."
Her fencing coach recommended she try modern pentathlon. McCutchen writes on her webpage, "Monica Fling Rowland pulled me aside during fencing practice one evening in 2014 to invite me to be on Team Texas Pentathlon! The following summer in 2015, I won my first National Championship! I've been competing hard ever since!"
Her goal is to compete in the 2024 Olympic Games – Paris, the 2028 Olympic Games – LA, and Qatar's 2032 Olympic Games.
At Heights, McCutchen is on track, cross country, and swimming teams.
Frida Kahlo Exhibition Coming to Botanical Gardens in May
Making its world debut, Frida Kahlo Oasis brings to life Frida Kahlo's deep connection with Mexican native vegetation and the natural world. In this mesmerizing exhibition, visitors will be transported through a unique environment of shades, scents, sounds, and sights. The exhibit will run from May 8 through November 2, 2021.
Casa Azul's garden will occupy a 2,100-square-foot space nestled in the heart of the Botanical Garden, protected by giant oak trees and overflowing with native Mexican plants and a mixture of tropical foliage and desert plants, including elephant ears, bougainvillea, agave, and marigolds. Explore Kahlo's garden's famous landmarks at Casa Azul, such as the pyramid that displayed Diego Rivera's pre-Hispanic collection, the frog-themed fountain, and Kahlo's desk and easel. The exhibition will also feature six monumental animals – a dog, monkey, deer, butterfly, parrot, and hummingbird – which often appear in Kahlo's artworks as a testimonial to her passion for Mexican Arte Popular.
According to britannica.com, Frida Kahlo was a Mexican painter best known for her uncompromising and brilliantly colored self-portraits that deal with such themes as identity, the human body, and death.
New Olmos Park Restaurant To Feature American Style Food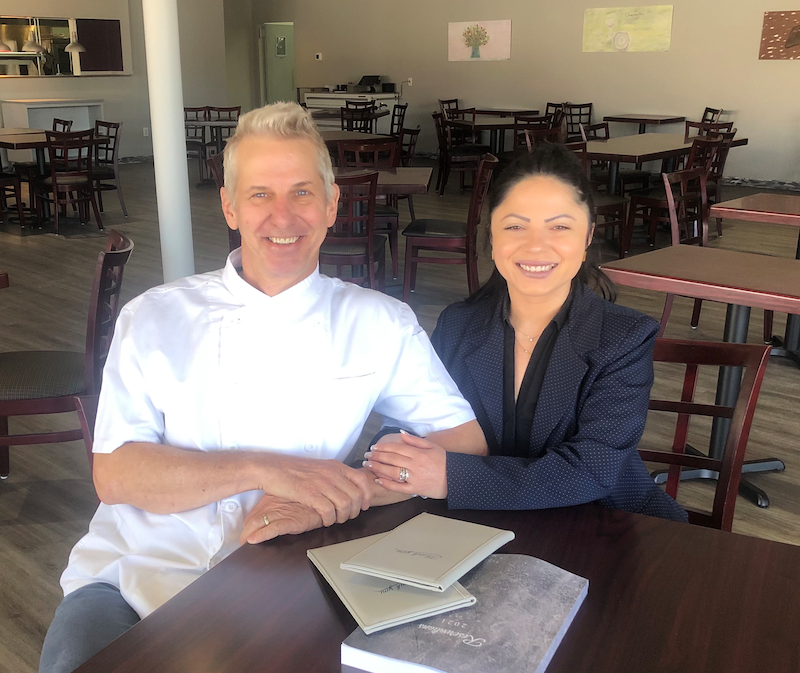 Chef Justin Ward and his wife, Cristina Ward, recently opened their new eatery, Glass and Plate Restaurant, in a 6,000 square-foot space at 4212 McCullough Ave., in Olmos Park. The Hearthstone Bakery Café was previously at that location.
According to a news release on the venture, the restaurant will serve American cuisine with European influences, for lunch, dinner, and weekend brunch, along with a full bar amid a casual and relaxed atmosphere.
Before Glass and Plate Restaurant, Chef Ward was most recently a professor at the Culinary Institute of America (CIA) at both the San Antonio and New York campuses. He spent two semesters in Southern Italy as the instructor for the CIA's Italian Concentration Program. Chef Ward is a CIA graduate and holds a bachelor's degree in hospitality management from The International Culinary School at the Art Institute of Atlanta.
Chef Ward was the owner of two successful restaurants in Atlanta and has more than 30 years of experience in the hospitality and education industries. He has used the Culinary Institute of America as a valuable resource to staff his restaurant with current and former students.
His wife, Cristina, who will oversee the front of the house, has extensive experience in the foodservice industry, having worked as a server at upscale restaurants in Italy and in her native Romania. She also has an advanced gelato course certificate and a commercial operator and administration food and beverage certificate.
The restaurant space has room for 14 at the bar, 30 outside, and 80 in the main dining room. Those numbers, of course, will be smaller with COVID-19 restrictions.
New Counseling Service Opens in Carousel Center at Nacogdoches & N. New Braunfels
Don't be surprised if you find Duane Snape, M.A., LPC, crawling on the floor, playing with kids' toys. A licensed professional counselor, Snape is also certified in play therapy, enabling him to provide mental health counseling for children as young as three-years-of-age.
Chosen for Hope Counseling is located on Nacogdoches in the Carousel Center. "It's a beautiful neighborhood. I like the feel of the businesses in the Carousel Courts. It doesn't give you the storefront shopping center feel; Snape told 78209 Magazine.
He counsels patients from age three on up. "I am seeing a lot of stress in families. People are looking for ways to cope and looking for normalcy. Covid-19 and self-quarantining have been very difficult on individuals and their families." He added, "Counseling can help people get their feet back on the ground."
Snape spent 22 years in the Army working in mental health. He retired as a Sergeant 1st Class and went into private practice after his military service. He said he welcomes veterans and their families.
"Much of my experience was gained during my service in the Army, helping veterans and their families faced with a wide variety of mental health challenges.
"During my military service, I gained expertise in combat stress, post-traumatic stress, military transitions and deployment, marriage and family therapy, depression, suicide, anger management, stress management, and critical incidents related to traumatic events. As a military veteran, I understand the challenges of serving and the mission of transitioning after service."
Some of his patients come to his office, but most prefer telehealth, with Covid-19 still a threat. There are five clinicians in his office.
His counseling services include:
Play Therapy
Applied Behavior Analysis Service (ABA)
ADHD
Depression
Anxiety
Cognitive Behavioral Therapy
Marriage and Family Therapy
Individual Counseling
Solution-Focused Therapy
Psychological, Education, And Neurodevelopmental Testing
Parent Coaching
Psychotherapy
Trauma-Focused Therapy
Group Therapy and more
Despite Governor's Order, Many Businesses Requiring Masks
In early March, Texas Governor Greg Abbott lifted Covid-19 restrictions, including mask-wearing, declaring Texas is now open for business. The order also lifted occupancy limits on businesses in the state.
But H-E-B and other companies, like Target and many businesses in Alamo Heights and neighboring San Antonio, are still requiring masks. Some box stores are requiring masks. Others are not. There will be signs at entrances notifying customers about the mask policy.
At The Barn Door Restaurant, occupancy will remain limited to fifty percent, and patrons and staff will be required to wear masks. Similarly, Cappy's on Broadway, The Hayden, and Paloma Blanca Mexican Restaurant all require masks. As with box stores, there will be signs at entrances notifying customers about a restaurants' mask policy.
The McNay Art Museum, San Antonio Museum of Art, and the DoSeum Children's Museum will all continue to require masks on staff and patrons.
Jefferson Bank, Frost, and Wells Fargo have all said they will continue their mask-wearing and occupancy requirements, even though the mask mandate has been lifted.
By: Ron Aaron Eisenberg