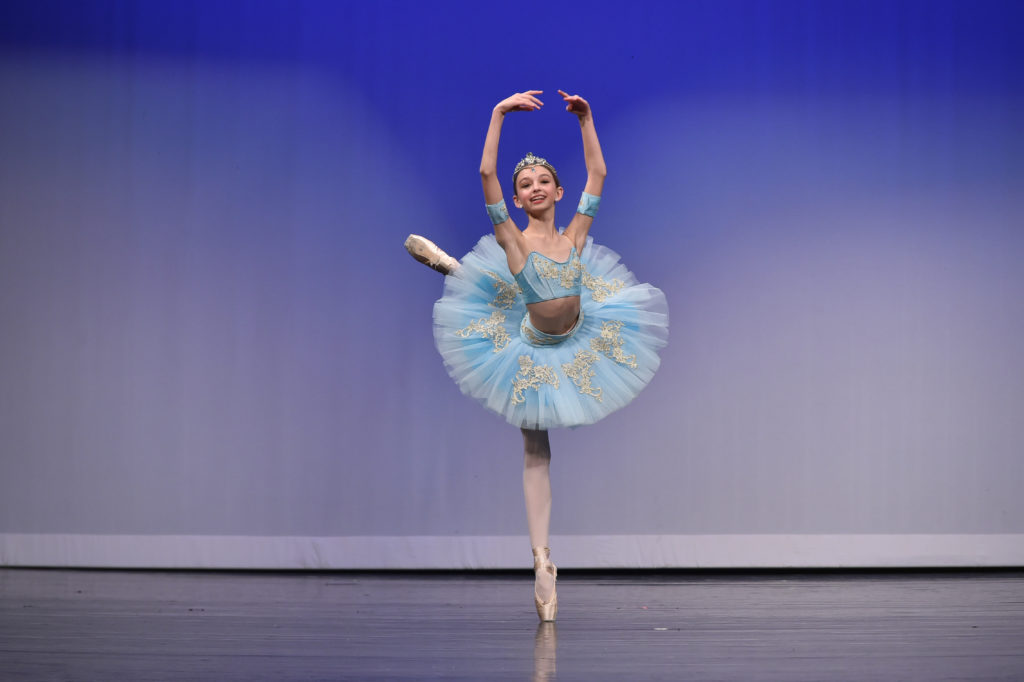 Prix de Lausanne Finalist and Royal Ballet Student Kate Thomas, Taking the Dance World By Storm
It's the ultimate Pas de Deux when 15-year-old AHHS Sophomore Kate Thomas makes not one but two splashes overseas.
First, the Children's Ballet of San Antonio (CBSA) student was recently named a finalist in the prestigious Prix de Lausanne competition held annually in Lausanne, Switzerland. This nationally renowned event is a resume-building opportunity for young dancers ages 15-18 who wish to pursue a professional career in classical ballet. Only 83 of the coveted finalist positions are available, and with close to 400 of the top dancers across 43 countries vying for the top spots, the competition is fierce.
Thanks to years of training with The Children's Ballet of San Antonio under the watchful eye of founder and five-time Youth America Grand Prix (YAGP) Outstanding Teacher award winner Vanessa Bessler, Thomas was ready.
This award comes on the heels of Thomas's invitation to attend the Royal Ballet of London, where she was scheduled to begin in September. Due to Covid restrictions, however, Thomas had to postpone her studies abroad until January.
"The chance to study in London and expand my knowledge of ballet is a once in a lifetime opportunity," she says with enthusiasm. "When I found out I was accepted, I didn't believe it was real."
Thomas has been dancing with Bessler and the CBSA since the age of seven, and in that time, has received numerous scholarships to such prestigious schools as the Bolshoi Ballet, Ballet West in Utah, Houston Ballet, and the Colorado Ballet Academy, to name a few. A three-time first place winner at the YAGP Regionals, the talented performer was among the top 24 dancers in the world invited to the final round at Lincoln Center, New York for several years.
---
Robbery and Assault in Terrell Hills Leads to Warning from Alamo Heights Police Chief
The Terrell Hills Police Department is actively investigating an assault and robbery that took place around 10 pm on December 7.
Terrell Hills police reported, "The victim was walking in the 300 blk. of Terrell Rd. when he was approached by two subjects who tried to start a conversation. The victim crossed the street to maintain social distance when the subjects followed him, and forcibly demanded his property. The victim was physically assaulted during the process and his property taken. The subjects fled on foot."
In light of that incident, Alamo Heights police chief Richard Pruitt issued guidelines for Alamo Heights residents who are outside after dark.
"While this appears to be an isolated incident, residents are reminded to stay vigilant and alert while walking, especially after dark."
Pruitt suggested residents:
Jog or walk with a friend or friends. There tends to be safety in numbers.
Leave word. Tell somebody or leave a note at home about where you plan to go and how long you plan to be out. That way, your loved ones will know to look for you if needed.
Avoid secluded areas, especially at night. If you're out and about after dark, stick to well-lit and populated areas. Carry a flashlight or other illumination.
Always carry proper identification and your cell phone. You never know when you may need to call for help in the event of an emergency for you or another. Your ID will provide first responders with your name and address and other identifiers if you are incapacitated.
Stay alert if using headphones, cell phones, etc. They can be distracting, and you may not identify problems or dangers that are coming your way.
Visually assess your surroundings frequently.
Chief Pruitt urged residents to report suspicious activity immediately. "If you're ever approached by someone who makes you feel unsafe or otherwise find yourself in a situation that makes you feel uncomfortable, do not hesitate to call 911 immediately."
---
Green Vegetarian Leaving the Pearl, Moving to Alamo Quarry Market
Green Vegetarian Cuisine is moving to the Alamo Quarry Market. It plans to open the new location the second week of January, a spokesperson told me.
The restaurant had been at the Pearl at 200 E. Grayson Street, where parking has been a major hassle for customers. With its lease ending, the time seemed right for the move. Green will be taking over the 2,800 square feet space formerly occupied by 29 Wine Bar at the Quarry.
Green's is also located at the Alon, on NW Military Highway. Mike Behrend owns Green Vegetarian. He is also the co-owner of Earth Burger, which features veggie burgers.
---
Local Bakery to open Full-Service Restaurant in Quarry Village
La Panadería recently announced plans to open a full-service restaurant in the Quarry Village.
David and Jose Cáceres, the brothers behind the popular San Antonio bakery and restaurant, La Panadería, told 78209 Magazine, the new restaurant will feature authentic Mexico-city dishes.
El Morita Kitchen will be open for breakfast, lunch, and dinner. It will also offer a Sunday brunch. The brothers will reveal the new menu and location for the restaurant in the next few months.
La Panadería currently has two locations, 8305 Broadway near Loop 410 and downtown at 301 E. Houston Street.
By: Ron Aaron Eisenberg