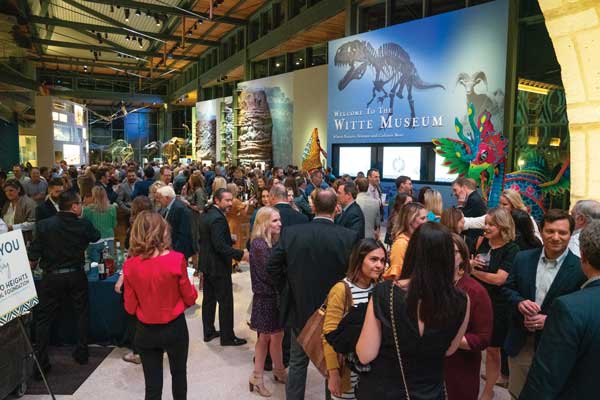 The Alamo Heights School Foundation Gala
The Alamo Heights School Foundation hosted more than 750 guests at its 9th annual Greater Heights Night, Wednesday, November 6th at the Witte Museum's Mays Family Center. The sold-out event is the Foundation's largest fundraiser. It raised about $500,000, almost half of the annual $1 million Foundation goal. The money benefits teachers, innovative programs, and unique learning opportunities within the Alamo Heights ISD. Event co-chairs were Amy Case, Brooke Meabon, and Anna Ziegler, plus a committee of over fifty parent volunteers. "We are overwhelmed with gratitude for the ways in which area businesses, individuals and our guests collaborate with us on Greater Heights Night year after year," Meabon said. One highlight from the evening included an opportunity to purchase 6X6-inch pieces of the 1930s era Mule Dome floor, at $125/ea. Of the 100 pieces available, nearly all sold.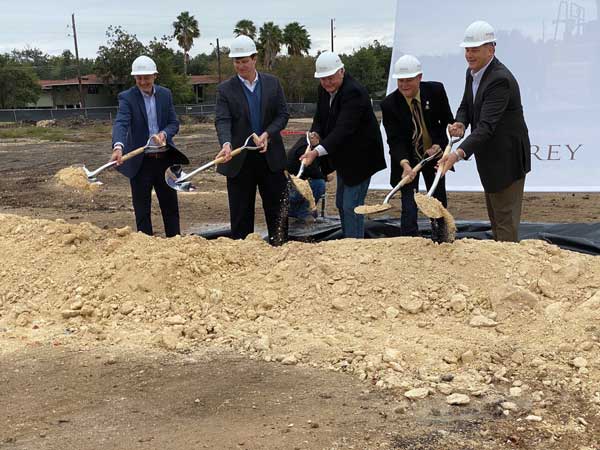 Ground Breaking Kicks Off Construction at 7600 Broadway
San Antonio-based Embrey Partners Ltd. broke ground, November 8, on new residential and commercial office space that sits on a triangle of over 4-acres of land, bordered by Broadway, Nacogdoches, and Nottingham. District 10 City Councilman Clayton Perry joined Embrey executives and others to officially launch the project. Perry told 78209 Magazine, "This is the first venture of this size to come to District 10 in decades." And, he added, "The economic benefits of this project are far-reaching." The property will be known as "7600 Broadway." It will feature 216 high-end apartments and 53,000 square feet of premiere office space. Embrey plans to relocate its corporate office at the site. Embrey said it is spending more than $1 million in neighborhood enhancements including widening Broadway Street, building 10-foot sidewalks around the perimeter of the project, and working with CPS to replace overhead power lines with underground utilities. Embrey CEO Trey Embrey said they expect the project to be completed by Fall 2021.
Alamo Heights School Foundation Sets 1st Reunite at Heights
On Saturday, February 29, 2020, in The Oaks, the new Alamo Heights high school cafeteria, the Alamo Heights School Foundation will hold the inaugural Reunite at Heights: An Alumni and Hall of Fame celebration. The lunch will feature fine food and fun, as the Foundation honors the year's Hall of Fame recipients, while also celebrating all the wonderful alumni and volunteers in the community.
Hall of Fame honorees are:
Distinguished Alumni:
Joseph Lambert '58, Everett Fly '70 and Pat Frost '78
Distinguished Service:
Patti and Mark Mays
Lifetime Educator:
Paul Foerster
The Chairs for this exciting event are Becky Gulley, Reunite at Heights Chair and Kelly Fellbaum, Hall of Fame Chair. The Hall of Fame Selection Committee included Dr. Dana Bashara (AH School Superintendent), Laura Guglielmo, Lisa Krenger, Terri Musselman, and Paul Foerster (Distinguished Alumni and Service awards only). For more info and tickets to the event go to: www.ahschoolfoundation.org
Embrey To Buy Back Artessa at Quarry Village
Embrey Partners, Ltd has agreed to buy-back the 280 unit Artessa at Quarry Village apartment complex. The purchase is expected to close by the end of the year. Bexar Appraisal District values the property at near $68 million. Initially, Embrey developed the property at 300 East Basse Road., constructed and managed it. Then, according to multifamilybiz.com, Embrey sold the property to Dallas-based real estate private equity fund advised by Crow Holdings Capital Partners, L.L.C. The 10.7-acre, mixed-use property includes The Artessa, a 280-unit luxury apartment community, and a 70,785-square-foot retail development. The transaction closed on August 31, 2011. The property is currently managed by Greystar, property management company.
By Ron Aaron Eisenberg