Alamo Heights Chamber Golf Tournament
The Inaugural Alamo Heights Golf Tournament was played on Monday, September 30, 2019, at the Quarry Golf Course. Forty-two golfers played in the tournament.
Frost Bank was the title sponsor.  Broadway Bank and Eagle Print SA were Eagle Sponsors. A portion of the proceeds will go to Operation Comfort, who had 6 golfers play in the tournament.
Pictured are the first-place winners from Plains Capital Bank — Jeff Dick, Brent Holmes, Kris Kleberg and Marks Moore. Second place team was represented Eagle Print — Frances Trevino Mike Trevino, Crystal Frazier Peggy Breight- Wighton. Third place team included two Operation Comfort players and two players from Frost Bank — Jen Lee, Isaac Alderete, Mark Misenhimer, and Christian Crawford.
Michelle Pair with Broadway Bank won Straightest Drive. Mark Misenhimer won the Marshmallow Drive. Closest to the pin was Jen Lee from Operation Comfort. Longest Drive was Crystal Frazier from San Antonio Country Club.
Golfers hailed the event as a great success.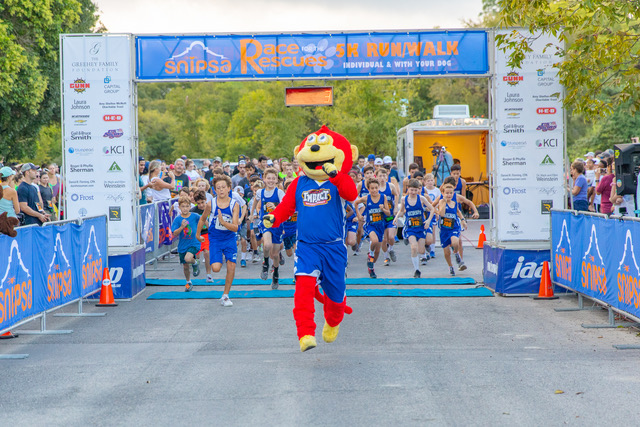 SNIPSA 12th Annual Race for the Rescues Raised Record Amount of Dollars
An estimated 800 runners, many with their dogs in tow, participated in SNIPSA's 12th Annual Race for the Rescues. The annual event raises money for homeless pets. It kicked off at the Alamo Heights swimming pool Saturday, September 28. Before and after the race participants – especially children – enjoyed the caricature artist, balloon twister, and face painter. The annual 5k had a record number of 1046 participants. It raised more than $115k.
Alamo Heights Jr. School and San Antonio Academy Cross Country teams contributed a combined number of 66 students. Team Embrey defended their crown as largest team, with 68 runners, from toddlers to adults.
SNIPSA founder and executive director, Veterinarian Shannon Espy said the event was the "best day ever…we had a ball!!"
SNIPSA's mission, as detailed on its website, is fourfold: to Rescue, Rehabilitate, and Rehome adoptable animals from high kill shelters and the community, and to encourage Responsibility within the pet owning population. By providing rescue, adoption, and offering low cost spay/neuter options, we are able to connect with our community and enrich the lives of our pet population.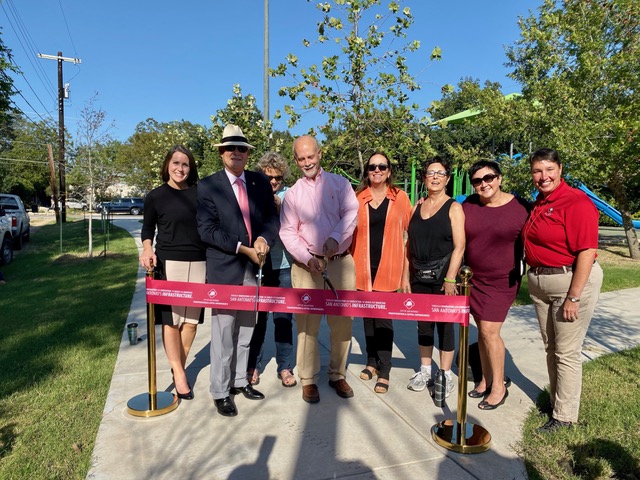 Haskin Park Ribbon Cutting
Neighbors, city officials, and Councilman Clayton Perry joined hands Tuesday, October 8, to celebrate the official opening of the newly refurbished Haskin Park at 200 Haskin Drive. The park had been the center of a controversy following the City of San Antonio approving construction of a Google Fiber Hut in the middle of the park, in 2017.
Nearby residents protested the destruction of their pocket park. And, led in protest by John Whitsett, whose home sits directly across the street from Haskin Park, the group forced the city and Google to rethink their plans. On September 15, 2017, the hut was removed.
Now, thanks to $300,000 from the 2017 COSA Bond, the park has been completely refurbished, with new playground equipment, lighting, landscaping, and a walkway around the perimeter of the park.
District 10 Councilman Clayton Perry and other city officials praised John Whitsett for his tireless dedication to eliminate the Google Hut, while enhancing the park for neighborhood children and adults. They dubbed him "Mayor of Haskin Park."
When asked by 78209 Magazine why he had devoted so many hours to getting the hut removed, Whitsett said, "I did it for the kids and their parents. I wanted them to be able to enjoy the park. And now they do."
By Ron Aaron Eisenberg