Upside Down Is Always Better
-Especially for Kids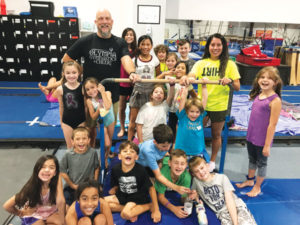 When you are a kid, is there anything better than hanging upside down from a bar, doing a flip on a trampoline, or a cartwheel on a balance beam? Those are everyday activities for youngsters attending the Olympia Gymnastics and Cheer (OGC) summer camps. The camps began on June 3 and will continue through August 19, when most public and private schools open for the new academic year. There are still openings to register for camps for the final week of the summer season.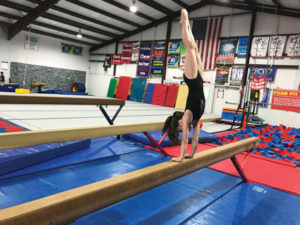 Each camp embraces a theme, such as Super Hero, Ninja Zone, and Best Summer. Enrollment is open for kids age 4 through 12. Brad and Jamie Speed purchased Olympia Gymnastics and Cheer in 2011. The facility has been open for more than 35 years. He told 78209 Magazine, the majority of their students and campers live in 78209.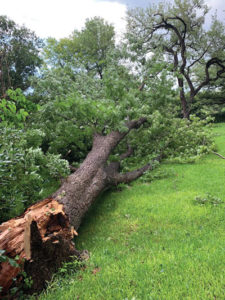 Storm Debris Removed and Turned to Mulch
On June 6, storms roared through Terrell Hills with hurricane-force winds, bringing down trees and leaving streets clogged with branches and debris. In the wake of the storm, Terrell Hills City Manager, Greg Whitlock, approved emergency debris removal on a temporary basis, with the help of Kristin and Dick Tips.
The debris was dumped on vacant lots the Tips own, on the corner of Grandview and Eldon. The Tips volunteered to allow the City and Terrell Hills residents to stack the fallen trees and limbs from the storm on their property and to provide the resources of Mission Park Funeral Chapels and Cemeteries to turn the debris into useful gardening mulch.
The temporary debris storage saved the City significant amounts of money and allowed for the streets to be cleared promptly. As of early July, the trees, branches, and leaves have been mulched. Whitlock told 78209 Magazine, "Residents who would like to take advantage of free gardening mulch can pick it up at the same lot where the brush is located, Stillwell and Eldon, from 8 am to 3 pm until it runs out. They have to bring their own bags, truck, or trailers to pick up the mulch.
Kuper Sotheby's International Realty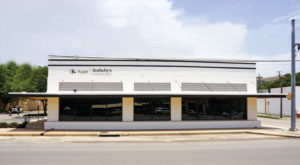 Opening Second Office in Alamo Heights Kuper Sotheby's is opening its 11th office in the Central Texas region, its second in Alamo Heights. The new office is located at 5000 Broadway, formerly the site of the Alamo Heights Minor Emergency Clinic.  "We are expanding into the heart of the Tri-Cities to better serve our large customer base in Alamo Heights, Terrell Hills and Olmos Park," said J Kuper (Harry Jersig Kuper Jr. who goes by J). He's a broker and the owner of Kuper Sotheby's International.
About 20 sales associates and support staff have moved to the new office from the firm's office at 6606 N. New Braunfels Avenue. Kuper Sotheby's International Realty was formed nearly 50 years ago under the leadership of J's grandmother, Kathleen Kuper, and his uncle, Charlie Kuper. It now operates offices in San Antonio, Austin, New Braunfels, and Boerne. Sales volume in 2018 totaled $1.8 billion from more than 3,000 transactions by a total of 340 agents, equally divided between the San Antonio area offices and those in Austin.
By Ron Aaron Eisenberg