Vandals Blow Up Lending Library on E. Lawndale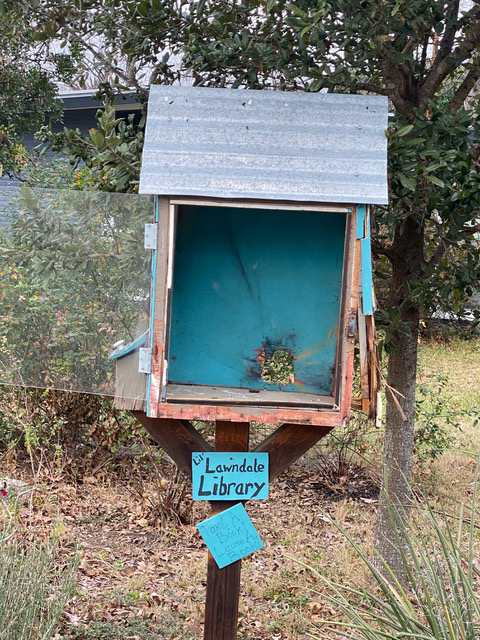 Someone put a lit firework inside the Lending Library at 2027 E. Lawndale on the night of December 29, 2019.
The resulting blast blew a hole in the back of the cute little library and burned up the books inside. Plus, the explosion started three separate fires in Michael and Kerrie Saulmon's front yard. As someone posted on NextDoor, "Neighbors spotted a single cab pickup leaving the scene. The explosion was incredibly loud and started 3 fires in the owner's yard. This was dangerous, reckless, and completely damaged the library and the books."
Michael Saulmon told 78209 Magazine, "My wife and I were inside when we heard the explosion. We thought it was a car backfire, until our son yelled 'our yard is on fire'." The couple ran outside and, sure enough, there were three small fires burning in their yard. Thankfully, a neighbor was already putting out the fires with a garden hose. Saulmon said, "We did file a police report. It hurts because it was a library. Our kids were in shock. They don't understand why anyone would do that. And neither do we." There is good news. Look for the library to rise from the ashes on E. Lawndale. "We will rebuild, but we just haven't had time to do it yet."
So far, no arrests have been made.
---
Despite Great Reviews, La Taqueria Austin Hwy Shuttered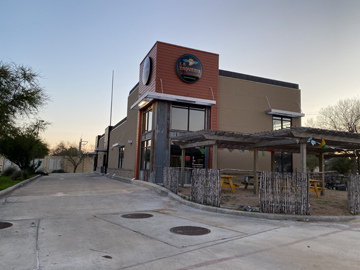 When La Taqueria Austin Hwy opened in 2017, at 1208 Austin Highway, near Mt. Calvary Drive, area residents posted positive reviews on Yelp, Google, and elsewhere. Many raved about the food, the bar, and the ambiance.
The restaurant took over the site abandoned, in 2015, by a Burger King, across Austin Highway from a Target Store. But La Taqueria Austin Highway is now closed. A sign on one window says the restaurant is closed "for remodeling". The establishment's Facebook page has also been taken down. And its telephone number no longer works.
According to the Bexar County Appraisal District, the property is appraised at $2.3 million. 78209 Magazine will report on any new developments with La Taqueria Austin Highway.
---
The Goal: Collect 6 Million Pennies
Under the direction of AHISD Woodridge reading and social studies teacher, Lisa Barry, Woodridge Elementary School 5th grade Tweens for Tolerance launched a 6 million penny collection in 2018 to raise awareness for the need for tolerance in our schools and communities. The effort continues and will soon be expanded to other AHISD schools.
Each penny collected represents a life lost due to intolerance. The proceeds from this collection will be donated to several local organizations including: Child Advocates of San Antonio (C.A.S.A), The San Antonio Holocaust Museum, and David's Legacy Foundation.
The students chose pennies because Abraham Lincoln is on them. As they noted, "He is an important American president who stood for equality." Barry explained, "The students also picked the color green for their T-shirt design because this color symbolizes renewal, hope, and growth." The shirts are for sale as part of the fund-raising effort. The cost is $15 and $20 for sizes XX – XXX.
---
Alamo Heights Schools Launch Holocaust Remembrance Instruction
On June 11, 2019, Governor Greg Abbott signed SB 1828 into law, mandating that Texas public schools spend a week learning about the Holocaust. Alamo Heights schools have embraced the directive and are launching Holocaust instruction across the district in all grades throughout February 2020.
Four San Antonio women worked with State Senator Jose Menendez to write the bill establishing Holocaust Remembrance Week. The women are Sharon Greenwald, Varda Ratner, Ginny Wind, and Alamo Heights 5th grade reading and social studies teacher Lisa Barry.
Holocaust remembrance studies are under the direction of Dr. Jimmy Walker, Alamo Heights Independent School District Executive Director of Curriculum and Instruction. The studies will be held annually in grades K – 12. Texas is the 12th state to mandate Holocaust education, following California, Illinois, New York, New Jersey, Florida, Pennsylvania, Michigan, Rhode Island, Connecticut, Kentucky, and Oregon.
---
Stretch Zone Opens in the Shops at Lincoln Heights
Come in and stretch back the years! Stretch Zone, located at 999 E. Basse, has opened. It is the only accredited and certified practitioner assisted stretch company in the United States. The Practitioners serve seniors, active and inactive, weekend warriors, golf enthusiasts, competitive athletes, and more. Their goal goes beyond just making clients "flexible," they work to enable greater functionality to improve day-to-day life.
By Ron Aaron Eisenberg