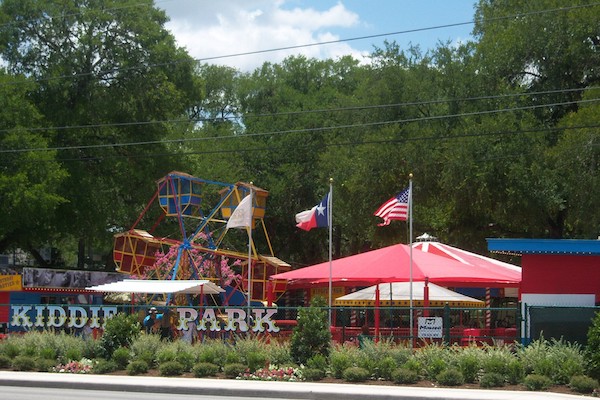 Kiddie Park to Close, Reopen at the Zoo
Kiddie Park, which has been at 3015 Broadway Street, 78209, since 1925, is moving to the San Antonio Zoo to keep it going. According to Kiddie Park's owners, the attraction is the oldest children's amusement park in the country!
It was renovated in 2009. But the encroachment of new development adjacent to the facility, including a soon to open Shake Shack, a fast food burger chain, has eliminated so many parking spaces it is increasingly difficult to park near the facility.
To keep from closing its doors, the owners and San Antonio Zoo came together to save the park. 
Rod Weaver, Kiddie Park co-owner, told 78209 Magazine, "It has been our great pleasure to be stewards of this great San Antonio institution for the last 9 years. We are thrilled to be passing the torch to the capable hands of the Zoo. This necessary change of location will provide for a much better experience for Kiddie Park's loyal customers. We were very excited to find an innovative solution to keep Kiddie Park around for generations, in a safe and welcoming atmosphere.
"Tim Morrow (San Antonio Zoo CEO) and his team do a great job of operating the Zoo, and I am confident they will do a great job operating Kiddie Park."
Weaver said his best guess as to when the park will close for the move is early summer. And, he added, "The move shouldn't close the park for more than a couple of weeks."
Under the new arrangement, visitors to the park will not have to pay for zoo admission. The Bexar County Appraisal District values the 37,500 square feet park at over $1.45 million.
Neighbors Want Shell Station Repairs Completed
When tornadoes ripped through parts of 78209 on the night of February 19, 2017, the Shell Station and convenience store at 1795 Nacogdoches Rd. and N. New Braunfels had its roof ripped off one island housing several gas pumps.
That roof has yet to be repaired or replaced. Neighbors, at a recent Oak Park Northwood Neighborhood Association meeting, complained that the site has become an eyesore.
"Enough is enough," one resident protested. "They've had plenty of time to fix that roof." Another resident grumbled, "We want it fixed now."
But the delay, according to an area homeowner, may be due to the station owner deciding whether he wants to continue his affiliation with Shell Oil or switch to another gasoline brand.
No matter what he decides, the consensus was, the repairs need to take place sooner rather than later.
Stay Tuned for a Battle of the Discounters
Five Below will open soon in the space previously occupied by Earl Abel's Restaurant on Austin Highway.
Dollar Tree prides itself on offering every item for $1 or less. Five Below sells goods for $5 or less. Soon, they will be nearly next-door neighbors, competing in the strip center anchored by Target, on Austin Highway, between Mt. Calvary Drive and Seidel Rd.
Five Below will occupy the space vacated by Earl Abel's Restaurant in October 2017, when the iconic eatery moved to 1639 Broadway near The Pearl.
Five Below and Dollar Tree sell similar items, although the Tree carries food. Five Below does not.
By Ron Aaron Eisenberg