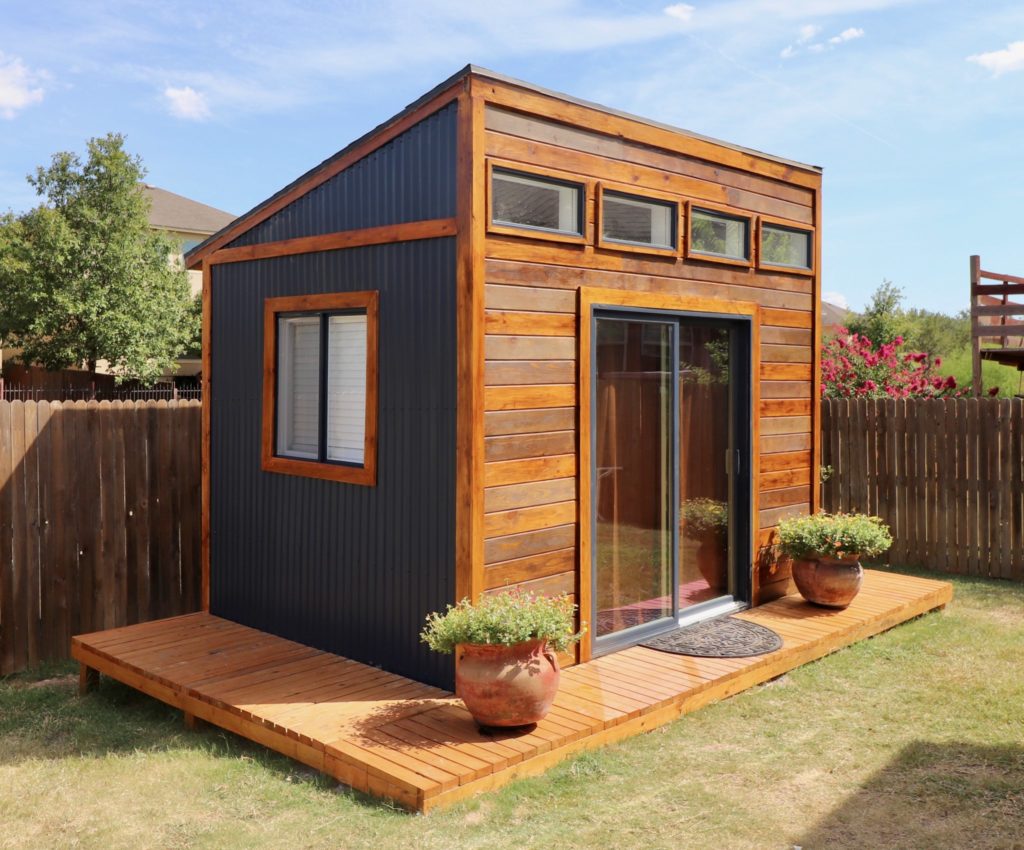 So, you've been cramped into your home with your people for months. Even if you've ventured out into the world, it's not the same one we all knew last December. You feel a little rougher for the wear. As distanced as we have all become, there doesn't seem to be enough room.
I spy neighbors sweating it out in their garage between the second fridge and the "good car." My sister and brother-in-law converted their guest suite into a home office/Murphy bedroom. They hang those "Shhhhh. Dad's working" signs on the door handle when he's on a zoom meeting. My sweet niece and nephews still manage to make guest appearances. There's a new business in town called Some Elbow Room. They build small offices, she-sheds, man-caves, pods, studios, and suites that'll knock your socks off.
Between losing our footing in the housing industry and my insane power of persuasion, we found ourselves building the mother of all she-sheds in our backyard. Not to brag, but I get a bit of the princess treatment. When I insisted on a studio out back, my husband delivered. I'd always dreamed of having my own little space to do anything I wanted, to decorate as I pleased. To use how I pleased. To get away from everyone and pretend I was in my own little world. I envisioned dirt or cement floors with metal or cedar walls—something like a fort that I could shabby-chic to my heart's content.
What I got was like walking into a dream. My she-shed was more like another room in our home. It was climate-controlled and had insulated walls. There was electricity, 4" baseboards, transom windows, huge french doors, and gorgeous waterproof floors. The exterior looks like a modern home with galvanized metal siding and stained tongue and groove pine.
He put in a stylish pendant light and a German schemer feature wall that I just love.
I've decked my new space out with European style exercise equipment that makes excellent use of vertical space. It's made with warm-toned wood and leather materials and is perfect for Pilates. The other side stores all of my art supplies with a small desk and comfortable chair facing the window. It's heaven.
Clients purpose their Elbow Rooms for everything from a laundry room to a music studio to pool houses. One of our greatest joys is hearing the different ways people plan to use their extra space.
While we haven't seen anyone put it to action yet, the idea of a dedicated backyard bar seems to be the most popular to date. We hear from customers looking for ways to socialize safely in their backyards. They envision large decks, fire pits, several groups of outdoor furniture, and a space offering that little bit of shelter for those moments of private conversation, a nap, media room, kids' arcade, or wine and cigar rooms. Bringing the indoors to the outside is trending large on the minds of our clients. They want to be near one another and their kids, but not so near that it's uncomfortable.
Sometimes they just want to close the door and play their baby grand piano inside their soundproofed studio while their spouse peacefully gardens out front. One client included a 220v electric socket for his kiln. He sits in his studio, working on his pottery, having a drink on the deck with his wife, and enjoying the expansive view of the Bulverde landscape from their perch. Others are searching for the slightly larger spaces with airy windows and garage-style doors as places to meet up with their bubble for book clubs, poker nights, or, my personal favorite, Dungeons and Dragons games.
It's times like now that we realize that we need not only extra room for work, thinking, and hobbies, but extra space for friends and family that flows into our new expanse of socialization. We don't always find it in a nook or closet. It's that willingness to build in some elbow room that leads to greater peace of mind and a sense of community.
BY ERIN CALLAHAN