Outdoor decks are evolving with lots of innovative new features and functionality.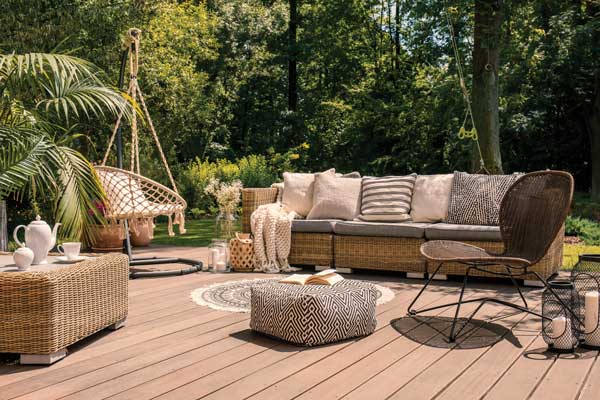 The backyard deck has evolved from its humble beginnings as a square on-the-ground platform designed to support a couple of lawn chairs.
Today's decks are multi-faceted outdoor living spaces that have spawned an entire industry geared towards accessories for them: everything from furniture to pergolas, spas, and firepits.
Installing a deck adds fun and function to your backyard, but they also add value to your home as they are VERY appealing to homebuyers.
Current trends in decks include virtually maintenance-free composite materials, elevated decks with a poured slab patio underneath, aluminum and glass railings, LED lighting and contemporary colors.
Composite materials like TREX decking now come in a myriad of colors ranging from dark ebony to rich mahogany and even soft time-worn driftwood greys.
Some deck designers are even combining the colors for more interest and visual impact.
Another trend is that decks are moving to the second floor. New technology exists that has made the support structures stronger. This allows homeowners to build elevated decks and build patio structures underneath, essentially two outdoor spaces in one project.
Aluminum and glass railings that don't obscure the view, LED lighting, pergolas, and decks that conceal hidden hot tubs and spas are also popular right now.
LOCAL RESOURCES
Lone Star Patio
Serving San Antonio and the surrounding area.
(210) 468-1844
Texas Pools & Patios
Serving San Antonio
(210) 871-8043
Quality Custom Decks
Serving San Antonio
(210) 899-0694
All About Decks
Serving San Antonio
(210) 307-4956