Organization, Storage and Luxury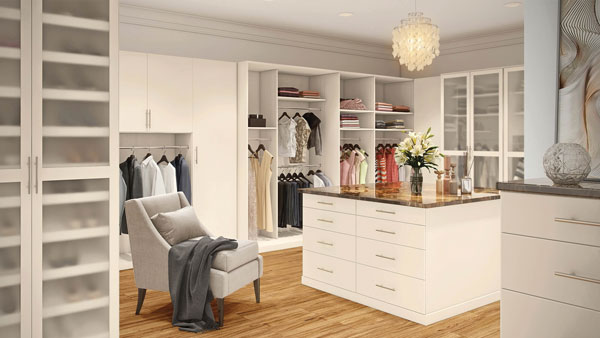 A well-designed custom closet is a worthwhile investment because you'll use it everyday and it will substantially add to the value of your home. In fact, most home buyers put large closets on their must-have list when searching for their next home. Many empty-nesters are even converting extra bedrooms into additional closet space. We've put together this list of current closet trends.
BUILT-IN WITH DRAWERS: Todays homeowners prefer to eliminate bulky bureaus and armoires from bedrooms for a sleeker modern or minimalist design. Closets with built-in cabinetry containing ample drawers eliminate the need for other furniture. Not only does this free up space in the bedroom, but it also enables you to get dressed entirely in the closet, with everything you need right at your fingertips.
LIGHTING AND FURNITURE: Beautiful lighting and fine furniture are some of the biggest trends in current closet design. Homeowners want their closets to mimic the look and feel of a high-end stylish clothing boutique.
BUILT-IN HAMPERS: Hampers that look like part of the built-in cabinetry cleverly conceal dirty laundry.
ADDITIONAL SHOE STORAGE: Ample shoe shelves are a highly desired feature for many homeowners who report that they have extraordinarily large shoe collections.
ISLANDS: Closet Islands are becoming increasingly popular as homeowners find the counter-like surface convenient for many tasks. Plus, the islands provide additional opportunities for storage.
JEWELRY AND WATCH STORAGE: Built in drawers that can be securely locked to protect valuable jewelry and watches and even hidden wall-safes are being incorporated into contemporary closet designs.
GLASS DOORS: Glass doors protect shoes, handbags, and clothing from dust and conceal them for a neater look.
Local Resources:
Inspired Closets-San Antonio
210-256-7387
Inspiredclosets.com
California Closets-San Antonio
210-971-5368
californiaclosets.com
Closet Connection
210-899-4564
closetconnection.net
Tailored Living of North San Antonio
210-585-3640
tailoredliving.com/sanantonionorth