BY KRISTEN PETERSON
Father's Day is upon us, and how special it is for me to profile a man in our community who has been active his whole life and has always incorporated fitness into fatherhood.
Clyde Selig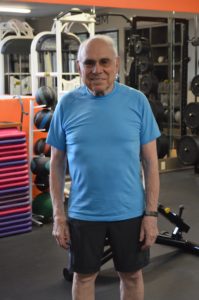 Age: 84
Occupation: Steel Manufacturing – Retired CEO, CMC Americas
Personal/Family: I have a wonderful family – daughters Robin and Leslie; son-in-law, Rick; grandchildren Lauren, Jordan, Josh, Emily and her fiancé Noah; and Paige, my partner.
Interesting non fitness fact(s) about you: I play a pretty good game of poker. Following my retirement, I wrote a book about the history of the mini steel mills. I also adopted a stubborn but lovable rescue dog named Trooper five years ago.
How did you get started in fitness?  I grew up in the depression on my family's chicken farm in Rockland County, N.Y., so my "fitness" was hard work. I wrestled and pole-vaulted in high school. My life-long fitness program began with my joining the Army, where I became a paratrooper in the 101st Airborne. In 1964, when I left the Army to join my brother Marvin in the steel business in Seguin, I continued jogging and doing daily pushups, later with a small grandchild on my back. I have always believed that exercise is key to a happy, productive and long life.
Do you have a weekly routine? Paige and I go to the gym several times a week. We also try to do yoga once a week. I do cardio and weights. I also walk.
Is it true that you sometimes work out with your daughter and grandson? Yes, and it is super special and great! My daughter, grandson Jordan, and any other grandchildren visiting join us for a strength and exercise session with Tom Trevino at MBS. At times, Robin, my daughter who lives in Oregon, several grandchildren and my granddaughter's fiancé have joined for a big, fun group. Nothing is more important to me than my family, and I cannot tell you how happy I am when we are able to enjoy time together exercising, sailing and hiking. When enjoying activities with my family, I am often heard saying, "This ain't no bad way to live!"
Clyde's daughter Leslie shared these words: Growing up in Seguin, our friends knew our father as the lone jogger in the neighborhood, who always smiled and waved as our neighbors in cars passed by honking encouragement! We were very proud of him. Our father is a believer in jogging or other cardio each day (at least 20 intense minutes, he says, to make a difference) and we have tried to follow his lead. Robin, my sister, is a long distance bicyclist and recently hiked two weeks on the Pacific Crest Trail. Rick, my husband, is a wheelchair tennis player and instructor. Our father has been a tremendous influence on all of us.
Here are a few words from two of Clyde's four grandchildren: Says Jordan: "Although it's unusual for those in their 80's to be as active as my grandfather, that's who he's been our whole lives. It's pretty cool we're able to share a weekly workout and I enjoy it immensely." Grandson Josh shares: "My grandfather continues to amaze and inspire me to be healthy and fit. I have had so much fun doing activities with him and I'm looking forward to more in the future. Go Grandpa!"