Catching up with Pete Markwardt isn't easy. That's because the owner of A&A Home Furnishings (formerly Armoires and Accents) is constantly on the move, traveling to China, India and Mexico in search of the unique, high-quality furniture and home accents that fill his 12,000-square-foot store on Sunset — as well of many of the city's most well-appointed homes.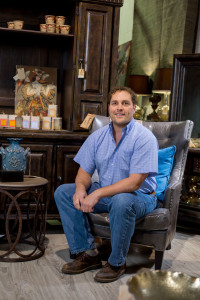 GETTING BACK TO HIS "ROOTS"
How does a former home loan officer from Olmos Park find himself in the furniture importing, retail and wholesale business? For the Alamo Heights graduate, it was simply a matter of parlaying a hobby into a career.
"I've always had a natural affinity for furniture," explains Pete, who graduated from SMU with a finance and real estate degree. "I just went to antique auctions and started buying."
Pete opened up a 600-square-foot retail store in Dallas to sell his treasures in 1994 at a time when he says that boutique importing was just beginning to take off. He realized the potential of the trend, moved home to San Antonio and opened Armoires and Accents in 1999 in a 900-square-foot house. "I saw San Antonio as a great market for what I do, and I thought it was a great place to raise a family," he says about his decision to return to the Alamo City.
Today, Pete's company, Cottonwood Trading Co., encompasses GrassRoots Imports and A&A Home Furnishings. Although he has closed the retail store in Dallas, he maintains a design warehouse in that city's trendy Design District, as well as an additional wholesale showroom in High Point, North Carolina, where he sells to like-minded retailers."We look for retailers around the country who are identical to us and that want exclusive and unique pieces," he explains.
TREASURE HUNTING
Those pieces come from international factories that Pete, who serves as his company's head buyer, has identified and visits regularly in order to have a hand in the process from design to finishing. He explains that he seeks out young factories that match his own size and goals and then helps them become successful. Rather than simply bringing back items that are indigenous to the countries in which they are crafted, Pete works with the factories to create designs that will work with the current U.S. decorating trends.
"I'm more than just a buyer" is how he describes his role in the big picture. "I am a consultant, and I help with development."
Approximately 80 percent of the furniture Pete carries is imports in which he has personally overseen the design, quality level, finishes and even the packaging. This process makes his pieces not only exclusive, but also a better value because he is essentially cutting out the middleman. "It allows us to carry luxury furniture at a great price," he explains.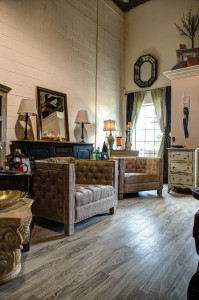 STYLE WATCH
Traveling to the factories and being hands-on in the business also allows Pete to make sure that he is staying current on industry styles and trends. As in fashion, trends in home furnishings come and go. He recalls that when he first started selling, the styles leaned toward dark wood and rustic finishes, with Mexican hacienda and Tuscan styles in high demand. Today, Pete says his customers want more modern, clean lines and lighter finishes. It's a look he identifies as "transitional," meaning that it can work with either modern or traditional décor.
Knowing how to marry those different looks can be challenging for many clients. That's why Pete and his experienced A&A Home Furnishings team offer an in-home design service. For just a $175 initial consultation fee (which is returned after the customer spends $1,000), an A&A professional will make a house call and do as little or as much as the client wants in terms of interior design and decorating. Because A&A has accessories and an upholstery line in addition to the vast selection of furnishings, the talented staff has everything on site to assist with the clients' needs and help them avoid some common pitfalls.
"Trying to do everything at once is a common mistake people make when they are furnishing their homes," Pete says. He also sees people routinely purchasing the wrong size of furniture for the space or resort to buying everything in "sets" straight off the showroom floor.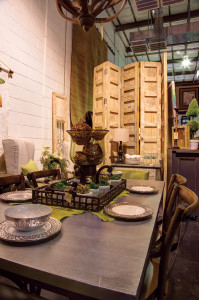 "We want people to express themselves, and we encourage them to take their time," he says earnestly. "Our goal is to help you finish your project and, hopefully, you will purchase some items from us in order to do it."
A FULL PLATE
San Antonio homes are not the only spaces that this talented businessman is making more beautiful. Pete is currently involved in the design and furnishing of a boutique hotel in picturesque San Miguel de Allende. The 15-room Granada Hotel will be a mix of Spanish and other Old World styles, creating what Pete describes as a "comfy" environment, but with plenty of amenities for the discerning traveler.
A restaurant serving Mediterranean fare will be part of the property, and it is reflective of Pete's own love of that cuisine. A single dad, he and his 14-year-old daughter spend quality time cooking together, making flatbreads and other treats, using herbs that Pete, who has a green thumb, grows in his garden.
While his culinary tastes run toward the Mediterranean, his personal decorating style is one that Pete refers to as "casual European," with rich finishes and patinas. "I have an old soul," he laughs.
But don't confuse "old soul" with "set in his ways." This is a man on the move who is always looking for new ways to grow and evolve his business with the times. And while he may have only 27 employees, this small-business owner is not afraid to dream big. He explains that he has all the pieces in place to build the wholesale business and is considering expanding the retail locations within Texas.
"I'm always dreaming of ways to grow the retail end," he says, adding that for now, just keeping everything going is a challenge. "My plate is pretty full."