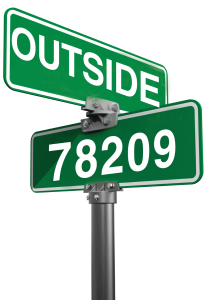 BILL HAUS PRESENTS STUDIO TOUR
Presented by Bihl Haus Arts, the eighth annual On and Off Fredericksburg Road Studio Tour offers art enthusiasts and the public a personal glimpse into the private homes, art studios and galleries of more than 85 established artisans, including painters, sculptors, metalsmiths and photographers. Some 200 musicians, poets, theater troupes and dance groups will help make this community event one of the biggest art studio tours in San Antonio. The tour consists of a 5-mile route beginning at Bihl Haus Arts, 2803 Fredericksburg Road. Mark your calendar for Feb. 21-22. More than 3,000 residents and visitors are expected to walk, bike or bus along the route set in one of San Antonio's historic neighborhoods, the Deco District, to participate in this annual celebration of arts, community and culture. A full-color brochure consisting of a map and info about participating artists and their work will be available for sale for $10. The studio tour is free and open to the public. Visit www.onandofffred.org or call Bihl Haus Arts at (210) 383-9723.
BOWLING AND MORE AT BOWLERO
Hit the lanes. You won't strike out at Bowlero. Whether your favorite pastime is bowling, dining, imbibing or gaming, you can choose the fast lane or chill with a signature cocktail and plan to take advantage of all the activities — foosball, shuffleboard, billiards or the ropes course. When finished, indulge in a 2-foot wonder dog, fon dude or the mac and cheese bacon bowl-ero. Wash it down with a sip-worthy cocktail, hot-blooded Mary, or order the dunk tank — a minimum of four peeps required. If you can toss your ball after this, then go for it. Sunday Funday, Monday Mayhem, or anytime is a good time to score at 13307 San Pedro.
CULINARIA FESTIVAL
WEEK APPROACHES
Culinaria Festival Week, San Antonio's own home-grown wine and food celebration, is on the calendar for Wednesday through Sunday, May 13-17. The multi-day, multi-venue happenings will need volunteers to help pour wine, check in attendees and more. So grab friends, coworkers and family members and sign up. Call (210) 822-9555 for more info or to volunteer. Culinaria is a not-for-profit organization dedicated to benefiting the San Antonio community and promoting the city as a wine and food destination. By providing culinary scholarships and aid to San Antonio's chefs enduring personal hardships through their Chefs 4 Chefs programs, Culinaria has long promoted its support of the community. Its next big endeavor will take form in the Culinaria Urban Farm, which will emphasize nutritional values and education to promote a farm-to-table diet. Culinaria is a registered 501c (3) tax-exempt organization. It is governed by a volunteer board of directors representing the community and guiding the organization in its mission to champion the wine and food industries. Culinaria showcases the amazing culinary talent found in San Antonio. Guests are able to taste the Latin and European culinary influences displayed by chefs from our great city and brought in by distinguished chefs from around the globe. Culinaria reaches a broad spectrum of audiences, such as beer/spirit producers, winemakers, food and beverage critics and writers, travel journalists, bloggers, local residents, visitors from across the U.S., international guests and foodies. Winemakers from Texas and around the world as well as spirit producers provide complementing flavors for our guests.
THE LAST WORD OPENS
The Last Word recently opened to rave reviews, plenty of toasts and cheers on New Year's Eve. The brand-new craft cocktail bar is the creation of local bartender Jeret Peña, offering 15 draft cocktails. According to their Facebook page, the cocktail that bears their name, The Last Word, is not only beautiful but a wonderfully balanced combination of Chartreuse VEP, Lazzaroni Maraschino, Uncle Vals gin and clarified lime. Next time you're downtown, head over to The Last Word, 229 East Houston, #10, conveniently near the Majestic Theatre, where craft cocktails are quickly put together, in about 30 seconds. It's the perfect place to get your Happy Hour on!
TRIBECA GETS AN UPDATE
Since opening in May 2013, Tribeca has slowly built its customer base and subsequent success by offering a Sunday brunch. Now restaurateur Jean-Francois Poujol is ready to take his culinary venture to the next level. He's invited chef Brian West, former instructor at the Culinary Institute of America to join forces in helping launch Phase II of Operation Tribeca. Additionally, Tribeca will operate under the name Tribeca 212, distinguishing itself as an important part of San Antonio's food scene located in a historic neighborhood with its 78212 ZIP code. Tribeca's Lounge Room is also undergoing a transformation. Poujol is adding banquettes, redoing the lighting and painting the interior for a more upscale and intimate look. Diners will see the new menu and addition of Brian West to the staff, as well as the exterior and interior modifications, as a continuation of a master plan to increase the success of the restaurant. Tribeca 212 now offers lunch from 11:30 a.m. to 3 p.m. Wednesday through Friday. Offerings include a tapas and bar menu, including tuna tartare, chicken liver pate, pickled tomatoes, giardiniera, marinated burrata and garlic, sweet pea hummus, a charcuterie plate and artisan cheeses.